Quick question. When we say "jam" and "basketball", what do you think of?
Perhaps, this?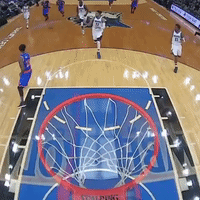 That would make sense. (And what a dunk, by the way!) But as ESPN magazine has recently reported, "jam" can mean something else entirely to a pro basketball player. Especially when it's one half of the best part of their pre-game ritual.
The PB&J sandwich!
Nutrition nuts
It might seem crazy to think that pro athletes would be obsessed with the peanut butter and jam (or jelly) sandwich. After all, these days the pros are all super fit athletes. They travel with trainers and nutritionists who work hard to make sure that teams get the most out of every player. Surely there would be no time for a meal that is essentially a bunch of sugar and bread. Okay, maybe as a once-in-a-while treat. But definitely not before every game. Who would allow that?
Except, that's exactly what is happening. And not just with one player or a superstar that people can't say no to. Not just with one team, either. It's with all the players. All the teams. All the time.
The ESPN article lists the PB&J habits of team after team: the Portland Trailblazers have 20 crustless, halved PB&Js before every game. The Houston Rockets have them available in their team kitchen at all times. The Milwaukee Bucks have a PB&J buffet before each game. And on and on it goes! Star Kevin Durant even had his own signature PB&J shoes made!
Comfort food = great play
This strange ritual began in Boston in the 2007-08 season. Star Kevin Garnett impulsively decided to have a PB&J before a game. Garnett played great that night and asked for another sandwich before the next game. Suddenly it became a thing for the entire team.
The Golden State Warriors' Steph Curry and the Cleveland Cavaliers' Lebron James. Two players that you don't want to try to take a PB&J away from! (Getty Embed)
Since then, the habit has spread across the league, even though many team nutritionists have tried to stuff it back into the jar. Last season, the Golden State Warriors got a new head of physical performance and sports medicine named Lachlan Penfold. Penfold wanted to get rid of the sandwiches. He finally gave in after superstar Stephen Curry and even assistant coach Luke Walton complained about the ban.
In the end, the entire league lets their players eat this treat because it makes them happy. As Brett Singer, a dietitian at the Memorial Hermann Ironman Sports Medicine Institute, tells ESPN: "You feel good, you play well."
So, who's hungry?