This past Saturday, the Blue Grass Nursery Sod and Garden Centre held its 13th annual pumpkin festival. It's an October tradition for the Calgary, Alberta-area garden centre. Families come from miles around to enjoy to festivities. But the highlight is definitely the pumpkin drop. For years now, the folks at the Blue Grass Nursery have lifted an enormous pumpkin high in the air, before dropping it on to a car below.
SPLAT!... for a good cause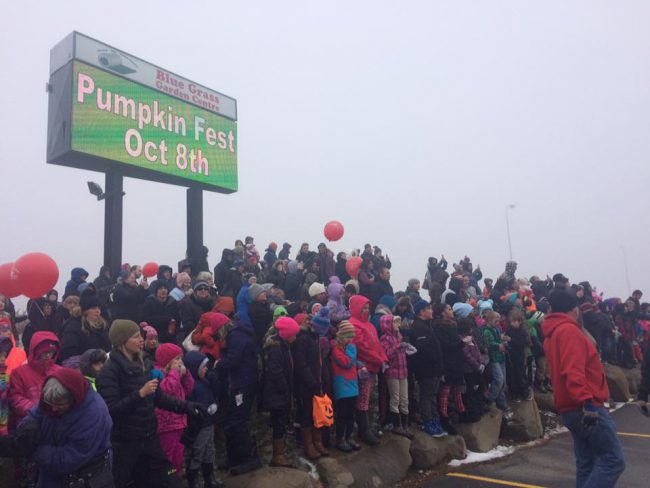 A big crowd was on hand for this wonderfully weird event. (Facebook/Blue Grass Nursery)

For the record, we're not talking about your average pumpkins here. These gigantic gourds are usually around 500 kilograms (that's well over 1,000 pounds). The crane lifts them 40 metres (around 130 feet) in the air. Then... the squash goes SPLAT! In case you're wondering, both the pumpkin and the car are totalled. And the crowd goes wild!
All of this fruit-on-four-wheeler fender bending is more than just reckless destruction. For years, the Blue Grass has given the money raised at the pumpkin drop to the Alberta Children's Hospital Foundation. This year, they expanded the event to include three pumpkin drops. The first one featured a pumpkin filled with candy, like a "jack o'piñata"! (After the drop, kids got to collect the candy.) The second one had a ping pong ball-filled pumpkin, where the closest guess to the number of balls inside won a prize.
But, of course, the star attraction was the moment that squash squished a sedan. Want to watch it for yourself? Over and over again (including in slow motion)? Of course you do. Thankfully CBC recorded the event, so enjoy one and all!