This Friday, March 8 is a big day around the world—International Women's Day!
On one hand, it's a day to appreciate the endless contributions that women have made—and still make everyday—to our world. But it is also a reminder that women still do not enjoy the same rights and freedoms as men do. Even in countries like Canada or United States—where they are legally fully equal citizens—women have to fight against prejudices large and small that affect how much money they make, where they work, and all kinds of daily choices that they make.
To get ready for this day, OWLconnected is spotlighting noteworthy women and girls in sports, activism, history, politics, and pop culture, who are all in their own way pushing for this equality. Today, we're taking a close look at 19-year-old athlete Reina Iizuka who is trying to enter a field long dominated by men.
The football field.
Meet the trailblazer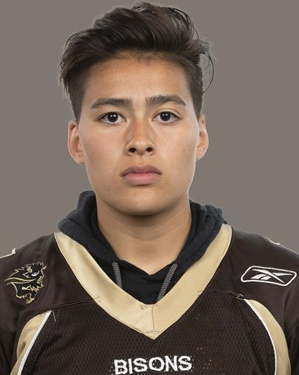 Iizuka's Manitoba team photo. (University of Manitoba)
Reina Iizuka is a third-year arts student at the University of Manitoba in Winnipeg. Getting a degree is her ultimate goal at the school, but she is pouring an equal amount of energy and focus into another more unique achievement: becoming the first female to play in a Canadian university football game.
Currently she is a red-shirted player—this is a term given to a player who practices with the team but doesn't play in actual games. According to her coach, Brian Dobie, she is already making a real impression.
"I was at a tackling drill," Dobie told the Canadian Press, "and there was a player who made two or three impressive tackles in a row. I literally turned to one of the coaches I was standing beside and said, 'Wow, he's a really good tackler.'
"And he replied, 'Yeah coach, that guy is a girl.'"
Since then, Dobie has discovered Iizuka's awesome work ethic and attention to detail.
"I didn't do this to make a political statement..." Dobie said. "I brought her here because of her drive, passion and determination and she had the skill level and experience to back it up."
Overcoming the odds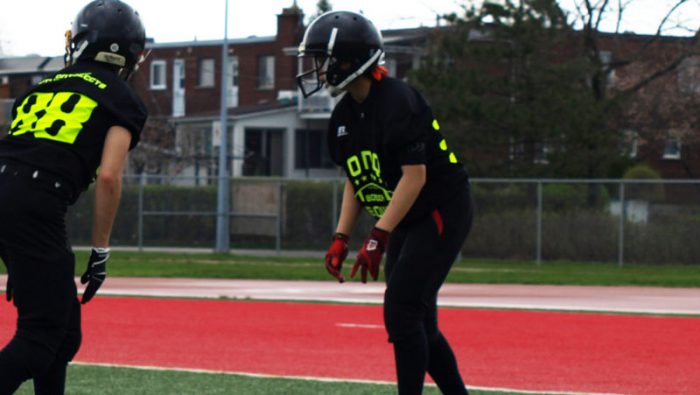 Iizuka during her high school football days. (Courtesy of Reina Iizuka)
Reina Iizuka learned those skills the same way any male player would have—she played high school football. At St. Marcellinus Secondary School in Toronto, she played on the school squad, the Spirit. She also played for the Toronto Junior Argos, as well. In fact, she was a 10-time team captain and a three-time Team Ontario selection.
But university football—where the players are bigger, faster, and stronger, and the competition stiffer—is a whole other ball game. At 5'7" and 160 pounds, Iizuka is a powerful person. But, in football, the defensive linebacker faces an immediate disadvantage among athletes who are generally taller and heavier than she is.
But Iizuka approaches this challenge knowing that nothing bad can come from pushing her abilities.
"Just because I'm a girl, I think some people are going to test you differently," she told the Canadian Press. "I'm tenacious and I think I have a strong mentality ... Yes, it's been difficult but at the same time I've really enjoyed the process. I love training, I love studying film and I really love the connections I've been able to make with people in the community."
Representing others by representing herself
Edmonton Eskimos receiver Natey Adjei (2) has helped Iizuka train since her high school days. (Getty Embed)
And in one way, her persistence has already paid off. On February 26, she traveled to Indianapolis with three female football coaches and administrators to the NFL's Women's Careers in Football Forum. This conference aims to help teams and women in football connect with each other to improve women's future in the sport.
And she has also made valuable connections in the Canadian Football League (CFL), like with Edmonton Eskimos receiver Natey Adjei.
"Reina is a model athlete, a model person, and someone you definitely want your daughter to be like," he told CFL.ca. "I know that's true for me. I've told her that."
So will Reina Iizuka make the team that hits the field? We're certainly going to keep an eye on her! Go, Reina, go!