Our home country Toronto Raptors may be out of the playoffs, but that doesn't mean that we here at OWLconnected aren't still paying attention to the NBA Finals. After all, thanks to a thrilling Western Conference Final comeback by the Golden State Warriors, this year's finale pits two very talented teams against one another. Waiting for the Warriors are the Cleveland Cavaliers, a group that has gone 12-2 in the playoffs and generally looked unstoppable. So with the series beginning tonight, who will win? Let's discuss, shall we?
Greatest regular season ever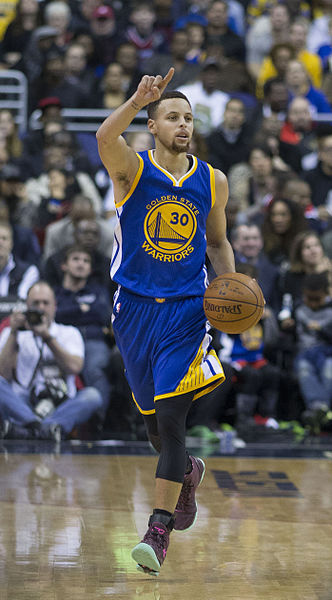 League MVP, Steph Curry of the Golden State Warriors (NBA/Wikimedia Commons)
On one hand, you'd want to say that there's only one team that can possibly win, and that's Golden State. They're the defending champions. They just finished the regular season 73-9, a.k.a. the best regular season record in NBA history. Their point guard, Steph Curry is the league MVP and scoring champion. Many people say that he is the greatest shooter ever. And standing next to him is Klay Thompson, a player who recently broke the NBA playoff record for three-pointers made in a game with 11. That's eleven. Who could possibly have a chance against these guys?
Well, the Oklahoma City Thunder did. OKC led their recent series 3 games to 1, before Golden State stormed back by winning games 5, 6, and 7. The Warriors have had a bit of a tougher playoff than last year. Curry was injured for many games, and early in the series against the Thunder struggled to score sometimes.
Six straight finals
On the other end of the court, the Cavaliers have been a lot more consistent this year. They won 10 straight playoff games before finally losing a couple to the Toronto Raptors. When all was said and done, though, the Cavs never really looked like they would lose the series to Toronto.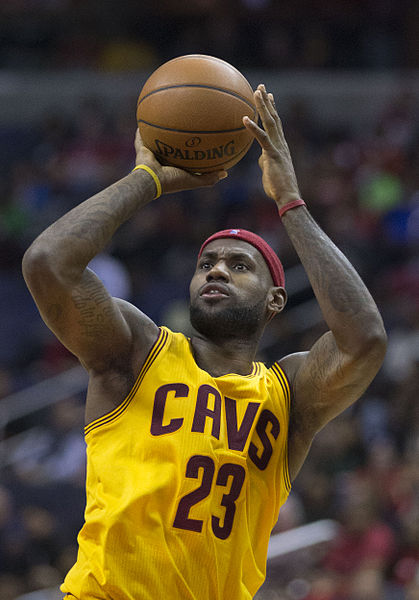 "The King" LeBron James of the Cleveland Cavaliers. (NBA/Wikimedia Commons)
Their own powerhouse player, LeBron James, may not be the league MVP anymore, but he proved these playoffs that he can still do it all. Scoring, passing, stealing, you name it. (Let's not forget, James just set a record by making his sixth straight NBA Finals.) Plus, his teammates are playing much better around him than last season. Forward Kevin Love and guard Kylie Irving have been scoring machines, meaning that James doesn't need to just do things on his own.
Stay golden
So if the Warriors are playing a little looser and the Cavaliers are playing a little better, does that mean that we'll have new NBA champion in 2016? It should be a tighter finals than last year, but in the end, we think that the result will be the same. Golden State didn't play amazing every game these playoffs. But that's probably because they didn't need to. That's how good they are and how easily they can turn up the heat. Cleveland will fight hard, but unless Curry gets hurt again, the Warriors will see it through and win in 7 games.
Which is a shame because after what he said about Toronto, we'd happily see LeBron James bring a championship to Cleveland.
What do you think will happen? Do you agree?