The robot revolution is something that we're always being told is just around the corner. Already, there are robots built to explore the ocean depths and the surface of planets like Mars. There is even a robot named Nao from French robotics company Aldebaran that has been built to be your new best friend.
It's all very exciting. Maybe even practical (after all, having a robot helper in outer space is a pretty smart idea). But did you notice it in that Nao video? The way it moves? That's right. In the end, all robots really want to do is dance.
The dance of 1000 robots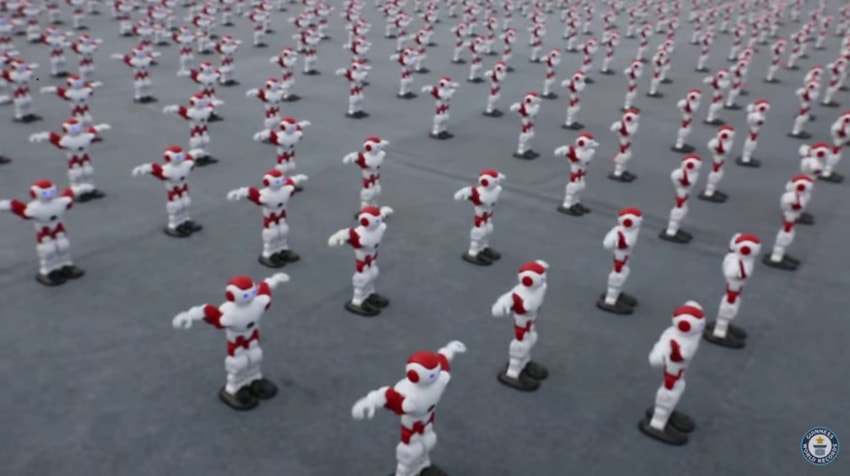 "Hold on, I wave my arms, then do the twist? Gah! I'm so confused!" (Courtesy of Ever Win Company/Guinness World Records)
That's what makes this story so much fun. It's all about 1,000 robots (1,007 to be exact) living the dream, baby. The record-breaking dance was organized by a Chinese company called Ever Win Company & Limited. Of course, the biggest challenge with something like this is getting so many robots synchronized, or moving the same way at the same time. It's not as easy as it looks. Officials explained that the robots needed to be equipped with technology to reduce radio frequency interference. This is stuff like information sent out by nearby cellphones. It allowed the robots to focus in on the instructions being sent to them by a single remote control device.
The event happened in the city of Qingdao, where the Ever Win Company is based. And even though a few of the robots missed their cues or fell over, the entire minute-long routine was a success. (The routine had to last a full minute to claim the record for Most Robots Dancing Simultaneously. Because, you know, there are rules for these kinds of things, folks.)
With the Guinness World Record securely in their grasp, what lies in the future for these mini-ballet bots? A gig on stage as backups dancers for Katy Perry? The halftime show at the Super Bowl?
The future is wide open. Bleep boop bleep.