Did you know that the world of pro sports is really different for men and women? While men's pro sports have tons of fans, media attention, and money, many of the world's top professional female athletes aren't valued or recognized in the same way—even though female athletes prove time and time again that they deserve to be.
A perfect example of this is the fact that while the baseball playoffs and the new NHL season were getting tons of coverage, relatively few people heard about this year's WNBA Finals. But the WNBA season ended last night with a thrilling 77–76 game that the Los Angeles Sparks won over the Minnesota Lynx. The powerhouse Lynx were the regular season's best team and had won three of the previous five WNBA titles. The game-winning basket was taken in final seconds of the game by this year's WNBA MVP, Los Angeles' Nneka Ogwumike. It is the Sparks' third championship overall, and their first since 2002.
Parker finally reaches the Summitt
Los Angeles Sparks' star player, Candace Parker. (Getty Embed)

It is also the first championship for Candace Parker, one of the league's biggest stars. Parker has won nearly every other award in the league, including Rookie of the Year, Rebounding Champion, and two MVP awards. She also won the Finals MVP award for this series. Parker dedicated her victory to her former coach at the University of Tennessee, Pat Summitt. Summitt was a legendary coach in women's college basketball who sadly passed away in June. After Summitt died, Parker stated "from here on out, I'm playing for her." Now four months later, she's won a WNBA title in her coach's honour. Sports can be pretty inspiring that way.
Taking a closer look at female pro athletes
It's that inspirational quality (something that all sports share) that is the reason why sports writer and author Kristina Rutherford wrote the Owlkids book Level the Playing Field. This new book takes a look at the issues in the world of women's pro sports. We asked 11 year-old Cassidy to read it and tell us what she thought. Here's what she had to say.
Cassidy's Level the Playing Field review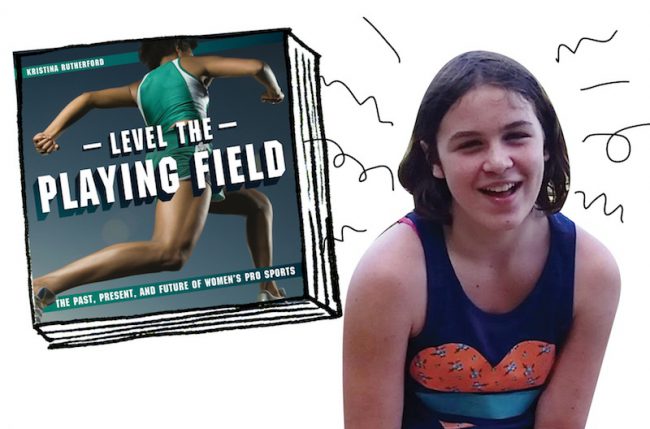 (Owlkids)

"I like the book because it shows that girls can be just as good at sports as boys are. It's sad to hear that some girl athletes are not getting the same pay or respect as boy athletes. Hopefully, this changes in the future. I didn't like how people in the past have not allowed woman to play sports because they thought they were "emotionally unstable." I think other kids would like reading this book because it helps them see how sports have evolved over the years, and it shows kids that no matter what gender you are, you should follow your dreams! I rate it 9 out of 10."
Making change
To celebrate the launch of this new book, Owlkids asked the staff at Sportsnet what changes they'd like to see in the world of women's sports. Watch the video to hear their thoughts. Then feel free to share yours in the comments below.