Last Thursday, June 20, a reporter from ESPN named Jeff Passan broke some news.
BREAKING: The Tampa Bay Rays have received MLB's permission to explore becoming two-city team: the Tampa Bay area and Montreal, sources tell ESPN. The plan: Play early-season home games in the Tampa Bay area and finish the season in Montreal. News at ESPN: https://t.co/X6uSt4KLfC

— Jeff Passan (@JeffPassan) June 20, 2019
On the surface, that might seem pretty plain. Okay, a baseball team — the Tampa Bay Rays — have been given permission to split their season playing in two different cities. Cool.
Then you look at a map.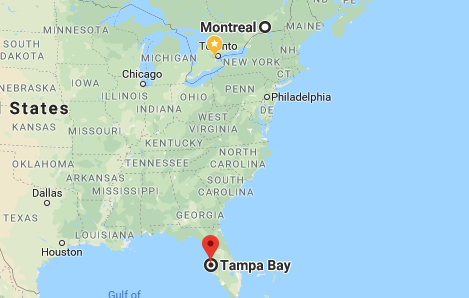 Then you think about it all again. And you say to yourself, "Wait. Why would a baseball team play in two cities over 2,000 kilometres apart? How does that help anyone?"
That's a good question. And the short answer is: It doesn't, really. So why is it being proposed? Join us, as we travel back in tiiiiiiiime... (makes wavy motions with hands and wooooOOOOoooOOOOOooOOOOooo sounds)
Expos exit
Expos star Tim Raines in better years in Montreal. (Getty Embed)
The Toronto Blue Jays love to talk about how they're "Canada's team", but it wasn't always this way. And they weren't the first team here either...
From 1969 to 2004, the Montreal Expos were an MLB franchise. Their iconic logo and red-white-blue paneled baseball caps are still well-known. Former players like Gary Carter, Andre Dawson, Tim Raines, Larry Walker, and Vladimir Guerrero are remembered fondly in Montreal and across Canada.
But the Expos were sadly never that successful. Or lucky. In their entire history, they made the playoffs just once (in 1981) and never reached a World Series. In 1994, they were easily baseball's best team with a record of 74 wins and 40 losses... until a players strike cancelled the rest of the season!
Today the ex-Expos are the Nationals, and they play in D.C. (Getty Embed)
By the early 2000s, their home ballpark, Olympic Stadium, was a ghost town. With next-to-no fan support and no success, the team was moved to Washington, D.C. where they became the Nationals.
Tampa Bay, no way?
Even being one of the best teams in baseball isn't working in Tampa. (Getty Embed)
These days, there are a couple teams whose stadiums look a lot like the Expos' did in those final years, and they're both in the state of Florida. Of the two, the Miami Marlins actually have the worst attendance, but seeing as the team is having a poor season, it's kind of understandable. Plus their stadium, Marlins Park, is close to brand new. They're probably not going anywhere. Then there's Tampa Bay...
The Rays are playing awesome baseball. In the super-charged AL East division, they're right in between the New York Yankees and defending champs Boston Red Sox, two of the game's most powerful clubs. Fans should be freaking out! But their stadium, Tropicana Field, is rundown. And near empty. The team has been trying for years to get a new stadium like Miami's, but they can't secure the money (we're talking mega bucks here, folks).
So the question is being asked: If even being one of the best teams in baseball can't get fans out, why is there a baseball team in Tampa?
A real plan? Or a bluff?
The Expos played 22 home games in San Juan, Puerto Rico in 2003. (Getty Embed)
Now that you know the history, let's get back to that proposal. Is it for real? Could a team really do this?
It's funny to note that a MLB team has actually done something like this already... and that it was the Expos that did it! In 2003, they played 22 of their 81 home games in Puerto Rico, a baseball-loving U.S. island territory in the Caribbean! Of course, this creative experiment didn't last, and we all know what happened next.
Many baseball experts believe that this plan will never happen as described — it's just a threat by Tampa's team owners to show they're serious about leaving. But experts also think that since a new stadium doesn't seem to be likely there, the Rays will eventually leave Tampa Bay... and that Montreal is the most likely place they will end up.
So can baseball be successful a second time around in Montreal? And will they get the new stadium they need there? (Because Montreal will need it.)
We know that we'd love to see it!