Every once in a while, nature offers us a twist on its usual order that is strange and bizarre ... and even oddly beautiful.
We think that this three-eyed snake — nicknamed Monty Python — found in the Northern Territory in Australia more than qualifies as an example of this. The young carpet python was discovered near the town of Humpty Doo (which ... is an amazing name for a town), about 40 km (25 miles) outside of the territory's capital city of Darwin.
The python-menon was examined by reptile experts who were fascinated by its mutation. Sometimes for example, reptiles will be born with two heads. But this case seemed to be something entirely different. According to a post on Facebook by the NT Parks and Wildlife, "an x-ray revealed it was not two separate heads forged together, rather it appeared to be one skull with an additional eye socket and three functioning eyes."
They added that his was likely a natural mutation as "malformed reptiles are relatively common."
Unfortunate end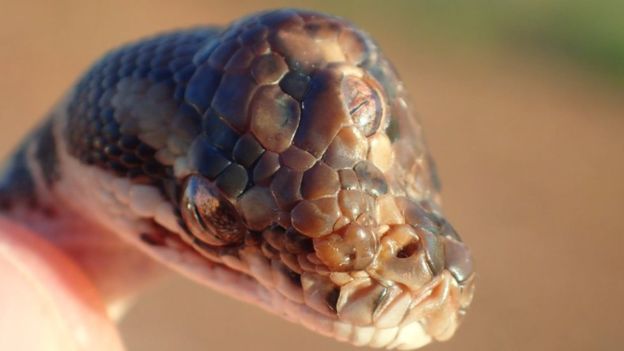 (NT Parks and Wildlife/Facebook)
Now we know that a three-eyed snake like Monty isn't exactly everyone's cup of tea, but we think he's amazing. Which is why we're sad to say that he died only a few weeks after being discovered.
It appeared that the deformity made it too difficult for the juvenile snake to eat properly. Goodbye, Monty. We're happy that we got to know you.
You won't be easy to forget!
Contest alert
Don't miss our Science Odyssey Family Contest. Click HERE TO ENTER.
Science Odyssey is a two-week, Canada-wide celebration of all things science, technology, engineering, and math (STEM). Find activities in your area HERE.