A rare rock formation in Nunavut called Qarlinngua (say kar-LING-wah) is taking experts by surprise. The name means "like pants" in the local language Inuktitut, and as far as names go, it's pretty much perfect.
This massive sandstone sea arch (which stands about 50 metres, or 165 feet, high) looks like, well, pants! And thanks to a hunter named Max Kalluk, this curious formation is becoming something of a geological internet sensation.
High and remote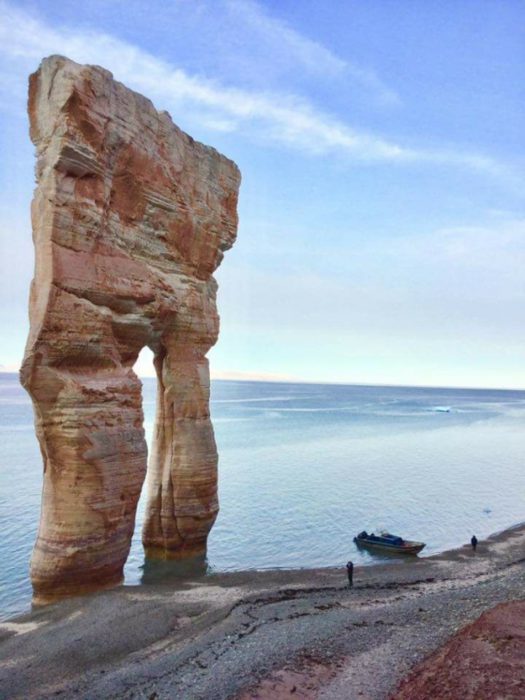 Qarlinngua is one giant rock formation. Look how tiny the people are below! (Max Kalluk)
Qarlinngua is found in the Brodeur Peninsula on Baffin Island, which is about 90 kilometres (56 miles) away from Arctic Bay, Nunavut. This part of Canada is uninhabited and is only reachable during the summer months, when the sea ice has started to melt away.
The photos that we are seeing here were taken by Kalluk this past August. He submitted the pictures to CBC North, believing that others should get to see the beauty of this local secret. He told the website that he has known about it ever since he was 12 and that "we get to see it every year, going to our destination where we narwhal hunt."
This has to be fake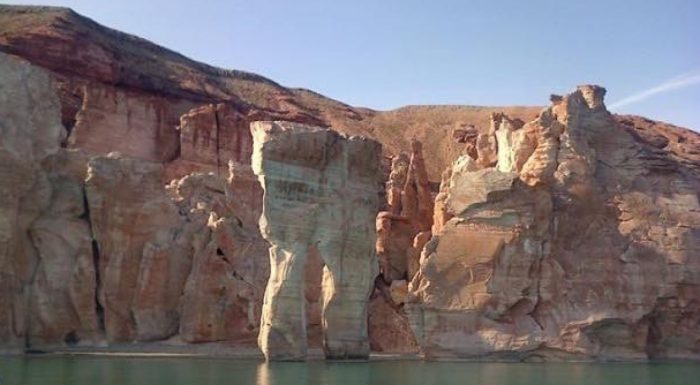 From this angle, you can see that Qarlinngua was likely once part of this nearby cliff face. (Max Kalluk)
Still, the location is remote enough that even people working at the Nunavut Tourism Office in Iqaluit thought the photos weren't real. It's easy to understand why. The otherworldly slab of sedimentary rock seems impossibly thin for its great height. It would've been carved by water and wind over millions of years to get to the point that it is now.
"I can see why it's considered fake because it's very phenomenal." Kalluk told CBC. But it's definitely real. And even better? He claims that there are other unique formations in the area, too.
Want to know more? We've got a video for you below!