Since last November, we here at OWLconnected have been featuring a new bi-weekly video series, General KnOWLedge. We thought that it would be a good time to talk about how we put these videos together. (And to mention how you can help us do it!)
The question is...
The whole point of these videos is to explain an idea or concept to you, our awesome readers. That's why every General KnOWLedge video begins with a question. Such as, say, "How are fossils made?" or "How does a compass work?"
Once the OWL team has agreed on a topic, John, our staff writer, digs in and spends a couple days doing research. Then, he writes a script—this is kind of like the play-by-play for how he will answer the question on screen. The script has to be both full of facts and slim and trim. Each video is barely longer than two minutes!
Snip, snip
To make sure John stays on point, a team of editors at OWL edit the script. They make suggestions for what could be removed from the video, or flag things that need to be better explained.
At the same time, OWL's video wiz, Emma, reads over the script. Her main focus is thinking about how the video will be shot, plus choosing the images and animations she will use. You can really see how her planning is important in our LEGO video, where we did time lapse shots of John building. That was all figured out ahead of time!
Once everyone has had their say and further tweaks are made, it's time to shoot!
Giving it our best shot
The shoot itself involves a bunch of different equipment.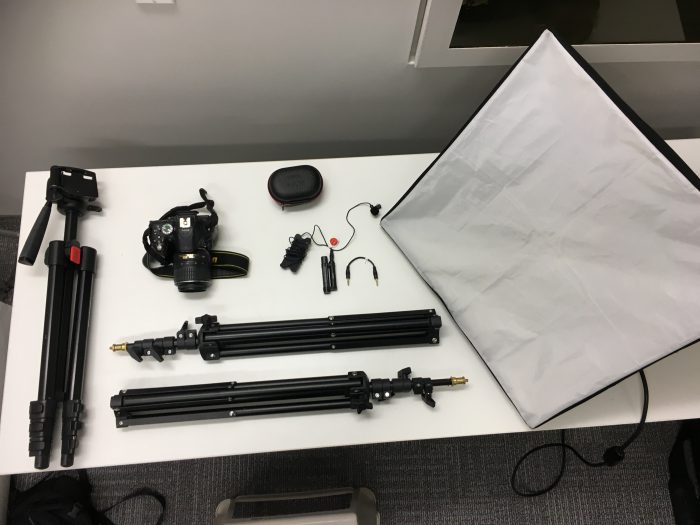 The tools of the trade. (Owlkids)
We have a tripod to hold the camera, as well as two others to hold up the lights (like the big square-shaped thingy on the right). There is also a microphone that is clipped to John's collar so that what he says is picked up loud and clear.
When it's all set up, the room that we shoot in looks like this!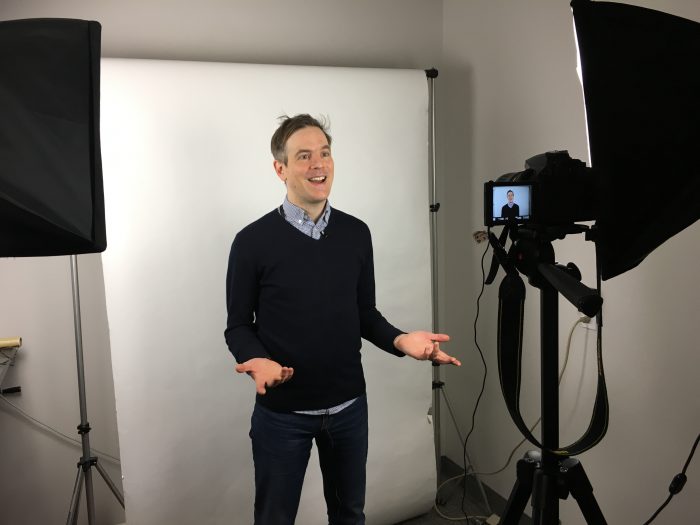 The large white backdrop ensures that we have a clean background to shoot against. (Owlkids)
Cozy! The video is shot in short ten to fifteen-second sections, or takes. As we shoot, Emma keeps a close watch on things—if John makes a mistake, she gets him to do another take until it's just right.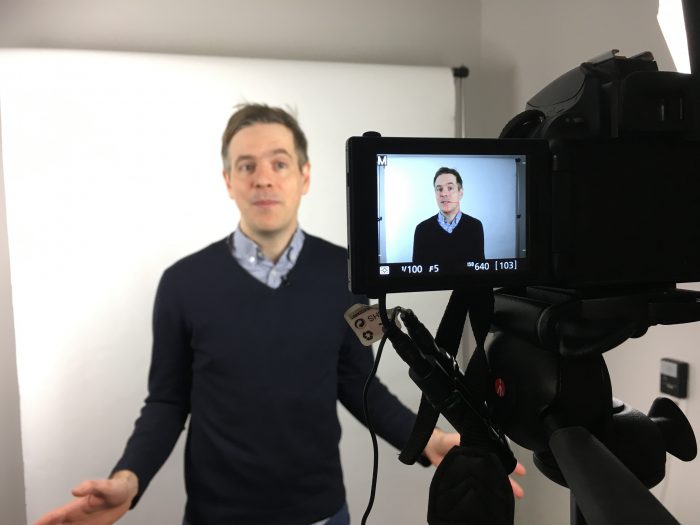 Take two, John! (Owlkids)
Piecing it all together
Once the General KnOWLedge shoot is over, Emma takes all of the dozens of takes and puts things in order to make the final video. It might seem like a pain to have the video in so many little pieces, but by having a bunch of small takes, Emma can choose only the very best ones. (Plus have you ever tried talking for two minutes without making a mistake? John wants you to know that it's not easy!)
Remember those images and videos that Emma chose back in the editing stage? Now she collects them all and matches them with the clips of John. Sometimes, she only uses the audio—or the sound—of him speaking and chooses to show pictures or videos of something else on screen. Her images and animations make it easier to understand the concepts that John is talking about. See what we mean?
Post it!
After all of Emma's hard work, the same editing team that reviewed the script watches the video. John also watches it to make sure that the final product matches his research. After a few revisions, the video is finally ready to be posted on YouTube and this website.
From start to finish, the whole process takes about two weeks. It's actually a lot of work making a two-minute video. But, as you can see, we wouldn't have it any other way!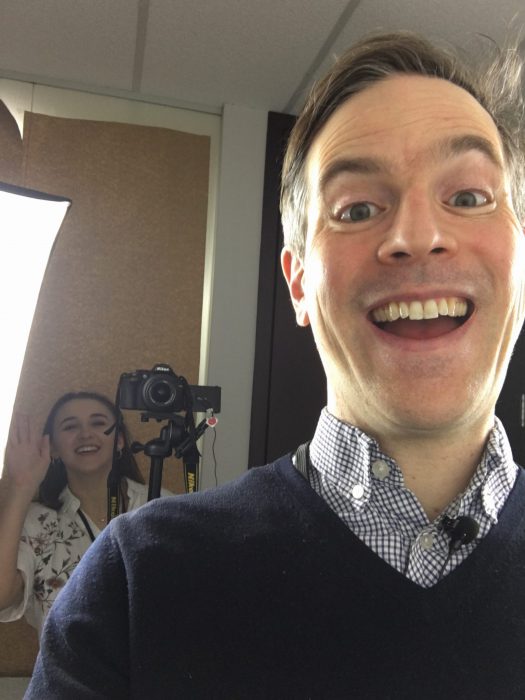 Emma and John think video shoots rule! (Owlkids)
What do YOU want to know about?
So that's it for us explaining how General KnOWLedge comes together. Here's where you come in (we told you we'd be asking for your help!). What question do you want us to answer on our videos? Let us know in the comments below.
We're excited to bring more knowledge to you than ever before. Hey, it's what we do!