Even in the high-octane, engine-revving world of motorsports, there's nothing quite like monster trucks. These vehicles are like the wrestlers of the car world — huge, mighty, brash, and super entertaining. And like wrestlers, they roll, tumble, leap, and take a beating.
So what is it like being behind the wheel of one of these automotive beasts? We chatted with Monster Jam driver Cynthia Gauthier to find out!
From bikes to trucks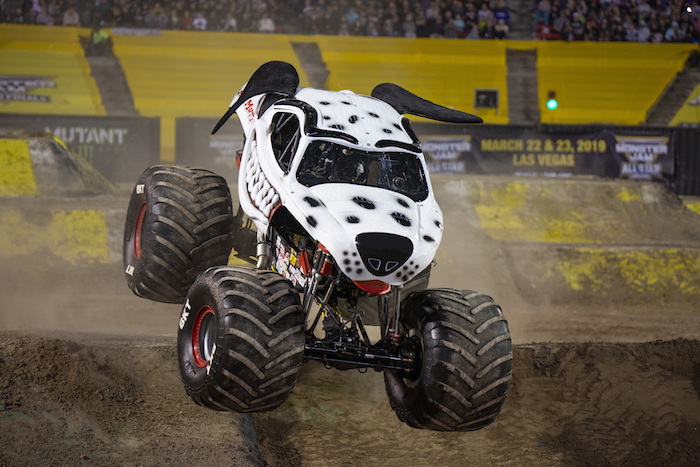 Meet Cynthia's ride, Monster Mutt Dalmatian! (Courtesy of Monster Jam)
Cynthia was born in Mirabel, Quebec, where her mechanic father taught her everything about motors. By her teens she was racing dirt bikes. Even after going to school to become an accountant, she still followed her passion, joining the Canadian Women's Pro Motocross circuit.
But after some knee and shoulder injuries, she decided she needed to make a change. "I got the chance to start travelling with a Monster Jam truck team for a year," she says, "and got to work on the truck a little bit to learn more about the sport."
Fast forward to today. After just a few years in Monster Jam, she became their first-ever High Jump Champion this past May! Watch her 13.859-metre (45.472-foot) winning jump below...
How do you not want to hear from someone who is capable of that? Let's do it!
Interview: Cynthia Gauthier
OWLconnected: Your truck really rolls and tumbles on these jumps. Was it unnerving at first to turn a five-ton truck upside down?
Cynthia Gauthier: Our safety equipment is so great that I'm not really nervous when the truck goes upside down. When we lose control, all we think about is saving the rollover by turning the wheel and giving the truck the right amount of gas. There's no time to get scared!
OC: Monster trucks take a beating — how often does Monster Mutt Dalmatian need to be repaired?
CG: The Monster Jam truck requires maintenance every day and we usually need repairs at every show, too. Sometimes the repairs are on small parts and sometimes it can be an engine. We have really great technicians that work hard to get the truck ready for each event.
OC: You've only been on the Monster Jam circuit for a few years, after a bunch of seasons riding motocross. Are you surprised to find yourself here, or did you always suspect that one day you'd be a monster truck driver?
CG: I never expected this. I studied to be a CPA (Chartered Professional Accountant) and after my time at university, I decided to move to the USA to follow my dream to be part of a race team. It took a lot of sacrifice to make it happen.
OC: Where does winning the first-ever High Jump Competition at the World Finals rank in your life achievements?
CG: It's definitely one of the biggest competitions that I have won so far. It was the best feeling to win such a prestigious competition against some of the best Monster Jam drivers out there. It is not going to be my last victory I can promise you that.
OC: Last thing — can you describe that brief moment when your truck was hanging in mid-air at the top of its jump? Did you believe that you had done enough to win?
CG: At that moment, I knew my crew and I had done everything we could for that victory. My Crew Chief gave me an awesome truck setup and I used all the power that my Monster Jam truck could produce for this specific jump. The feeling in the air was the best! I even thought at one point I was going to backflip, but I was able to bring it back on all four wheels.
Monster Jam on tour
Cynthia, Monster Mutt Dalmatian, and many other drivers and trucks are coming to Canada in 2019. They'll be at...
Scotiabank Arena, Toronto: June 21–23
Stampede Grandstand, Calgary: Sept. 7–8