Happy Halloween!
Do you have your pumpkins carved? What kind of design did you make this year? Did it take a while to finish?
We all know that gutting and carving those big orange gourds can take time (ewww...so slimy!). But guaranteed it didn't take you as long to do as this unbelievable stop-motion pumpkin video by designer and YouTuber Sean Ohlenkamp. It's called Oh My Gourd—A Halloween Stop Motion Pumpkin Carving Experiment, and well, it's pretty alright.
Check it out!
Dozens upon dozens upon dozens...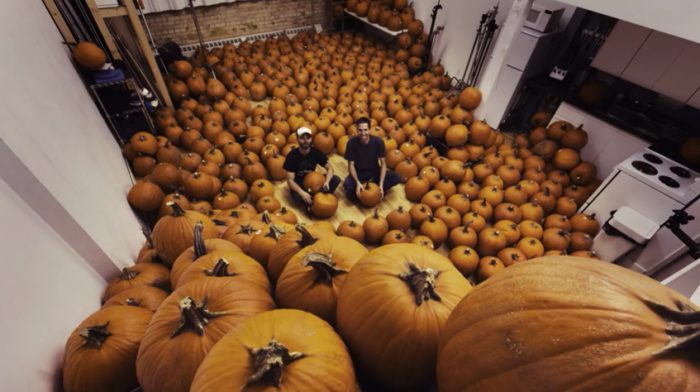 One down, sixty to go! (Screenshot courtesy of Sean Ohlenkamp/YouTube)
According to Ohlenkamp, the video took a couple years and dozens upon dozens upon dozens of pumpkins to complete. The creator and his friends even used actual pumpkins to help create the music that goes with the video! (You can really hear them in the squishiness of the beats!)
And if you still have to finish carving a jack o'lantern for tonight, give it another view. Maybe there is a stop-motion pumpkin in there with the right look for you!