Back in September, Ireland Lacrosse, the organization that runs the country's international lacrosse teams, announced that the Senior Men's team was pulling out of the 2022 World Games. The reason? To open up a space for the Iroquois Nationals to compete.
The move was met with thanks by not only the Iroquois Nationals players, but many Indigenous lacrosse fans. One breathtaking example of this gratitude is this traditional ribbon skirt by Akwesasne mother Cheyenne Lazore.
Together as one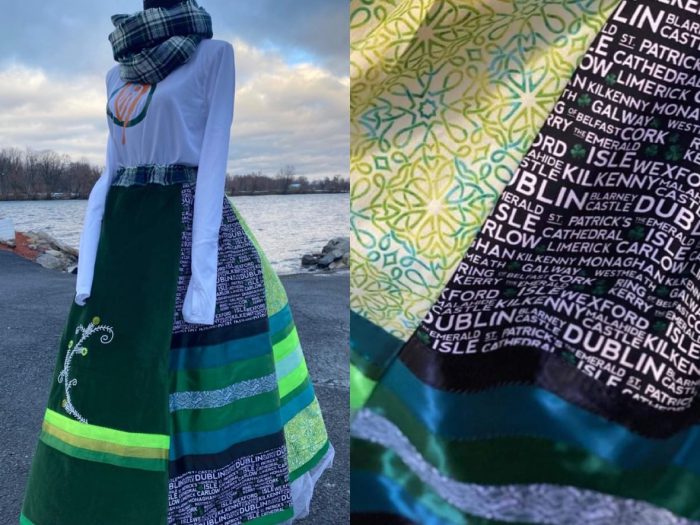 The skirt blends themes that are Irish (colours, names of places) with ones that are Haudenosaunee (beaded trees). (Cheyenne Lazore)
Cheyenne is a Kanien'kehá:ka crafter who turned this piece of Indigenous clothing into a symbol of togetherness between the two peoples. Her skirt combines the colour of emerald green and other Irish influences with symbols from Haudenosaunee culture. Her six-panel skirt represents a Gaelic (old Irish) slogan adopted by the two teams: I Dteannta a chéile - Together As One.
"I just want to thank Team Ireland for doing that," Cheyenne told CBC. "It meant so much to Indian country. It meant a lot and inspired me to do this."
Her 11-year-old daughter plays lacrosse and the family are big fans of the Iroquois Nationals. "It meant a lot for me to teach [my daughter] that humbleness and how lacrosse is our game," she continued. "We gave it to the world, and for Team Ireland to give that back to us, it just meant so much."
Why did Ireland leave?
Ireland playing the Iroquois Nationals in 2014. (Getty Embed)
Made up of players from the Haudenosaunee Confederacy, the Iroquois team is currently ranked third in the world. Sounds like they should be a shoo-in for a competition between the world's best.
But at first the team was not allowed to participate in the World Games—an Olympic-style competition between countries—because the Haudenosaunee Confederacy is found on land that is within the boundaries of Canada and the United States. In other words, it wasn't viewed as an independent country.
The Iroquois Nationals argued that they should be admitted. This was due to their excellence on the field, the Haudenosaunee's status as a sovereign people, and the fact that lacrosse is an Indigenous sport—its roots go back thousands of years into Haudenosaunee history. Eventually the organizers of the World Games agreed ... as long as another team that had already qualified backed out to make space for them.
This is exactly what Ireland Lacrosse—ranked 12th in the world—did. As they said in a September press release: ...we have vacated our position in the eight-team tournament to ensure that there are no barriers to the Iroquois Nationals entry to the tournament.