Every two weeks, we publish a new issue of our tablet and computer-friendly eMag, OWLconnected. It's free for OWL Magazine subscribers!
Today, Issue 113 of the eMag is here. In it, we're focusing on Black History Month, which is celebrated every February. And we also get readers talking about something that nearly all of us have experienced during this pandemic—homeschooling.
Let's dig into the issue!
Fantastic Five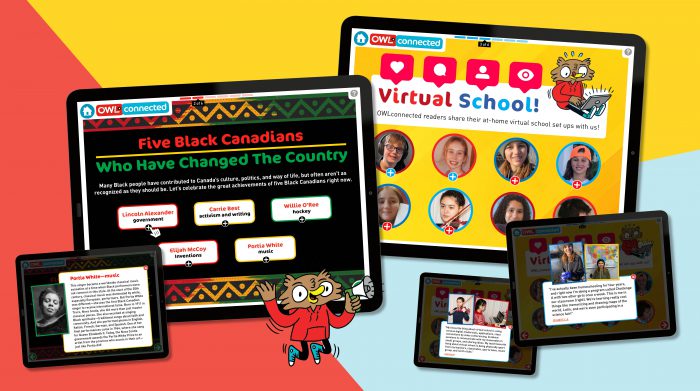 Throughout history to present day, Black people have had to deal with systemic racism in Canada. Not only has this prejudice increased the challenges faced day-to-day, it has also meant that their historical achievements have not been as well recognized or celebrated. In our feature story, we're looking at five Black Canadians who brought undeniable excellence to different parts of society. From science to sports, government to the arts, these men and women added something special and lasting to Canada.
Issue 113 also explores how you, our readers, are enjoying homeschooling during the pandemic. What do you like? What do you dislike? Are you ready to go back? You gave us some great responses and we're excited to share them. On top of that, this issue also has a cool quiz focused on the hijab, a video that teaches you how to draw the lead character from the new Owlkids picture book Cone Cat, and more.
Sounds great, right? And if you're already a subscriber, you can click here to sign in to the eMag right now.
If not, maybe it's time to take your OWL experience to new heights! Get ten print issues a year sent right to your door, plus over 24 issues of our exclusive eMag, by subscribing right here.