Right now in Glasgow, Scotland, the 26th UN Climate Change Conference, or COP26, is happening. The conference is designing to update one another on the current state of climate change: Is there new scientific evidence of how the problem is developing? What is being done by countries to address the issue? What still needs to happen?
This event is attended by many leaders from around the world—over 120 of them, including Canada's Justin Trudeau. Also there are some of the wealthiest heads of global business, scientists, researchers, experts, and activists.
And Jessie Stevens.
You may not know this 16-year-old activist, but she probably worked harder than anyone to appear at COP26. Over the course of 12 days, she cycled all the way from her hometown of Devon, England to Glasgow—that's about 917 kilometres (570 miles)!
And she did it all to make a point. Fighting climate change starts with how we behave day-to-day—how we eat, what we buy, and how we travel!
An inspiring journey
Along the way to Glasgow, Jessie and her group, People Pedal Power, invited other to join her, even if for only part of the journey. The response was tremendous!
Had a blast today riding with Jessie Stevens of People Pedal Power and her crew as they ride from Devon to Glasgow for #COP26. Weather was minging but Jessie was singing! https://t.co/iYPKLL1a7p pic.twitter.com/16oSHUhwf0

— Pete Aylward ?? (@peteaylward) October 28, 2021
A few people even made nearly the entire epic ride alongside her. What a workout!
Made it to Glasgow! 7 days on the road, 400+ miles ridden, over 100 cyclists here. Such an epic ride #RideTheChange pic.twitter.com/zmhu75G5Nh

— Anna Hughes (@EatSleepCycle) October 31, 2021
Proving a point
But Jessie's ride was about more than just exercise. She was trying to prove a point about how humans choose to travel. And whether they really have a choice at all sometimes.
She could've made it to Glasgow more quickly, on an airplane, of course! But the carbon emissions from even one flight is quite large. So how about the train? Many European countries, including the United Kingdom, have extensive train lines that create a fraction of the emissions of airplanes. Sounds great! But they also have a cost, literally. They can be quite expensive. In fact, for her to travel from Devon to Glasgow by train, it would cost £150 (approximately $260 CAD). Is that an affordable way to travel for the average person?
To really demonstrate her point, she put this graphic on her website.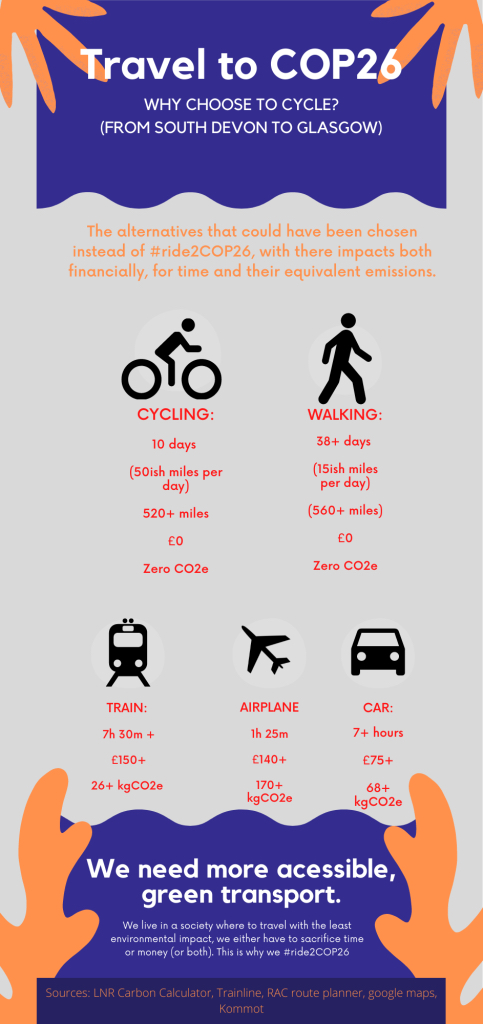 (peoplepeddlepower.wordpress.com)
Her message is pretty simple: if we're serious about climate change, we need to make environmentally-friendly options—like the train—more affordable for everyone! This issue gets even more complex when you dig into the numbers that this graphic doesn't tell you about long-distance cycling trips. For example, on such a long journey, you need to sleep somewhere each night and buy meals. That can get expensive, too—probably a lot more than just £150!
Make it better
This artwork on a beach in England highlights how many people want to see real progress from COP26. (Getty Embed)
In the end, not everyone can set aside the time to cycle such long distances when they travel. Just the same way that not everyone can sail across the Atlantic Ocean the way that activist Greta Thunberg did in 2019 when she traveled to New York City for the UN Climate Summit.
In a global society, we still need efficient ways to travel long distances. It has been reported that around 400 private jets flew to Glasgow for COP26. Not only are these planes great polluters, but they are carrying very few people at once—this means that they make an even greater impact per person than someone flying on a full commercial airline. This is exactly the sort of thing that Jessie Stevens is protesting.
By making ways to travel that are both greener and more affordable, more people are likely to choose them over cars and planes. And that is just one of the ways that we can turn things around in the fight against climate change.
Watch Jessie speak about her journey in this news report below.
16-year-old Jessie Stevens has set off to Glasgow for COP26 - in a rather unusual way.

To avoid taking a plane or car, she's cycling from Devon all the way up to Scotland, on a trip that will take her hundreds of miles and 9 days to complete.@ewither went to meet her.#5News pic.twitter.com/2PAkQhozQS

— Channel 5 News (@5_News) October 25, 2021