What would you say if we told you that masks can be beautiful? Mystical? Even inspiring?
These days, you might not be eager to agree. But then again, you probably haven't seen Breathe yet!
What's that? Breathe is an art project that was co-created in 2020 by two Métis artists—Lisa Shepherd and Nathalie Bertin. The idea behind the project was to take something ordinary—masks—and turn them into a source of extraordinary inspiration.
At first, a call for submissions was extended to Indigenous artists and artisans. But over time, the artists involved came from all across Canada, as well as parts of the United States, Europe, Australia, and New Zealand!
Each of these artists brought something different to their mask. There was beadwork and embroidery, birch bark and quills, quilting and rug work, metal, glass ... so many styles!
And now, the public gets to see many of them—in person—for themselves.
Magical mask gallery
Currently, there are two touring exhibits based on the Breathe project being shown—one at the Prince of Wales Northern Heritage Centre (PWNHC) in Yellowknife, Northwest Territories, and another at the Galt Museum and Archives in Lethbridge, Alberta.
At the PWNHC, the exhibit—called Breathe: Creating resilience through traditional art—features 45 pieces. According to the gallery, the exhibit is about bringing us together: "The masks share their makers' unique stories of fear, courage, sadness, hope, love, and healing that unite us all."
This exhibit includes Inuvialuit Fortitude, a piece by Taalrumiq/Christina King that is displayed at the top of this post. Taalrumiq says that she used traditional Inuvialuit (Western Inuit) elements like sealskin, walrus tusk, and fringe in her mask "to make something beautiful in such uncertain times."
We think that she succeeded ... and you'll never look at your own mask the same way. In fact, you might be inspired to make some art of your own!
Enjoy a selection of other masks from the Breathe exhibit and stay safe out there, everyone!
Corona Covid by Towanna Miller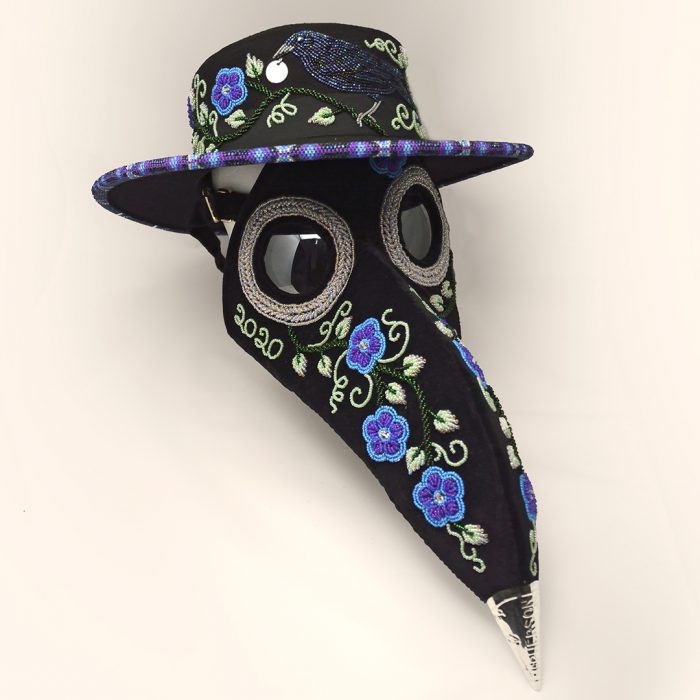 (Courtesy of Nathalie Bertin)
This is inspired by two things: crows and plague masks, which were beak-like masks worn by doctors in 17th-century Europe to treat the sick. It may look like something out of Harry Potter, but those masks were really used! Towanna updated her version with beads, velvet and felt, and even sunglasses lens for eyes.
Fighting Chickadees by Krista Leddy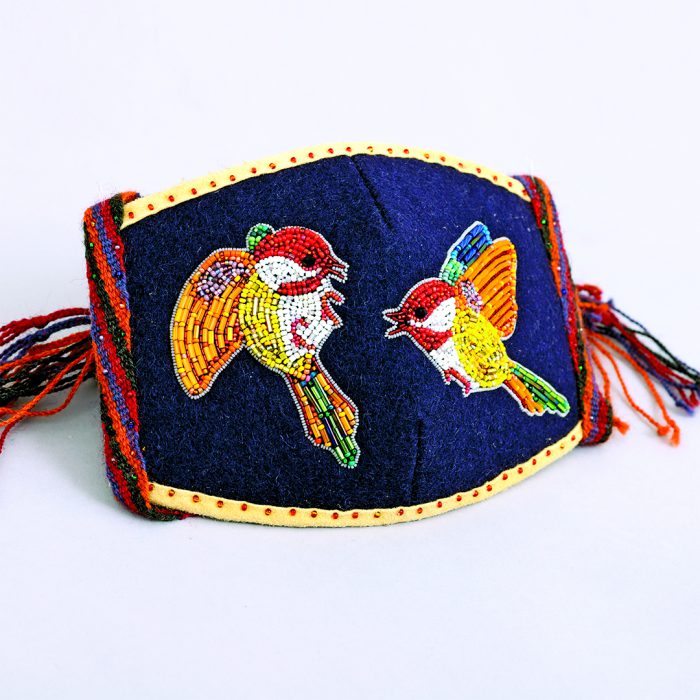 (Courtesy of Nathalie Bertin)
Here is some more bird content! Krista wanted the battling birds to represent how we are sometimes fighting over things that we should be sharing with each other during this pandemic. Parts of the mask—like the straps—use Métis weaving styles, and the mask uses tanned deer hide.
Delta Rose by Eliza Firth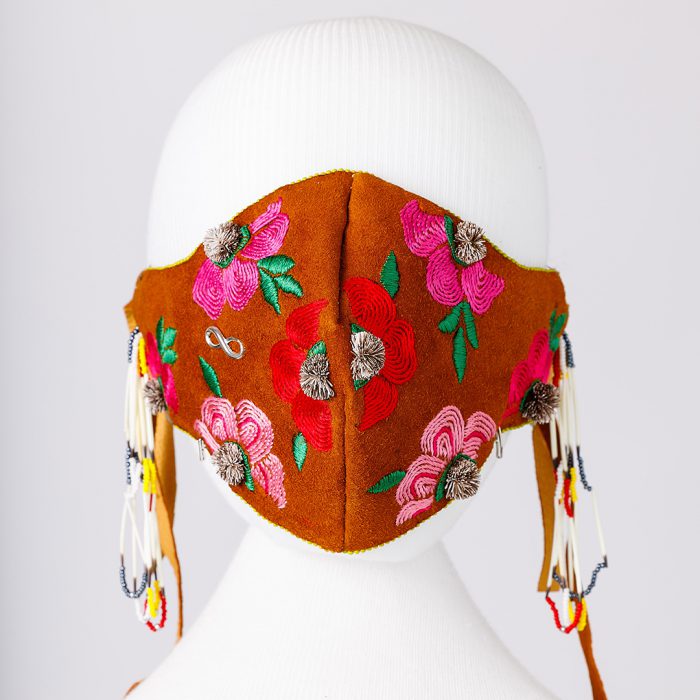 (Courtesy of PWNHC)
This mask also borrows from Metis heritage, and is made of deer hide, moose hair, silk, and porcupine quills!
Every Bead A Breath by Adele Arseneau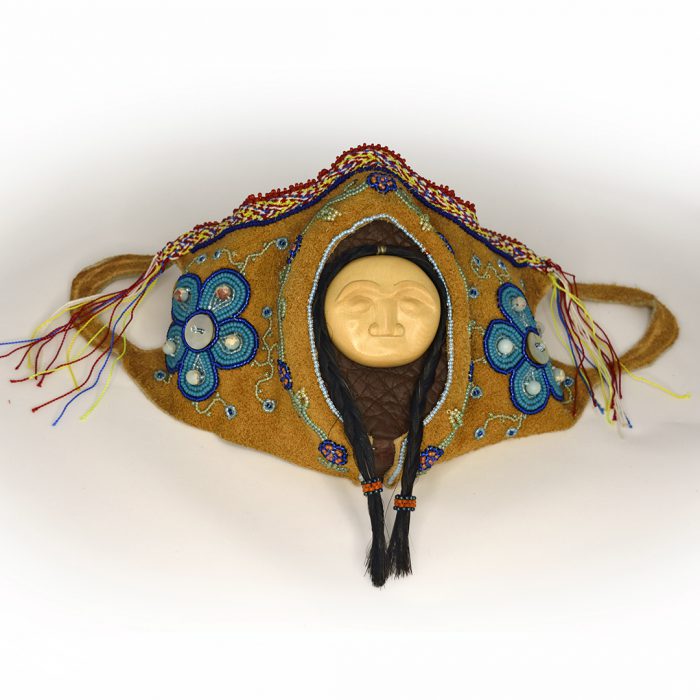 (Courtesy of Nathalie Bertin)
Adele is an Indigenous artist who used this project to tell a personal story about her heritage and traditions. "Each stitch [is] sewing me back into my culture," she writes—you can see the care she put into it for yourself, especially in the carving at the centre of the mask.
Pandemic Vogue by Nathalie Bertin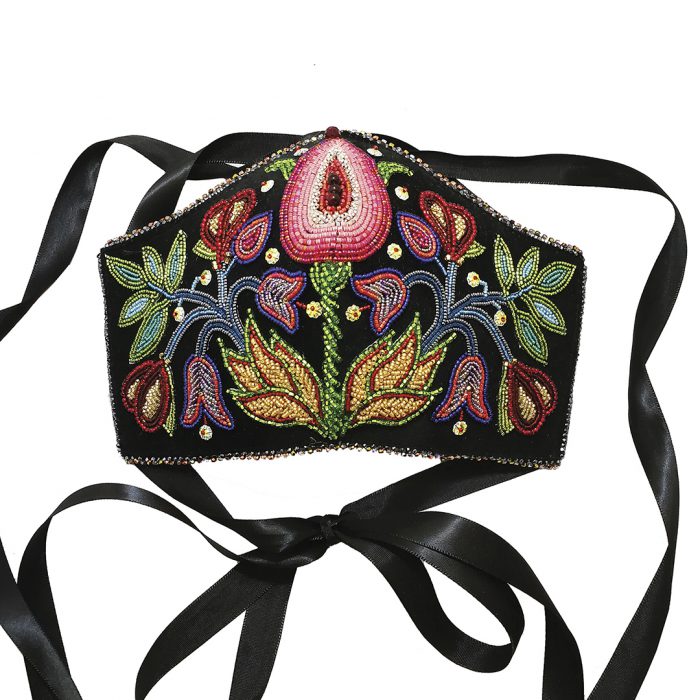 (Courtesy of Nathalie Bertin)
This piece asks "Could it ever be a normal thing to wear a mask on a day-to-day basis"? Would it be considered fashionable? Proper? Could a mask ever be a sign of wealth or privilege? Nathalie explored this question with a very fancy mask, full of beads, velvet, and ribbons.
Thanks to the PWNHC for their help with this post. Breathe: Creating resilience through traditional art is on display at the PWNHC now, while the partner exhibit—called Breathe (2nd Wave)—is on display at the Galt Museum and Archives. Both are on show through April 2022. Afterwards, these exhibits will continue to tour the country, so be on the lookout for location near you!
UPDATE: We would also like to thank co-creator Nathalie Bertin for reaching out to us after we first posted this story with some terrific additional information about the project. This post was updated on January 25, 2022.