For most of his life, Bill Reid (1920–1998) was known as one of Canada's most important artists. And just this past month, the Royal Canadian Mint announced that they were honouring his work with a brand new toonie, or $2 coin.
An Indigenous artist of the Haida Nation (one of the First Nations of the Pacific coast), his Indigenous name is Iljuwas. This is the second time that Bill has been featured on Canadian money. An image of his statue The Spirit of Haida Gwaii was on the back of the $20 bill from 2004 to 2012. But on this toonie, the art is all his, based on his painting of a grizzly bear from 1988.
To understand the significance of this new coin, let's look at Bill's life and why his art matters.
Carrying on tradition
Bill worked his whole life to raise awareness of Haida culture and art. (Getty Embed)
Bill's father was Scottish-German, but his mother's heritage would be what defined his life. She was Haida.
Her own great uncle, Charles Edenshaw, was a deeply respected artist who died the year that Bill was born. As Bill grew up, he was taught by his mother's family about Haida art. When he showed promise, he inherited his great-great uncle's tools and set to work creating his own path as an artist.
He started by restoring totem poles and other traditional pieces of art that had been rotting away in abandoned villages. Then he began to create his own style.
Old and new, together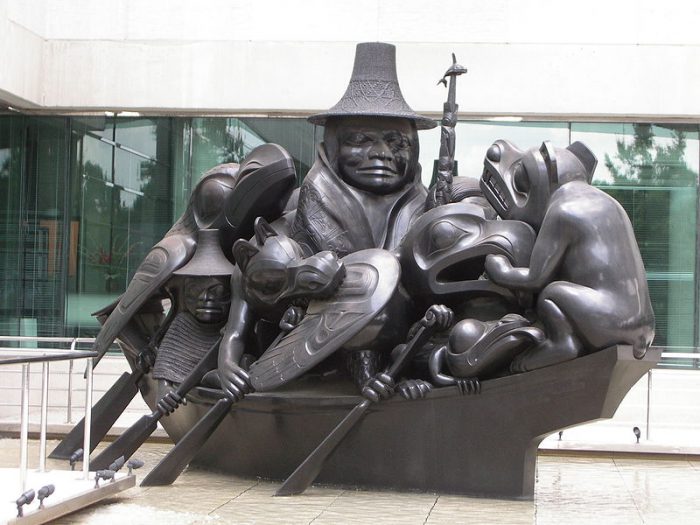 The sculpture The Spirit of Haida Gwaii sits outside the Canadian Embassy in Washington. (Wikimedia Commons)
At the time, Haida art was disappearing as a style. Bill tried to bring back his ancestors' traditions using modern techniques. It would make him one of the most influential Indigenous artists Canada has ever known.
He specialized in jewelry and sculpture, using everything from precious metals to different woods and jade. Three of his large bronze sculptures are displayed at important public sites: The Jade Canoe, at Vancouver International Airport; The Spirit of Haida Gwaii, outside the Canadian Embassy in Washington, D.C.; and Chief of the Undersea World, at the Vancouver Aquarium.
Though these three are quite famous, the Royal Canadian Mint chose something different for his toonie: his painting of Xhuwaji, the black grizzly bear.
Working with family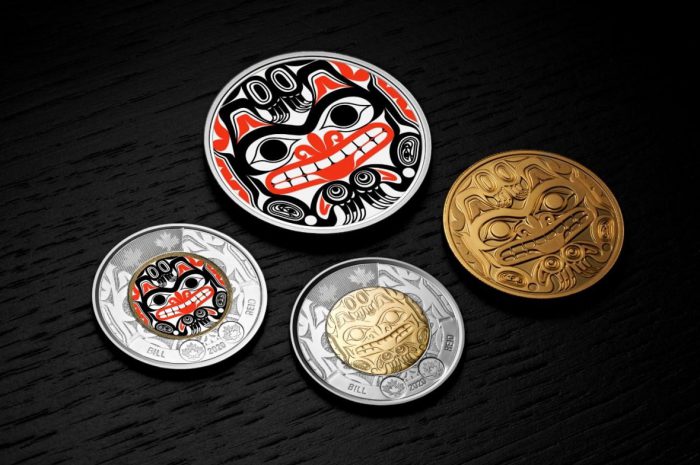 There are several different styles of coins that have been made. Some can be purchased by collectors, others will be in circulation to the public. (The Royal Canadian Mint)
Xhuwaji is an important part of Haida culture and storytelling. So the Mint approached his family to work together on designing the coin. Bill's granddaughter, Nika Collison, of Jisgang in Haida, was a part of the process. She told CBC in an interview that she and her family were very happy about how the coin was made.
"We're thinking ... we're going into a very public and bureaucratic system," she said, "And originally, we thought it was more of a gesture of reaching out. But we actually sat with them and they wanted to hear the Haida worldview and what we thought was very important to have. And it was stunning what they changed, what they were able to incorporate. And we feel really good about it."
In the end, the Mint even recorded promo videos for the coin featuring narration in Haida by Nika's aunt GwaaGanad, also known as Diane Brown. You can watch the video below. Watch for these tributes to Bill's art and Haida culture appearing in circulation now.