Trigger warning: This post discusses the troubling history, and current trauma of residential schools in Canada.
Today is the National Day for Truth and Reconciliation in Canada.
Started last year, this is a day to recognize and reflect upon the terrible lasting effect of residential schools on Indigenous Peoples across the country.
Young Indigenous children were taken from their families and forced to attend and live at these schools, which were far away from their communities. These schools were run by churches and funded by the Canadian government.
At the schools, children were not allowed to speak their language or practice their culture in any way. Instead, they were forced to adopt the language and traditions of settlers. Many children died at these schools, and even those who survived suffered abuse and trauma (this is a kind of pain that reappears as a reminder of past frightening experiences).
But despite existing for well over a century—and until 1996—the history of these schools was not taught in classes. Nearly all Canadians grew up not knowing about their existence.
That is what makes today so important. It is about recognizing truths that were deliberately kept hidden. And it is about building a path to reconciliation.
Telling the story of Orange Shirt Day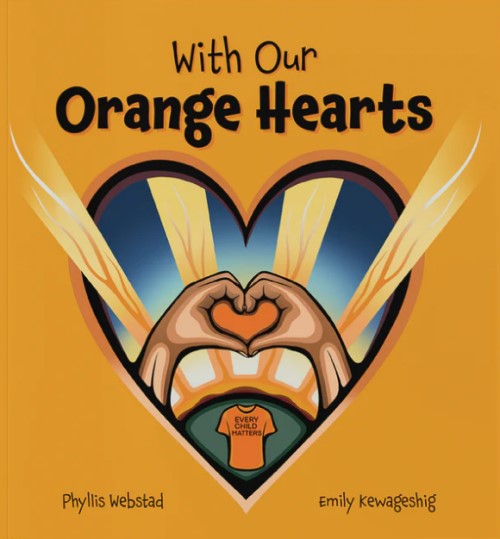 The new book With Our Orange Hearts was released on September 1st to help educate young people about the legacy of residential schools. (Medicine Wheel Publishing)
Today is also Orange Shirt Day.
This day was started by Phyllis Webstad, a survivor of the residential school system. When she herself was taken to live at a residential school in 1973, she was wearing an orange shirt that was a gift from her grandmother. But at the school, the shirt was taken from her and never returned.
As an adult, she started a campaign to recognize this history and chose an orange shirt as its symbol. The first Orange Shirt Day was held in 2013. Every year, it grew and was adopted by more communities across Canada. Today, it is practiced nearly everywhere in the country.
To help teach this story, Webstad has just published a new children's book, With Our Orange Hearts. The book is full of rhyming words and vibrant illustrations by Emily Kewageshig. It talks about the past of residential schools. But it also centers on the resilience of Indigenous communities and hope for the future.
"Every child matters, including you and me," she writes in the book. "With our orange hearts, we walk in harmony."
New stamps of recognition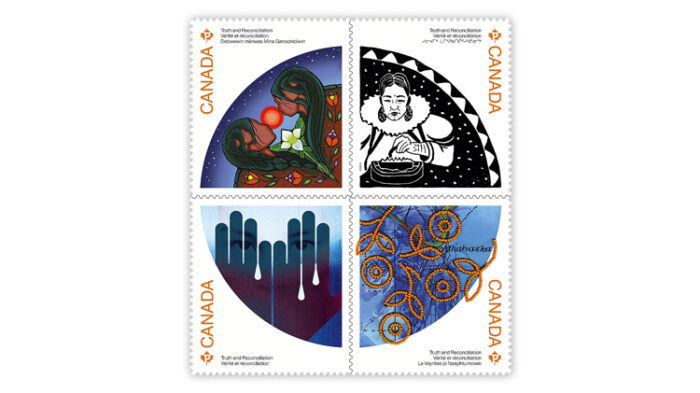 The stamps each have Truth and Reconciliation written in English, French, and the language of the Indigenous artist. (Canada Post)
Across the country, today will be marked by ceremonies and memorials that acknowledge this part of Canada's history. In fact, one such thing arrived a day earlier. On September 29, Canada Post released the first four stamps in a new Truth and Reconciliation series. This will be an annual series, with new editions coming out each year.
The artists involved include three Indigenous artists: Jackie Traverse, a First Nations artist (Lake St. Martin, Manitoba) who is Anishinaabe, Ojibwe; Gayle Uyagaqi Kabloona, an Inuit artist from Qamani'tuaq (Baker Lake, Nunavut); and Kim Gullion Stewart, a Métis artist from Athabasca, Alberta. The fourth is by Blair Thomson, an artist and graphic designer who works in both Canada and the United Kingdom.
According to Canada Post, the stamps "will help Canadians acknowledge and reflect on the injustices and trauma that have been inflicted on generations of First Nations, Inuit and Métis Peoples. The stamps also call attention to the responsibility all Canadians have in reconciliation."