There's a snowmobile trip, and then there's the proposed First Nations Expedition. This is one enormous journey!
Scheduled to take place between February 16 and March 4, 2022, the 18-day, 4,500-kilometre (2,800-mile) trip will move all around Quebec. Nearly 60 travelers will visit a dozen different Indigenous communities along the way. The riders will feature participants from several different Indigenous Nations, including Cree, Atikamekw, Innu, Naskapi, and Mohawk, as well as Inuit.
The purpose? To help bring messages of reconciliation, healing, and hope, not only to the communities that they visit, but across the country.
Carrrying a sacred fire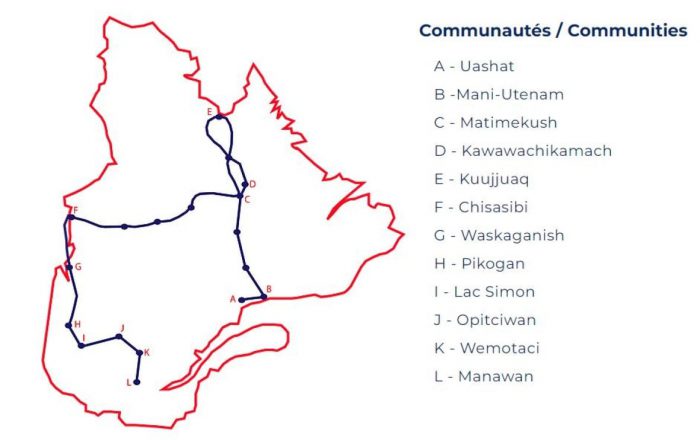 The journey will visit several Indigenous communities. (Audrey McMahon/FNE)
One way that they will do this is by bringing something special with them. Charcoal from a sacred fire.
It will all begin with a sacred fire being lit at Uashat Mak Mani-Utenam, the community that is at the start of their journey. Something that is sacred is something that has spiritual or religious significance for a group of people.
Eleven women will then have the responsibility of taking charcoal from that fire and bringing it with the group on their trip. At certain locations on the trip, a new sacred fire will be lit with that charcoal. Afterwards, charcoal will be saved from that fire and so on. In total, seven fires will be lit.
This way, they can carry the meaning of that spiritual event with them across the entire trip. This is why the other name for this trip is The Expedition of the Sacred Fire.
Hope and healing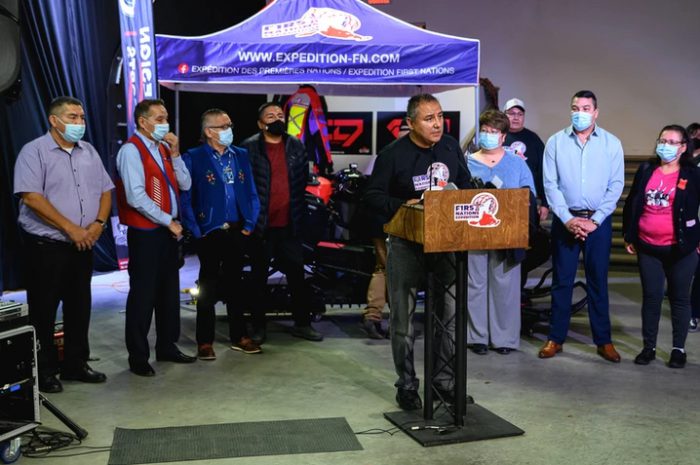 Organizer Christian Flamand speaks at the annoucement of the expedition. (Audrey McMahon/FNE)
There are a few reasons for the trip. For starters, traveling across Quebec in winter by snowmobile is pretty awesome! But there is a deeper meaning.
The participants want to commemorate those from their communities who were lost to the residential school system. They also want to bring attention to the plight of Indigenous women. And they want to bring hope across Indigenous Nations.
"We want to heal together with a sacred fire," said Peggie Jérôme in an interview with CBC. She is one of the women who will carry the charcoal from fire to fire. "It's going to represent a reconciliation of our nations across the country."
The journey will not be a race. Instead, it will be a chance to be together, support one another, and carry a positive message.
"I think a lot of people were waiting and needing a project like this," lead organizer Christian Flamand told CBC. "We are very proud of this project because it offers something that all nations can identify with."