Conversation.
It's the best way for us to learn about one another. Let people speak. Have them tell their stories.
That's the idea behind Indigenous Voices, a new free webinar series for young people! It is being put on every second Monday at 11am EST by the Royal Ontario Museum (ROM).
What is a webinar? It's a fun word for a presentation over the internet. And with the next episode of Indigenous Voices less than a couple weeks away (Monday, February 22), we thought we'd look at what this particular webinar series is all about!
Who is J'net?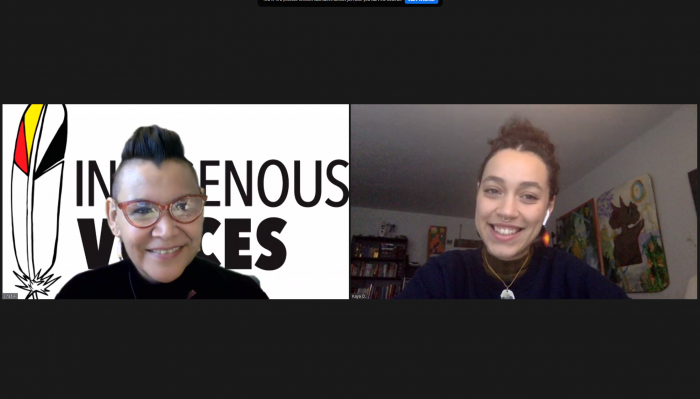 J'net (left) speaks with Afro Caribbean-Indigenous artist Kaya Joan during last Monday's Indigenous Voices webinar. (ROM)
The host of Indigenous Voices is J'net AyAyQwaYakSheelth (meaning One Who Gives Away And Still Stands Tall), the ROM's Indigenous Outreach and Learning Coordinator. She is an Ahousaht member from the Nuu-chah-nulth nation—this nation is based in the Pacific Northwest Coast of what is now Canada. The Ahousaht people are from the west coast of Vancouver Island.
After she joined the ROM in 2014, she helped from the museum's Indigenous Advisory Circle. This group of "knowledge carriers, elders, youth, educators, and artists" meet every year to help improve the ROM's School Programs. And one of those programs is—you guessed it—the Indigenous Voices series!
Giving voices a platform
Indigenous Voices explores a huge range of First Nations experiences, stories, and more. There's everything from art and music to history and social issues. Each webinar is designed for certain grades as well, depending on the topic.
For example, the first episode—which aired on Monday, February 8—was for middle and high school-aged kids. Called Intersections of Afro-Indigenous Identity, it was about how the experiences of Indigenous and Black people living in North America can have similarities. You can see the episode at the link right here.
But the program is made for younger students, too! The next episode (Feb. 22) will look at flags and is for Grades 1 to 6. Not only will it include the chance to make your own flags, it will look at the meanings behind flags in North America, and how Indigenous identities are not represented by these flags.
The schedule
Here is the full schedule for the Indigenous Voices series, including the grades that each webinar is designed for. To register to attend any of these events, visit this page, select the webinar of your choice, and register!
They're free and an awesome way to learn and create.
February 8: Intersections of Afro-Indigenous Identity (Grades 7-12)
February 22: Indigenous Flag Art Activity (Grades 1-6)
March 8: The Power of Poetry & Writing Activity (Grades 9-12)
March 22: Winter Storyteller & Animal Puppets (Grades K-3)
April 12: Understanding Genocide Awareness Month (Grades 10-12)
April 26: Inukshuks & Inuit Drum Dance Lesson (Grades 4-6)
May 10: Mother's Day Gift Making & Pow Wow Dance Lesson (Grades 1-6)
May 31: Residential School Reflection & Reconciliation Art Action (Grade 6-9)
June 7: Father's Day Gift Making & Grass Dance Lesson (Grades 1-6)
June 21, 2021: Two-Spirit Identities & Giveaway Gift Making (Grades 9-12)