Today—June 21—is National Indigenous Peoples Day. This is a time to reflect on and celebrate the diverse cultures and heritages of First Nations, Inuit, and Métis in the land now known as Canada. There are many ways to do this, and today will be full of them.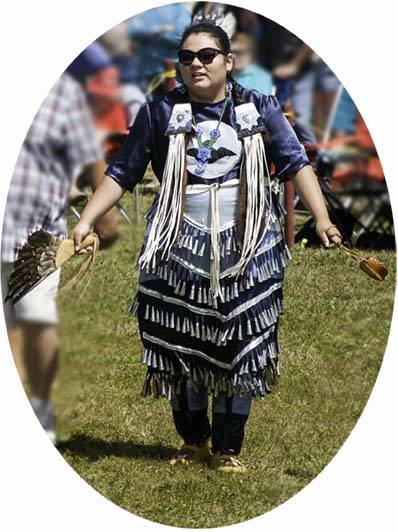 Ziigwen Mixemong (Courtesy of 4Canoes)
To help honour this, we're speaking with Ziigwen Mixemong. Ziigwen is an author from Beausoleil First Nation, an Ojibwe/Potawatomi Nation located near the southern end of Georgian Bay in Ontario. She has written a children's book called Gifts For Dawnis. The book tells the tale of a young girl, Dawnis, who is given several gifts from the Creator through different animals and plants in nature. But she doesn't receive details about what each gift means—she must try to figure that out for herself!
Passing on traditional teachings and language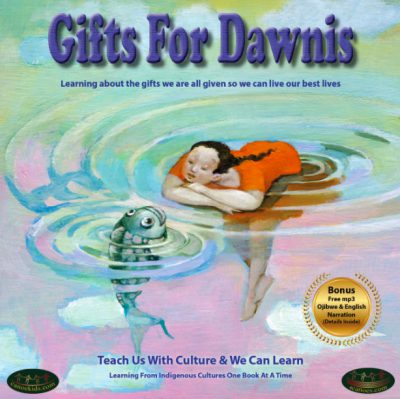 (Courtesy of 4Canoes)
Though the story is Ziigwen's own, it is based on traditional teachings and beliefs in Ojibwe culture. And to help underline this, the whole book is written in both Ojibwe and English. We asked Ziigwen about her memories of reading, her love of writing, and the challenges of trying to tell the same story in two different languages.
OWLconnected: Congratulations on Gifts For Dawnis! Have you always enjoyed writing?
Ziigwen Mixemong: Chi Miigwech, thank you. I started writing at a very young age. As soon as I could put words on paper, my mother and I would play 'The Beautiful Things I Saw Today', and I would keep lists of things like the sunrise, or a pretty tree. Then my teachers encouraged me to write stories in school. No matter where I go in life, I'm sure that I will continue to write.
OC: Your heritage is from two Indigenous Nations—Pottawatomi and L'nu. How has each helped shape who you are?
ZM: I am certainly a product of both of my parents. They made sure I was fully aware of my heritage and that I knew I was connected to both of my traditional territories. It is so important for Indigenous Peoples to know where they come from, their family, their community and their nation, no matter which nation that is.
OC: At the front of Gifts For Dawnis, it is said that this is not a traditional story but that it is based on Indigenous teachings. How did you come up this story? What teachings helped you?
ZM: There is an important difference between a teaching and a story.
A teaching is a specific way of ensuring our culture and spirituality is protected from generation to generation. They are very specific and cannot be altered or changed. Remember, ours is an oral tradition; there is no book to check with to make sure we have things correct.
A story is what individuals use to share their thoughts or perspectives, or to add something to a teaching. This story is my way of understanding and explaining what our gifts are, and how to find them. It comes from a teaching about honouring every form of life in Creation, and understanding that we are all different, all carry different gifts, and we are stronger and healthier when we embrace those differences and learn from each other.
OC: The book is written in both Ojibwe and English. The book mentions how certain words in English don't exist in Ojibwe and vice versa. How challenging does that make it to write in two languages?
ZM: The First Languages of the people of Turtle Island and the English language are structured very differently from each other. Put very simply, English is about action. Anishinaabemowin, my traditional language, is based on relationship. So while I am still learning my language, I can speak to the relationships we have with all of Creation. So I try to write in English, but from an Indigenous perspective. Then Grandmother Georgina Nahwegahbo did a beautiful job of translating my words.
OC: In the book, Dawnis receives gifts from a tree, a crow, and a fish. Can you talk more about the significance of these living things in Indigenous teachings?
ZM: In my culture, all of life is equally sacred. All forms of life have significance in our culture. I don't remember why I chose those specific beings when I wrote Gifts for Dawnis. Perhaps they picked me!
OC: Tell us about your favourite activity in your free time!
ZM: I have so many! If I have to pick a favourite, it would be spending time with my horse, Gaelan.
OC: What were your favourite stories as a young kid?
ZM: Any stories told by my mom and dad, my aunties and uncles, were always my favourite. When I was reading, I didn't have access to Indigenous authors, but loved Dr. Seuss, Eric Carle, and Robert Munsch.
OC: What kind of book would you like to write next?
ZM: I'm not sure. I am also a playwright and am currently working on two or three plays. I will always be writing, in one way or another.
Thank you so much, Ziigwen!
If you'd like to check out Gifts For Dawnis—as well as other terrific Indigenous books—please check out our friends at 4Canoes here.
And for more thoughts on the Ojibwe language, you can read an interview that we did earlier this month with Mskwaankwad Menoomnii, who helps run an immersion course to learn the language.