Recently we began a new series of posts designed to explore Black experiences and discuss racism and injustice. So far we have discussed Juneteenth, Jagmeet Singh's motion to address systemic racism in policing, interviewed teen activist Charlene Rocha, and we've even heard from readers like you!
Today, we're speaking with someone who thinks a lot about students and social issues. Alicia Dyson is a Grade 4/5 teacher at Tumpane Public School in Toronto. As a Black educator who has taught for twenty years in high needs communities, she has dedicated herself to being a social justice advocate. She wants her students to do more than just learn about the world. She helps them engage with it, and each other, to learn about their power to bring change.
We talked about how when it comes to making a better world, it's about starting slowly, asking lots of questions, and listening to the answers we hear. Speaking of questions, we even got Alicia to answer a couple from our readers from last week's post!
Check out her answers now!
Talking with Ms. Dyson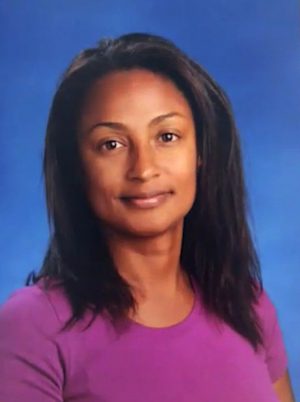 (Courtesy of Alicia Dyson)
OWLconnected: How can young people start asking good questions about the world they live in?
Alicia Dyson: It starts with asking questions and having a space to self-reflect. Let me tell you about an exercise I did this year.
I had four different kids sit at the front of the class and I handed out different Canadian bills. The kids had to tell me what they noticed on the bills. Then we asked, Which historical figure is on the $5 bill? Why was he [Prime Minister Wilfrid Laurier] chosen? Which character traits do you think he possessed?
After that, we moved on to, Which historical figure is on the $10? And it is [Black civil rights figure] Viola Desmond. Now the question is, Was this person always on the bill? Why might she have been chosen? What character traits did she possess?
All of this is about training yourself to look at things that you take for granted every single day and to think a little bit more deeply about it.
OC: So you're asking kids to consider why does society choose to do a certain thing. And does society always stay the same, or does it change?
AD: Yes. Because once you do that, then you can make other connections. And you'll start asking deeper questions about more and more things.
OC: What else helps us question how we live?
AD: Looking at history. Social pyramids or ladders have existed in every society. [These are structures with certain successful people at the top and others below them.] Why? What did this structure achieve? How easily could people move within it? What were the barriers to improving your life?
And then you can ask, what makes our Canadian society different? What can move you up in our society? And if you're born into a different section of our society, can you move the same way?
OC: A big part of anti-racism is addressing racist behaviour. But many young people could feel afraid to call out racism in their peers. And someone being told they are being racist can immediately feel the need to defend themselves. What is the best way to build a safe place to discuss these things?
AD: If defensiveness is your first response, then you've stopped listening. So the next step needs to be an uncomfortable, or as educators like to call it, a courageous conversation.
OC: That's great!
AD: Yeah. A courageous conversation is an opportunity to involve different perspectives about how people feel, and how differences in power, or imbalances, play out. That's what it is. If somebody is being called a 'racist', it's because the person who is calling them that feels that that person unfairly used their power to form an opinion or oppress based on the other person's race.
OC: So you're saying we need to be courageous about listening to each other.
AD: You need to build a sense of community so that people think beyond themselves. We need to understand the role of empathy. Think of this: If you've ever experienced being less than someone using their social power against you, how did you feel? Once you understand those feelings for yourself, you've brought it down to the human level. You understand that you're just a human amongst other humans. Then it's easier to see how that same sort of feeling you've felt could be felt by another person.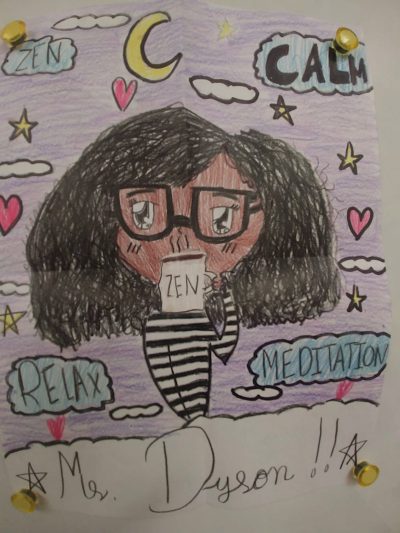 Nothing says 'Thank you' from your class like a portrait of you! (Courtesy of Alicia Dyson)
OC: Let's end off with a couple of questions from our readers! Kulsoom asked, What steps do kids have to take as children to become policy makers when they grow up?
AD: There's a simple model that you can use to learn how to address problems. First, what is the injustice or the problem that you want to fix? That's number one. And then who are your helpers? This means, who are the other people involved in this problem and how might you get them to help you? And then, together what action can be taken towards solving the problem?
There's a great book about this called Sofia Valdez, Future Prez. This young girl goes to City Hall to fix a problem affecting her grandpa. At first, they laugh at her, but she asks, What would you do if you were me? Then they all come together to support her, she lets them know what she needs from them, and in the end she gets a new park built instead of a garbage dump!
OC: Another of our readers, Sonali, wants to know, is it good for kids to get involved in social justice issues?
AD: Yes! And you will become more engaged as a result. When you write a letter to a government official, or you blog, or speak to somebody at a community office, the outcome is great. It can turn kids who don't have a sense of passion about social justice issues into real warriors! You just have to tap into your sense of wanting to care and find solutions.
But also, it is very tough to have the same sense of passion for every issue that is presented to you. I can't do that, and I'm an adult! I have different ebbs and flows.
OC: So getting involved as a young person in social causes can take patience?
AD: Some young people are already more passionate about social justice issues because of their upbringings. They talk about it at home. Other kids don't yet have that 'burning fire' to be involved at first. It's a process. My job as a teacher is to expose young people to these things. Then through the power of the internet, kids can start to figure things out for themselves!
But first, you have to get to a place where you look beyond your own world.
Please join us next week as we continue this series.
We want to hear from YOU! Do you have a question on this topic that you'd like answered? Do you have a message of hope or support that you'd like to express? Write us at owl@owlkids.com with the subject 'Speak Up!' and join the conversation of change.