2021 is not even halfway done, but we already know what one of our contenders for middle grade book of the year will be. The Fabulous Zed Watson!
For ages 8 to 12, this book introduces us to Zed, an unstoppable bookworm with a 'monstrous' appetite for fantasy and adventure. One day, their love of a mysterious and legendary lost novel called The Monster's Castle leads to them unearthing clues of its whereabouts. Could it be that they will be the one to finally recover this missing book? For Zed, there is only one thing for them to do ...
Follow the clues on a road trip!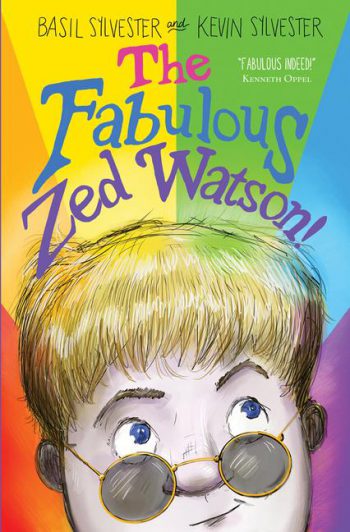 (HarperCollins)
We love this book for its big jokes, big adventure, and bigger heart, all wrapped up in fun illustrations. Zed's family and friends are an amazing cast of characters. With June being Pride Month in Canada—a time to recognize and celebrate LGBTQ+ communities—we wanted to talk with the book's authors about how Zed (a non-binary teen who uses they/them pronouns) came to be. (And for more info on Pride and its importance and history, please read here and here.)
Chatting with Basil and Kevin
Basil and Kevin Sylvester are a child-parent writing duo with great insight into Zed. Like Zed, Basil is non-binary. Dad Kevin is already a writer many young readers know thanks to his best-selling Neil Flambé Capers novels and his sci-fi series, MiNRS. He is also a cartoonist, and his illustrations in the book help bring Zed's world to life!
We talked with them about helping break new ground in books, working with each other, the inspiration for Zed, and how they hope people will receive their first novel together.
OWLconnected: So Basil, is this your first novel?
Basil Sylvester: Yes. My first published work actually, period!
OC: Congratulations! Can you talk about how this project got started?
BS: [My dad and I] had been brainstorming ideas for awhile. Then in summer of 2019, Suzanne Sutherland, a beautiful friend at HarperCollins, emailed us with a pitch: Would you want to write a funny story with a non-binary protagonist [main character] for middle grade?
Kevin Sylvester: I had actually been pitching her a bunch of stuff, and she was like, "No, no, no ... but you know, we would be interested in ..." And that's when we started talking about whether you and I would be willing to do something.
BS: As soon as she asked us, within 48 hours, we had almost the entire story that we were going to write! We immediately got together, like, Oh, this will happen. And this could happen. And it'd be like this and this. It went super smoothly. Kind of unexpectedly!
OC: That must've been great to be asked like that!
BS: Yeah. Back in May 2019, there was a book published by Scholastic called I Wish You All the Best, which was a YA (young adult/teen) novel that was about a non-binary character. And it was sort of the first of its kind. I was super excited for it. I hadn't written anything in years and then realized, Oh! Non-binary people can be protagonists!
KS: Those books weren't that available either, right?
BS: What was really so big about I Wish You All the Best was that it was mainstream. It was on bestseller lists. So I started working on a project sort of secretly that was about a non-binary person. But I was having difficulty working on that because it was supposed to be YA, and it just didn't feel right. And then when Suzanne was like, Do you want to write something for middle-grade?, all the pieces really just fell into place.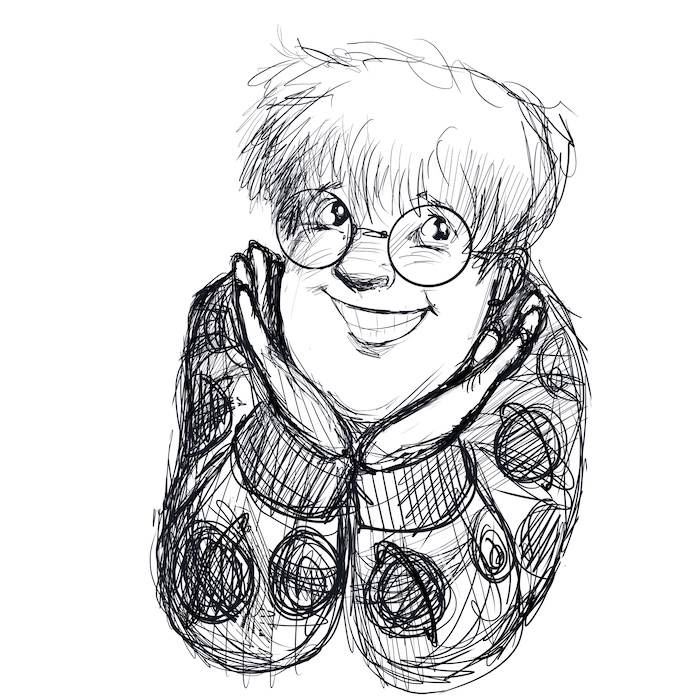 Say hello to Zed! (HarperCollins)
OC: Zed's such a bouncy character, very confident. I love how four lines into the book, they are already like, These are my pronouns, I'm non-binary. Boom! Did you talk a lot about having them be very direct about their identity?
KS: Hmm. It was definitely conscious. We wanted the story to be about a kid who was comfortable with who they are. Basil, did we say we wanted that on Page One?
BS: Yeah. From Day One, I was kind of like, I don't want it to be a coming-out story (a book where the story focuses on the main character's choice to reveal being LGBTQ+). And actually, we did go back and forth on whether or not to talk about Zed coming out. I think we settled for a middle ground. They mention their story in the book, like, Oh, back when I came out and my family was fine with it. Addressing it, but not making it the focus.
OC: Right. It's not hidden, but you don't dwell on it unnecessarily.
BS: Honestly, I think part of Zed's directness comes from my own experience with being trans. When you are trans—and especially when you're non-binary or somehow gender nonconforming—you can't necessarily blend in. It was important to have Zed be aware of that, and be confident in themselves.
I also think kids at that age are just like that about a lot of things! I grew up with a lot of younger kids around me and they are just very much like, Yeah, this is how it is.
OC: As a parent-child writing team, what was it like working together on this book?
KS: We learned we could work together, which we definitely did not know for sure going into it. The biggest surprise was how well it went.
BS: One of the best parts to me was getting to talk about a lot of the issues. Because you're working on something together, you have to be more patient than if you're just like arguing over the dinner table! I liked getting to have conversations about like the silly stuff—Oh, what if, what if Zed and Gabe do like this? And then they dance with a giant potato?—while also getting to talk about trans stuff, and our different perspectives on that.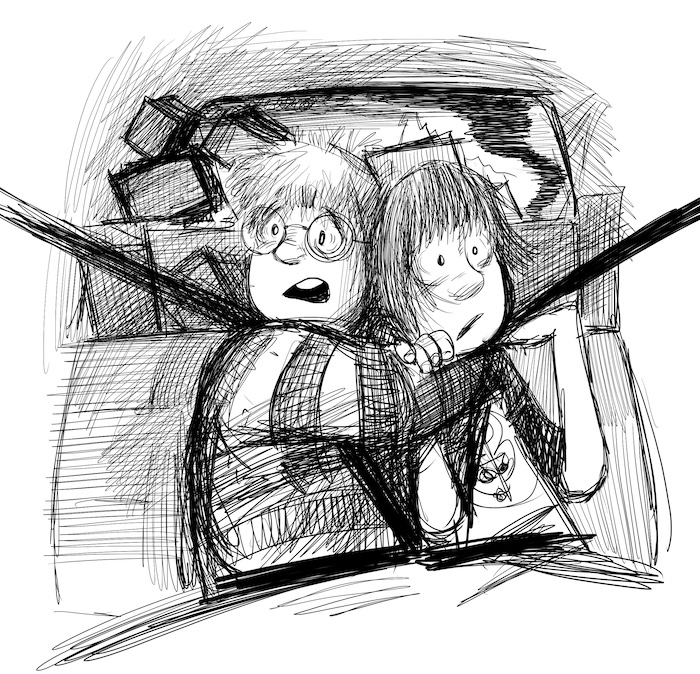 Through the book, Zed and best friend Gabe face mishaps and misunderstandings with friendship and humour. (HarperCollins)
OC: Basil, can you talk about creating Zed, a confident non-binary tween, and how that relates to your own experience as a kid?
BS: Zed is not necessarily me, but maybe me how I wish I'd been? I think it's a lot of it is me, but now with an understanding of what being non-binary means. A lot of how I wrote Zed comes from me being able to find community among people who are understanding and other trans people. And I feel like [Zed] is me now because I am a lot more confident in who I am because of  the people who have supported me along the way. Including you, Dad!
KS: Glad I could be there for you!
BS: What's important to me about having Zed be so confident is it's not only for me! I want someone to read this book and see Zed being confident, and maybe that will help them. There are a couple of moments where they bump up against transphobia, or at least ignorance. And having them deal with that with humour was really important. Not because it's not a big deal—just because it's so everyday when you're trans. Everyday you're going to get misgendered [identified by someone as the wrong gender].
KS: This week on Twitter, a teacher reached out and said they were reading the book in class. The kids' strongest reaction was to the border scene, where Zed goes to the border and they get misgendered and they're nervous and it's horrible, but they deal with it with humour.
BS: What's interesting to me though, is hearing people say, "My kid is non-binary. Thank you so much for writing this book." [And] I think many kids are reading this book and do not care about the non-binary stuff at all. [They] are connecting to Zed as Zed, and not as non-binary, which I actually love so much.
The Fabulous Zed Watson is available now through HarperCollins and bookstores everywhere.