Every two weeks we publish a new issue of our tablet and computer-friendly eMag, OWLconnected. It's free for OWL magazine subscribers.
For many kids across Canada, this week is all about heading back to school. In Issue 126 of our eMag—which comes out today!—we're looking at how kids like you feel about this big moment. And that's not all.
Let's see what this issue has in store for you!
Excited? Nervous? So many emotions!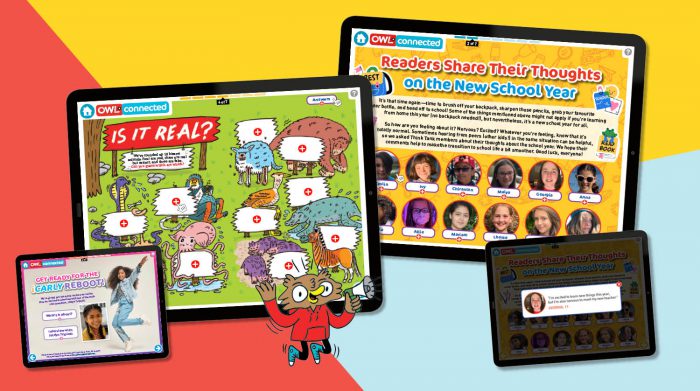 Whether you're going back in person or remotely, heading to class is big change from your summer holidays. And that can bring up some big emotions! Sometimes the best way to deal with all of those huge feelings is to hear from others just like you. That's why we interviewed 12 students to get their take on heading back.
Speaking of heading back, iCarly has returned to TV! One of the biggest shows of the 2000s, it is being rebooted with a mixture of the original cast and new faces. One of those new faces is actor Jaidyn Triplett. In our interview with her, we get the scoop on working with the rest of the cast, being a YouTuber, what her character is like, and more!
We are also getting everyone prepped for one of our favourite days of the year: National Science Reading Day! September 22 is the big event and we've got all of the details about how you and your class can participate to win big prizes. Did we mention that this issue also has a video, puzzle, and quiz? Because it does!
If you're already a subscriber, click here to sign in to the eMag right now.
If not, maybe it's time to take your OWL experience to a whole new level! Get ten print issues a year sent right to your door, plus over 24 issues of our exclusive eMag by subscribing right here.