Every two weeks, we publish a new issue of our tablet and computer-friendly eMag, OWLconnected. It's free for OWL magazine subscribers.
For Issue 160, our focus is on International Women's Day. Though it was yesterday, March 8, there's still plenty to talk about!
Canada's theme for International Women's Day this year, is Every Woman Counts.
Meanwhile, the United Nations have chosen a tech theme for 2023: DigitALL: Innovation and technology for gender equality. This focuses on the importance of access to and understanding of technology to equal rights.
And it is something that we're looking at closely in this latest issue of the e-mag!
What tech means to her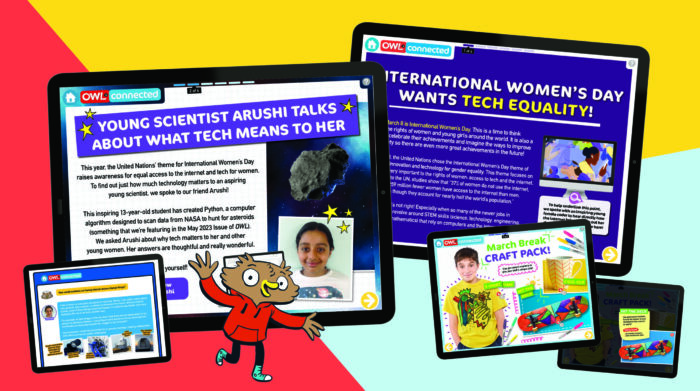 It is one thing for us to talk about why the internet and technology matters to women's rights. But we wanted to hear from a young woman who is currently uses these things to explore and live her dreams. So we spoke to Arushi!
This inquisitive 13-year-old is going to be featured in the upcoming May 2023 issue of OWL magazine. She has created an amazing project that takes data from NASA's telescope images and uses it to explore the skies for asteroids! You're going to love her story in the magazine, but we decided to meet with her again in the eMag. We ask her what technology means to her ... and what she would lose if she suddenly wasn't allowed to use it.
Issue 160 of the eMag also has a really cool March Break craft pack centred around markers that will push your creativity!
Our feature video takes a stroll deep into the history of human evolution. And, of course, there's our Buzz section, which is always loaded with art and answers from readers just like you!
If you're already an OWL magazine subscriber, you can click here to sign in to the latest eMag issue right now.
If not, maybe it's time to take your OWL experience to a whole new level! Get 10 print issues a year sent right to your door, plus over 24 issues of our exclusive eMag by subscribing here.