Last summer's NBA championship run by the Toronto Raptors brought Canadians together in amazing ways. People of all ages, backgrounds, and interests were caught up in the fever coast-to-coast. The fanbase reflected Canadian diversity perfectly.
And now, with the start of a brand-new NBA season only weeks away, the Raps are keeping that message of diversity strong. They have released a branded sports hijab.
A hijab is the religious head covering worn by some Muslim girls and women. Over the last few years, more and more companies have been making sports versions for women who want to play sports but still honour their religion. (In fact, we've talked before about Thawrih, an Ottawa-based, company that make sports hijabs and turbans for Sikh males.)
But the Raptors hijab is a first in that it is officially branded with a team's official logo.
Growing community roots
The Raptors huge win brought Toronto — and Canada — together behind one team. (Getty Embed)
The Raptors (and a lot of other NBA teams) already have a strong tradition of giving back the community and being involved. From charities to their now famous 'We The North' slogan and North City jerseys, this is one team that loves to show off its hometown pride.
Inspired by those brave enough to change the game.

The Toronto Raptors Nike Pro Hijab is available now.#WeTheNorth pic.twitter.com/D1fY1mWGhy

— Toronto Raptors (@Raptors) September 13, 2019
As the first major North American pro sports team to do this, they are acknowledging Muslim fans in a unique way. And people are taking notice — especially Muslim women who feel grateful that their way of life is finally being acknowledged in sports culture.
I love this so much. This movement is huge b/c rather than saying their about inclusivity and diversity, they're actually taking action and implementing it. As a Muslim women who wears the hijab and plays sports, I wanna say thank you and well done ❤️??

— Fatima Ingar (@Ingar43) September 13, 2019
Important debate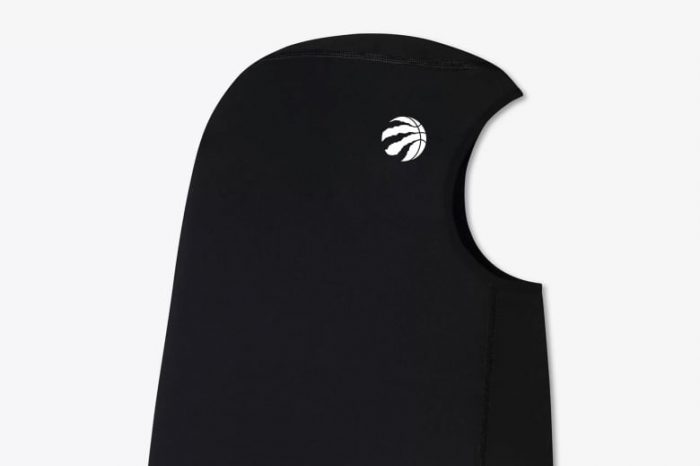 The new Raptors Nike hijab. (MLSE)
Of course, not all comments about the Raptors hijab are complimentary. Some people don't like that the branded clothing — made by Nike — is perhaps just another way for companies to make money off the Raptors' diverse fanbase.
Meanwhile, others simply see the hijab as a form of female oppression — an article of clothing that some followers of Islam demand be worn by women. And in some Islam-majority countries, such as Iran and Saudi Arabia, women are fighting for the right to not have to wear clothing like the hijab.
But the people who are most excited about the Raptors hijab? Young Muslim Canadian women who say that they wear hijabs by choice. Growing up in Canada, they have a different perspective on the hijab.
Just sent off my 14 year old daughter to her Pakman Volleyball tryouts in this Nike Hijab since she decided this year to start wearing a Hijab. Thank you @Raptors @Nike for supporting our hijabi girls. #WeTheNorth https://t.co/3FGHnQqrQm

— HMousa (@hebamousa83) September 13, 2019
Whatever opinion you might have, this is definitely something that we don't get often: a piece of athletic clothing leading a conversation about personal choices and religious freedoms. Let's go, Raptors!