Right now, the world is a-buzz with space programs.
From places like China and India to the USA and Europe, from destinations like the Sun and Moon to Mars and Jupiter, it seems like humans are sending rockets and probes everywhere these days. And those plans are only getting more ambitious in the future.
With so many missions being planned, it makes sense that there would be more opportunities for astronauts, too. And this is true!
Today, as part of a continued celebration of International Women's Day yesterday, we're going to look at two young women—Hayley Arceneaux and Alyssa Carson—who are using these opportunities to set records on their way to the stars!
Hayley hits new heights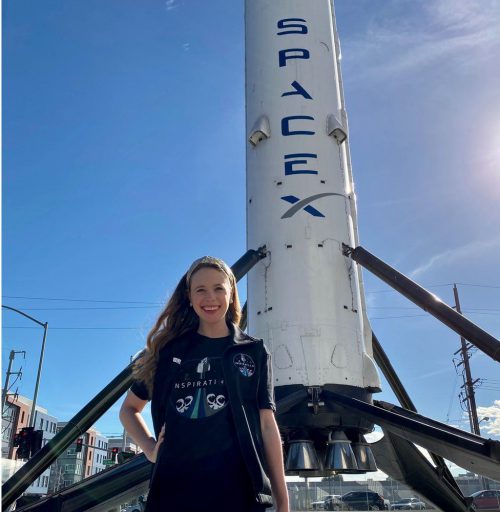 Hayley poses with a rocket at the SpaceX facilities. (St. Jude's Children's Research Hospital)
Hayley Arceneaux is a 29-year-old physician assistant at St. Jude's Children's Research Hospital in Memphis, Tennessee. She's also set to become the youngest American ever to go into space.
How did a woman who is not even an astronaut get this chance?
As a young girl, Arceneaux was always keen to go to space. She almost certainly would've followed her dreams and applied for astronaut training, but a diagnosis at age 10 changed those plans. She had bone cancer.
Though she survived and thrived, she also was left with a prothesis—an artificial limb—in one leg due to her cancer treatment. This meant that certain physical challenges—such as astronaut training—were not possible. Instead, she eventually went to work at St. Jude's, the same hospital where her life was saved years earlier to help other young people dealing with illness.
That alone is an inspirational story worth sharing. But inspiration wasn't done with Arceneaux.
Inspiration4 gets its crew
Back in February, SpaceX announced that it would be sending the first-ever all-civilian crew to space on board a rocket called Inspiration4. The project was started by a tech businessperson and pilot named Jared Issacman.
Issacman donated two seats on board the four-person rocket to, wait for it, St. Jude's Children's Research Hospital! One seat would be given away in a raffle, the other would be taken by a member of the hospital's staff.
After a search, you can guess what happened next.
View this post on Instagram
Hayley stands with Jared Issacman, who will pilot her trip to space. (Instagram/@hayleyarc)
Arceneaux, who visited NASA as a little girl and fought off bone cancer before she became a teenager, finally got news that she was going to realize her dream. And incredibly, in the process she will become the youngest-ever American in space.
Inspiration4 is likely to launch some time in 2022, with Arceneauz starting her training soon.
Alyssa—future astronaut!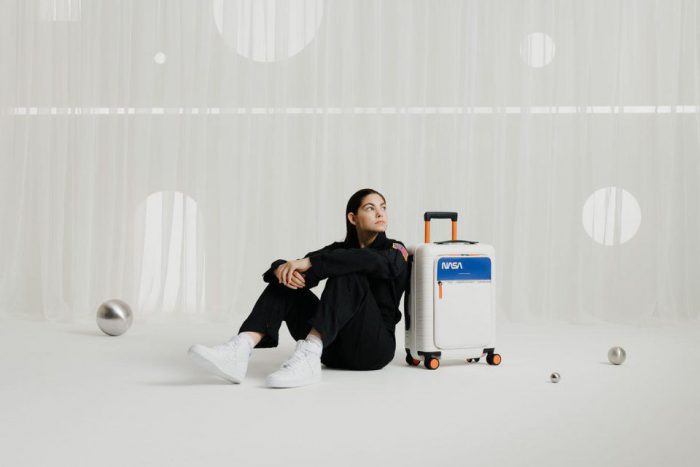 Alyssa Carson is packed and ready to go! (Courtesy of Horizn Studios)
And speaking of training, we'd like to wrap up by talking about Alyssa Carson. This 18-year-old from Baton Rouge, Louisiana, is the youngest ever astronaut-in-training. And a bit of a minor superstar already.
As a young girl, she turned an interest in space (sparked by the Backyardigans' episode Mission To Mars), into years as a preteen spent visiting space camps around the world. In the process, she became the only person to ever complete NASA's Passport program, which involves visiting 14 different space-related sites across nine states.
By age 12, Carson was special enough that NASA took interest—by 15, she was the youngest person ever accepted into their Advanced PoSSUM Space Academy (which is full of simulator and orbital training programs). In short, she was one her way to launch.
Carson isn't going into space anytime too soon, but in the meantime, this budding young scientist and explorer has been busy. In addition to her training, she's delivered several TEDx Talks, and collaborated with a company called Horizn Studios on the world's first ever line of space luggage! Called Horizn ONE, the prototypes have already been made and the hope is to have it ready for the future crewed missions to Mars in 2030. Amazing!
In other words, pack your space bags, Alyssa. We're sure it's only a matter of time before you're ready for launch.