After years of testing, Tina Singh, a Sikh mother from Brampton, Ontario, has solved a long-standing problem for her sons. She has designed a multi-use helmet that fits over traditional Sikh headscarves and hairstyles.
Sikhs consider hair sacred—generally, it is not cut or coloured. Men, and some women, cover it in a cloth headscarf called a turban.
Boys also wear something similar to a turban, though the design is different. Known as a patka, this headscarf features a large knot at the top of the head. It is a key part of Sikh identity. But when it comes to head protection for sports like cycling or skateboarding, it creates a problem. No helmets are designed to fit a patka.
For years, Singh tried buying larger helmets or cutting a hole in the foam at the top of the helmet to make space for the knot. But none of these options were safe. So she took matters into her own hands and designed a new helmet herself.
What an awesome idea!
Certified and ready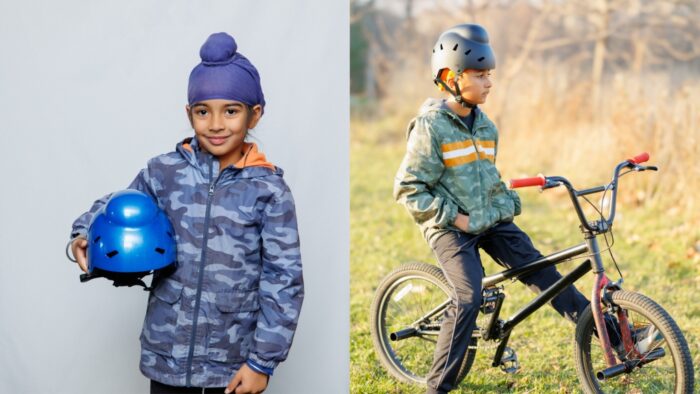 The helmets come in red, black, and blue and should be available to the public later this year. (Tina Singh)
Altogether, Singh spent two years working on and testing the helmet design. She also worked with safety regulators to get the helmets officially approved in Canada. In fact, it has been approved for international use by SGS, a Swiss testing company. If you are a kid over the age of five, you can use this helmet for cycling, skateboarding, inline skating, and scooters.
The key part of the solution is a domed section at the top of the helmet. This provides a comfortable spot for a hair knot while keeping the rest of the helmet snug and safe.
In an interview with CBC, Singh said that her helmets are "a demonstration of inclusion and diversity in sport participation." She also expressed her joy in getting to see her own sons wear helmets that were both safe and respected their heritage, saying "I did this for my kids."
The story behind how @SikhHelmets came to be. Watch here —> https://t.co/RW1oqywSkj pic.twitter.com/XrVJVGofZA

— Sikh Helmets (@SikhHelmets) December 14, 2022
Thanks, Mom!
A long time coming
The challenge of finding a match for the Sikh faith and modern helmets for bicycles and motorcycles has been around a long time. In fact, there have been court cases in Canada in the past on this topic.
In 2008, Baljinder Badesha, a Sikh man from Brampton, Ontario, refused to pay a fine for not wearing a motorcycle helmet over his turban saying that it was against his religion to do so. Badesha may have lost his court case, but today Sikhs in BC, Alberta, Manitoba, and Ontario can ride a motorcycle without a helmet.
Tina Singh's helmet is just for kids—it is not designed to cover an adult-sized turban. It also is not approved for full contact sports, such as hockey or football. But her innovation appears to be part of a movement toward providing better safety options for Sikhs of all ages who haven't been considered by mainstream helmet companies.
For example, Pfaff-Harley Davidson recently introduced the Tough Turban, which is a turban lined with impact resistant materials that provide protection that is similar to that of a helmet. Ideas like these are great examples of finding ways to include both safety and respect for religion in the same solution—instead needing to choose between one or the other.