Hockey tape. Just some stuff you wrap around a stick to help players get a better grip on the puck, right?
Well, yes. But a group of BIPOC (Black, Indigenous, and People of Colour) current and former NHLers are hoping to use it as a symbol of awareness in the fight against racism in the sport. Called the Hockey Diversity Alliance (HDA), this group has started a new campaign selling hockey tape branded with the slogan #TapeOutHate.
The tape is black with white writing that reads "Racism has no place in hockey #TAPEOUTHATE". According to the HDA's Akim Aliu, it was time "to show other kids that we made it through [experiencing racism] and we're here to help them."
Who is the HDA?
HDA co-founder Matt Dumba won the NHL's King Clancy Memorial Trophy in the 2019-20 season partly due to his anti-racism work through the league. (Getty Embed)
The Hockey Diversity Alliance is currently made of eight players who come from a variety of racial, ethnic, and religious backgrounds, including Black, Asian, and Muslim. Many of the players in the group started coming together to discuss their experiences with racism while playing the game of hockey.
"We just started a text chain and got on Zoom calls," says Aliu in an interview with ESPN, "with about 30 players of colour in the NHL and the AHL (American Hockey League), sharing stories of our experiences."
By the summer of 2020, these conversations led them to form the HDA to tackle this issue head on.
In addition to Aliu, who played for the Calgary Flames, the HDA includes current Minnesota Wild defenceman Matt Dumba, Toronto Maple Leafs winger Wayne Simmonds, Colorado Avalanche centre Nazem Kadri, and Florida Panthers winger Anthony Duclair. (Aliu and Dumba are the group's co-founders.)
What does racism in hockey look like?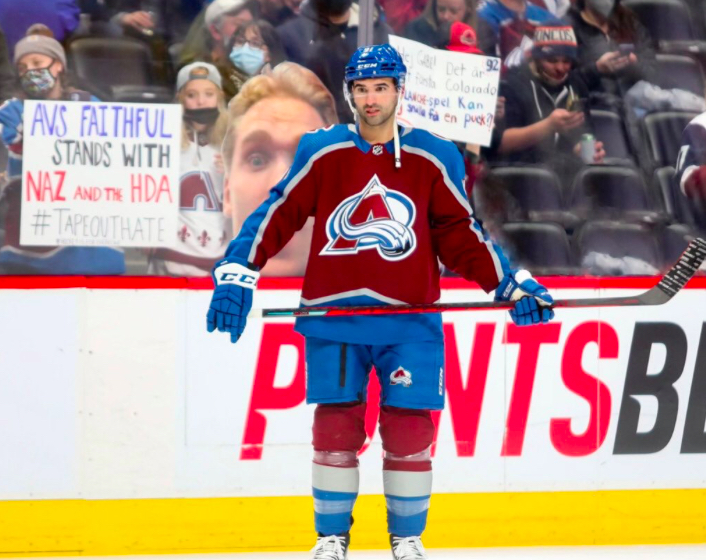 This sign from the Avalanche home game on Saturday shows that #TapeOutHate is already receiving support from fans. (Budweiser Canada/HDA/Twitter)
Over the years, the racism that BIPOC players have experienced has taken different forms. Some of it happens as racist chants or signs from fans in the stands. Some is taunts and comments on the ice from opposing players. It even happens in comments from coaches in the dressing room. And, more and more, it comes as tweets and texts on social media.
No matter the form it takes, this racism makes the journey of any BIPOC hockey player extremely challenging, no matter how talented the player is. It was true for Larry Kwong (the first BIPOC NHL player) and Willie O'Ree (the first Black NHL player). And it is true for players today.
HDA member Nazem Kadri, currently in the Top 5 in NHL scoring and a vital part of the Avalanche's league-best offence, has faced constant racism over his Muslim and Lebanese background during his career.
"I can't remember how many incidents I had to go through, especially at a super-young age," he told ESPN. "These things become traumatic. I'm 30 years old now, and I remember things that happened to me when I was 10." That's why he thinks the HDA's new campaign can help.
"There was nothing like this [campaign] around when I grew up, to help people see things from a different perspective."
Sold out online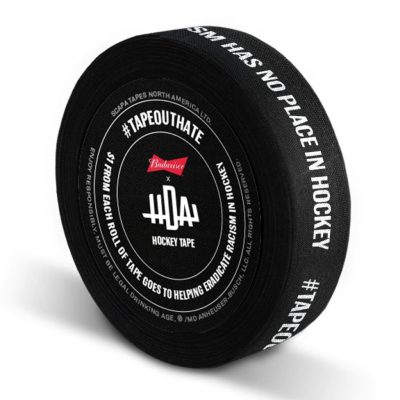 The tape has been a hit online in Canada. (Budweiser Canada/HDA)
Since the campaign debuted on Saturday (with ads run on Hockey Night In Canada), the response has been very strong. The initial run of tape has already sold out online in Canada, and stock is expected to hit Canadian Tire stores across the country on January 22. (The tape is not yet available in the U.S.)
It's not something that will solve the problem on its own, but the tape isn't there to end racism—it is there to start a conversation. Among players. Among fans.
As Simmonds, whose own young daughter loves hockey and wants to play, told the website Daily Faceoff, "Before, I used to ignore [racism], try to forget about it, use it to fuel me to be a better player. Ten years later, it's not surprising to me that's still the way it is. We want to continue to have [this] conversation so it isn't."