David A. Robertson is busy!
He's big into public speaking and education—in fact, you can catch him in action tomorrow, October 31 at the Toronto International Festival of Authors TIFA Kids! fest. At noon EST he is being interviewed, then at 4:30pm EST he is going to be a part of the GGBooks Panel on Young People's Literature. (Find the online links to both here and here.)
But above all he is a writer! The Cree author has written several books for both kids and adults, including the 2017 Governor General's Literary Award-winning book, When We Were Alone.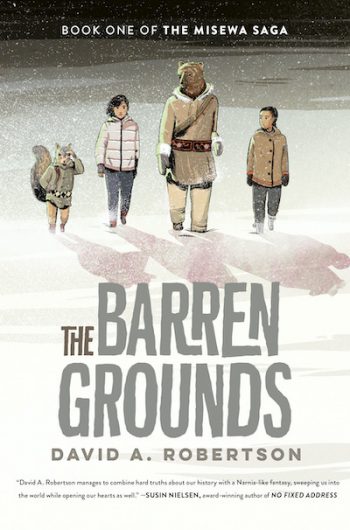 (Courtesy of Penguin Random House)
Now David has returned with a brand new novel called The Barren Grounds. This is the first in a new fantasy book series called The Misewa Saga. The story is centred around two young Indigenous people—Morgan and Eli—who share the same foster home. Both of them are misfits who keep to themselves—Eli draws, while Morgan writes. And both have questions about what it means to be Cree while growing up in modern day Winnipeg.
Then the pair open a mysterious portal in the attic ... and their journey of discovery begins!
Talking with David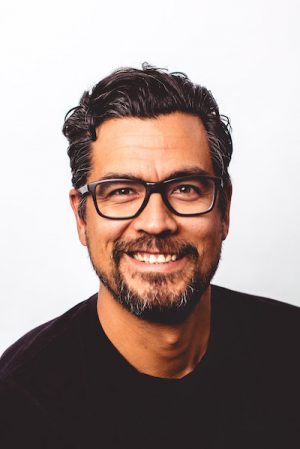 (Courtesy of Penguin Random House)
We spoke with David about his love of stories, teaching kids about writing, and, of course, his awesome new book! (Trust us, we've read it and it's great!)
OWLconnected: What are your earliest memories of stories as a kid?
David A. Robertson: My mom read to me a lot. The picture books I remember most are Outside, Over There, and Where The Wild Things Are. A book that still scares me today is My Mama Says There Aren't Any Zombies, Ghosts, Vampires, Demons, Monsters, Fiends, Goblins or Things. This says to me that my mother instilled a love of literature, but also liked weird, unsettling tales. I'm glad about that now, but it did give me a few sleepless nights!
OC: When did you begin to think that you might be capable of creating your own stories?
DAR:  It was when I was in grade 3. We had this writing assignment given to us. We had to write poetry. I wrote so many poems, they just would not stop coming. My teacher made the poems into a book for me, and I called it The Bestest Poems I Ever Sawed. I still have it today, because it's what made me want to become a writer.
OC: Okay, that's pretty adorable. How did you get connected with TIFA Kids?
DAR: They reached out to me to be a part of the programme, and I was so excited to take part. I wish I could be there in person, but connecting online is the next best thing. I love talking about reading and writing, and I think this programme will really engage kids in a positive and meaningful way.
OC: TIFA Kids! is about young people getting an opportunity to meet their favourite creator, but there's also a lot of room to be a teacher and mentor, too.
DAR: That's a great point. I'm excited to meet kids. I think it is exciting for kids to meet writers, who wrote books that they've loved. But more than that, I hope that kids get inspired to tell their own stories, and I think being face to face with kids—talking about your writing process, your writing journey—helps them realize that it's possible that they can be writers and creators, too. In fact, we need them to be. We need more and more stories, especially from the younger generation.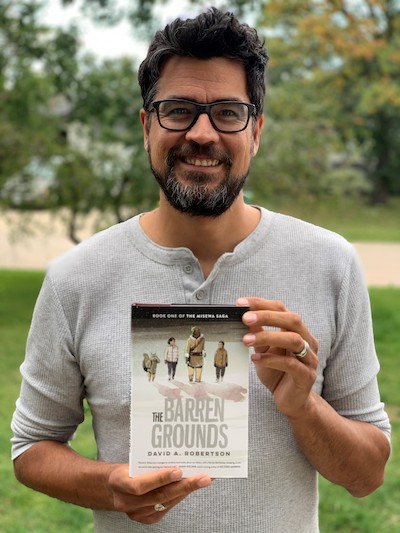 David is really proud of his new book! (Courtesy of Penguin Random House)
OC: Let's talk about The Barren Grounds. What led you to want to start The Misewa Saga?
DAR: There were so many things that went into The Barren Grounds. There was a portal story that I'd been thinking about for a long time, about a foster kid who draws pictures to escape, and then actually finds that she's able to escape through the pictures. There were stories of the sky—from an Indigenous perspective—that I thought I could tell through my own voice, and adapt into something exciting.
And there were some important issues I wanted to write about for kids. The foster care system. The environment. Land protection. Cultural reclamation.
All of this is what made The Barren Grounds come to life.
OC: Is Misewa based on a real place in Indigenous folklore, or is it your own creation?
DAR: Misewa is my own creation. However, the ways in which the animal beings live in Misewa, or on the trapline, is very much rooted in how my ancestors lived traditionally. That was important for me. I wanted Morgan and Eli to feel like, even though they'd gone so far from their own world, that they'd somehow arrived home. As Cree kids, it's important they are immersed in Cree culture.
OC: Morgan and Eli's interests and skills—one a headstrong writer, the other a more thoughtful artist— really complement each other. How did you come up with their personalities?
DAR: Well, Morgan is very overtly inspired by me and my daughters. She's a strong, fierce, independent girl. She's powerful, even if she doesn't realize it at first. All of that, that's from my girls. The cultural disconnect, the anxiety, the need to reconnect to culture, the loss of a parent (whether actually, for me, or from the foster care system, for Morgan), that's taking emotions and experiences from my own life. Eli is based a lot on my brother Michael when he was younger, in how he created these amazing drawings, and how I looked up to him, and them. And he's quiet like Mike. I also wanted Eli to be an anchor to the Cree culture for Morgan, so I wrote that into his character too.
OC: Morgan's relationship with her Indigenous identity is complicated. What are your thoughts on growing up Indigenous in a country like Canada?
DAR: It can be difficult, because systems are still in place to remove or displace Indigenous People, including children, from their communities, families, cultures. And there's still a lot of racism and discrimination towards Indigenous People. That's important to know, but it's equally important to know that Indigenous People, and Indigenous kids, are strong and resilient. We've been through a lot, and we're still here. I wanted kids to feel that strength. And I wanted them to know that it's beautiful to be Indigenous, in any of the many Indigenous cultures across Canada and the United States. And throughout the world, really.
OC: A lot of experts and activists have talked about the importance of keeping Indigenous constellations and sky stories alive, which you do in The Barren Grounds. Can you talk about what that means to you?
DAR: It's just that. It's keeping those stories alive in many forms. They are amazing stories that teach important morals, that embed important messages into their telling. I've felt very connected to these stories, and inspired by them. Each installment of The Misewa Saga is adapting a sky story, so that they can be passed down to future generations, and they can be more widely loved and appreciated.
Listen to David and other creators speak about writing and books during this year's TIFA Kids! festival. There are all sorts of events this Friday, Saturday, and Sunday. It's online and it's free!