Have you ever needed a friend to talk to but no one was around to listen? We've all been there.
Miranda Hall is a counsellor at Kids Help Phone, a telephone counselling service that lends an ear to Canadian youth when they need it most.
We recently spoke to Hall about her experience at Kids Help Phone, why mental health is so important, and Walk so Kids Can Talk, a big fundraising event that we can all take part in this spring!
Chatting with Miranda
OWLconnected: What is it like to work at Kids Help Phone?
Miranda Hall: Exciting! Each day holds something new for the counsellors. We get to talk to so many wonderful and new people every day. It is rewarding because we get to hear about young people's successes and accomplishments while supporting them through their hard days.
OC: How do you train to work there?
MH: There are a couple of different ways. Some counsellors train through going to university to become social workers and others go to university to become mental health counsellors.
OC: What kind of young person can benefit from Kids Help Phone?
MH: Everyone can benefit. Kids Help Phone can offer any young person a safe, non-judgmental place to talk. We support using various ways, which makes it a great fit for all of those that need some support. Kids Help Phone can offer support to young people that experience struggles with friends, family and/or relationships, mental health, and finding healthy coping skills. We can also help getting young people connected to other services, and creating safety in their lives when they need it.
OC: Why is mental health so important?
MH: Mental health is a piece of who each one of us are, and it can affect how we show up in the world. It can affect how a person thinks, feels, and acts while they navigate their lives. When we acknowledge its importance, we offer young people the space to talk about and get support with their mental health so they can have healthy lives.
OC: Does talking about a person's own mental health have to be sad or scary?
MH: No. For some, talking about their mental health can feel good and bring a sense of relief. When we are talking about mental health, there can be lots of space for laughter and humour within those conversations to balance out the tough things that might be talked about.
OC: How can we help our friends and family care for themselves and their mental well-being?
MH: You can provide your friends and family with the telephone number or website for Kids Help Phone so they can get support if needed. It can also be helpful to engage in fun activities with your friends and family to help them care for their mental well-being, especially when the activities are outdoors. Being out in nature can have a positive impact on mental health. On days when the weather is not good, finding fun ways to spend time together in the house can be helpful as well, like drawing together, doing yoga, baking, watching a funny TV show or movie, or listening to music.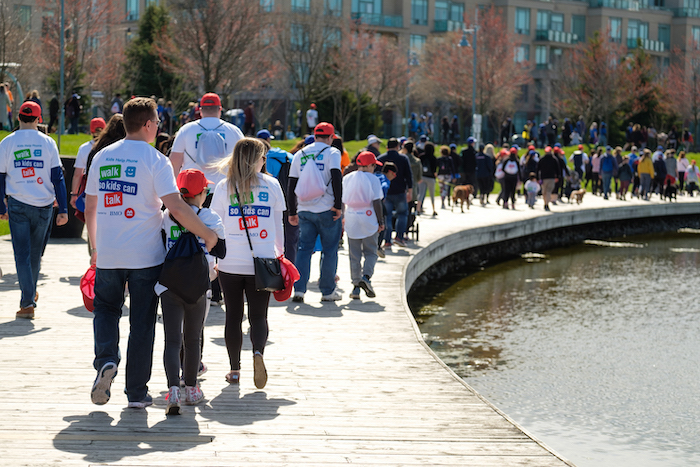 Here's what a Walk so Kids Can Talk fundraising event looks like! (Kids Help Phone)
OC: Can you tell us about Walk so Kids Can Talk? What is this program about? 
MH: The Walk so Kids Can Talk presented by BMO is a fundraising event to spread awareness about the importance of young people's mental health and well-being. It is a 5km, family-friendly event that takes place on Sunday, May 1st at in-person and virtual locations across Canada.
OC: We understand that there is a lot of excitement for this year's fundraising event after the break from COVID. Can you tell us more about what to expect?
MH: Yes, there is a lot of excitement surrounding this event, as it is the first in-person one since 2019! This year, there is a mix of in-person and virtual locations to meet everyone's differing needs. The event includes checkpoints with purpose at each walk site and online.
Thanks for talking with us, Miranda! If you'd like to hear more from someone from Kids Help Phone, check out our 2020 interview with another counsellor, Abbiesha, where we discuss mental health during the pandemic.