This Sunday at 8pm, CBC is airing the premiere of Anne, a brand new series based on the Anne of Green Gables books by Lucy Maud Montgomery. It stars 13 year-old Irish-Canadian actor Amybeth McNulty as the red-haired title character, Anne Shirley (and is getting some pretty great early reviews).
Anne of Green Gables are some of the best selling Canadian books of all time. The first book was published in 1908 (109 years ago!), but Anne remains famous around the world. How famous?
The book is set on a remote farm on Prince Edward Island. Even today, there are licence plates...
Meanwhile, "Anne of Green Gables" tourism packages draw millions of international fans who want to recreate the life of one of their favourite characters.
Even Princess Kate has gotten in on the fun!
A timeless hero
All of this fan worship has come for good reason. Anne is a person who uses her spirit to overcome a lot of challenges. She has no parents and has spent her childhood in different strangers' homes and orphanages. Even when she is adopted by Marilla and Matthew Cuthbert, an older brother and sister looking for help on their farm, things don't go according to plan. The Cuthberts wanted to adopt a young boy. When Anne arrives, Marilla wants to send her back to the orphanage.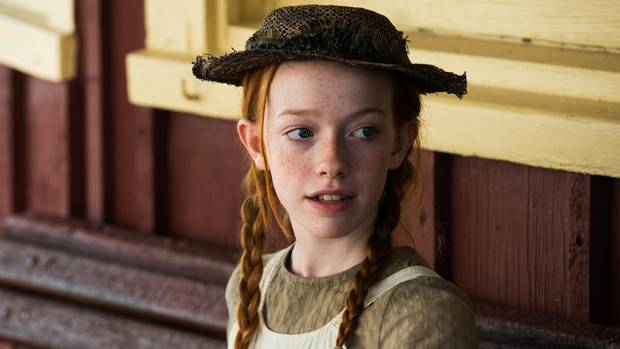 (CBC/Netflix)
But something happens to change her mind. And it's the same thing that makes readers fall in love with Anne, too. Anne wins her over with her imagination and talkative personality. It's not that she is perfect. (Ask any fan of the book about how her relationship starts off with fellow classmate Gilbert Blythe!) But deep down, she is a sensitive person who is looking for her place in the world. Which she finds in the end through determination and kindness.
Why remake it?
There are a few people asking this question. That's because the 1985 television miniseries is still so well-loved by fans. But according to the new series's producer, Moira Walley-Beckett, Anne is "super relevant for right now." That's because the character still deals with things like bullying and prejudice, which are important issues today. A new series gives young people today a chance to discover Anne of Green Gables for themselves.
We're going to leave you with a preview scene from the new series. It shows Anne's vivid imagination, as well as her hope that after years spent wandering as an orphan that she'll finally have a home with the Cuthberts. (Though Marilla doesn't seem convinced just yet!)
Are you going to check out Anne this weekend? The series will air Sundays at 8pm, and will also stream on Netflix.
NOTE: Though this series is aimed to be viewed by all ages, it does contain references to painful events that Anne experienced while in orphanages before she was adopted by the Cuthberts, which may be upsetting to some of our readers.