A thing we love about books: they almost always end up teaching us something, whether they mean to or not.
I don't mean teaching as in 2 + 2 = 4, or the fact that hippos sweat sunscreen (no, really!). They introduce us to situations or people that we may have never thought about before, and help us take a few steps in their shoes. If we pay attention to their stories, we usually come away a little bit better than we were before.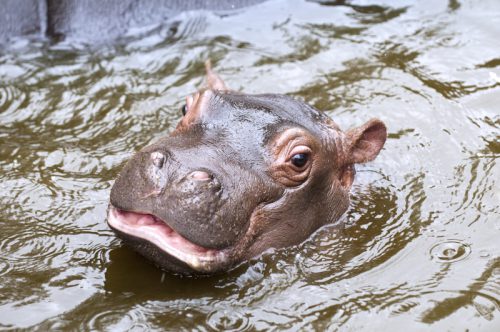 We bet this sunscreen-sweating hippo agrees. (Dreamstime | © Zuzana Randlov)
Learning lessons
Cammie McGovern's new book, Chester and Gus, teaches us something in a pretty clever way. Its main characters are a failed service dog named Chester and a non-verbal autistic boy named Gus. They have to learn to understand, communicate with, and trust each other, even though Chester wasn't trained for an autistic charge and Gus doesn't treat Chester the way other kids might. It's not a friendship that either of them were prepared for, but that doesn't mean it's not worth the hard work.
And we think that's a really cool lesson.
We sent a copy of this book to OWLconnected reader Lolita for review. Read on to see her thoughts.
Lolita's take
Chester and Gus is a very thrilling and emotional book about the connection between a dog and its 'person'. What I liked about the book is that it is told by a dog and that it shows the struggle of a dog communicating with its person.
The plot moves along rather slowly and I feel that it should have more action and adventure, but this is the only thing is disliked.
I think that kids would like to read Chester and Gus because it might help them understand what their pets may be thinking and the difficulties of understanding what their pets are saying or thinking. I would give this book a rating of 9/10 for its emotional, funny, and heartfelt pages.
Available today
Check out your local library or bookstore today to meet Chester and Gus for yourself. If you do read it, be sure to come back and let us know what you think!