The video opens with simple, cryptic text in Spanish:
Seis de los nuestros, fans del mago más famoso del mundo, decidieron hacer realidad el deporte de los libros.
Translated into English, it loosely means:
Six of us, fans of the world's most famous wizard, decided to realize the sport of the books.
Hold on, though... Which wizard? Which sport? What books?
(Okay, okay, yes, we all read the headline, but bear with me. I'm just trying to be dramatic!)
Wait, I know this... is it croquet? Curling?
As the video continues, we're shown an ancient-looking chest. We see people wearing leather gear emblazoned with ornate badges and holding brooms. Outside a window we see the sky and realize we're up in an airplane.
Just what is happening here? (Yes, yes, I know you already know... I'm almost there...)
Finally, the chest opens to reveal a very familiar set of game balls. Could it be?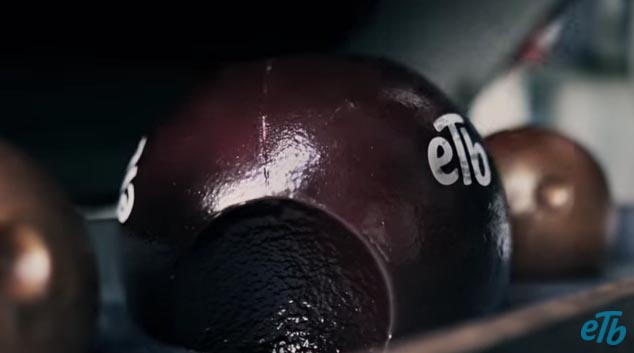 (Courtesy of ETB/YouTube)
"Let the match... BEGIN!"
Of course, we're talking about Harry Potter's favourite athletic pastime, quidditch. Lots of people play in official quidditch leagues around the world. But lacking Harry and his classmates' particular skill with the flying and magic-ing and stuff, they play on the ground.
But Colombia telecommunications company ETB has put together an ad where six skydivers play the closest thing to real quidditch yet. They play as they fly around in freefall. One even scores a goal (which has to be way harder than it looks).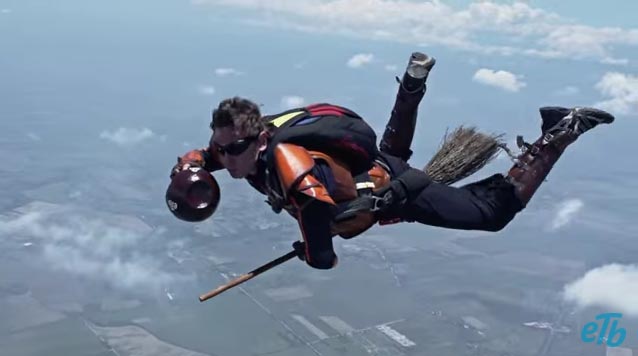 (Courtesy of ETB/YouTube)
Now Harry Potter lovers may notice some issues. (No snitch? There are supposed to be seven players per team!) But even the pickiest fan has to admit: it's pretty amazing stuff.
Plus, if you happen to live in Bogota (the capital of Colombia, where ETB is based), it seems as though your love of all things Potter can lead to a pretty sweet deal on wireless plans! What's that? Not really interested?
Okay, fair enough. Just sit back and enjoy. And remember: I want a good, clean game!