If there's a bigger name in pop music than BTS, we don't know it. The seven-member Korean boy band is a worldwide phenomenon — they even have their own 'A.R.M.Y.' of fans. Now their latest project sees the pop stars live up to their name, Beyond The Scene, in a surprising new way.
They're moving outside the music world and putting on an art gallery show! Make that several, actually.
Connect, BTS is a massive global art project. There are large-scale art projects in five cities — London, Berlin, Buenos Aires, Seoul, and New York — across four continents. And a total of 22 artists are involved.
The art in each city has been premiered one at a time over the past few weeks, and today, the final exhibit will be unveiled in New York. So what is the art like?
Not tribute art
BTS helped to launch Connect, BTS over video chat in January. (Getty Embed)
The works in Connect, BTS are not fan art and they don't directly feature members of the band.
Basically they're art that jive with how the members of BTS see the world. As the band themselves put it in a recent press conference, they want to send a "positive message for the world." Each artist uses different themes, techniques, and styles to do this.
Sometimes, the art doesn't seem to relate to the band at all. In London, for example, Jakob Kudsk Steensen's Catharsis has an environmental theme — it takes people into a virtual simulation of a forest that's been undisturbed for thousands of years.
Installation shot from Catharsis @SerpentineUK running right now. It's moving to see a diverse group of people and followers of BTS enter, experience the work calmly, and share spaces. #CONNECT_BTS #serpentinedigital #jakobkudsksteensen @SerpentineUK @bts_bighit pic.twitter.com/blK9RzhTtR

— Jakob Kudsk Steensen (@Jakob_steensen) January 14, 2020
But others do borrow from the band. Korean artist Yiyun Kang's piece that is showing in Seoul is literally called Beyond The Scene. It shows us BTS' signature dance moves in a totally different light.
The Seoul edition of Connect, BTS is kicking off today!@BTS_twt pic.twitter.com/QACySUp7Ye

— KpopHerald (@Kpop_Herald) January 28, 2020
Trying new things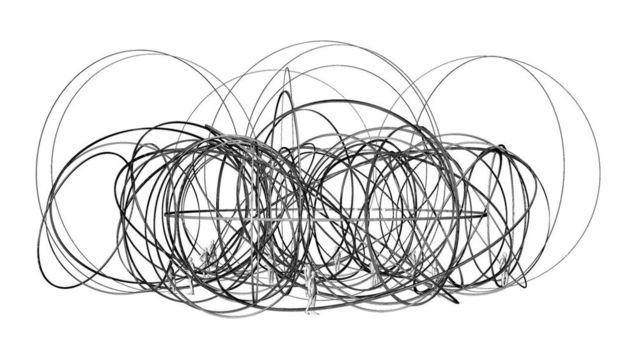 BTS's latest album cover? Nope, it's an aluminum 'scribble' sculpture by Antony Gormley, showing in New York starting today. Note the tiny human figures in the image — the actual sculpture is huge! (Courtesy of Antony Gormley)
With the New York exhibits opening today, BTS can take pride in how they tried something new. It's also pretty cool for the artists, who certainly never expected to ever get the kind of attention that the K-Pop sensation can bring to an event!
As one of those artists, British sculptor Antony Gormley, told the BBC: "This is such a refreshing break-out. Here is an opportunity for us to jump out of our silos."
In the end, whether pop music or metal sculptures, art is art, right?
And if you're more a fan of BTS' music than their taste in art, good news: their new album, Map Of The Soul: 7, arrives February 21st. But of course, you already knew that!