Every two weeks we publish a new issue of our tablet and computer-friendly eMag, OWLconnected. It's free for OWL magazine subscribers. Issue 132 is out NOW! And it is a wild one, everybody!
As in Wildlife Conservation Day! Happening December 4, this is a day when we recognize the need for us all to step up and protect the wildlife of the world. Sometimes that's as simple as talking about the plight of one of your favourite animals. Don't worry, we'll show you what we mean!
Big on Big Blue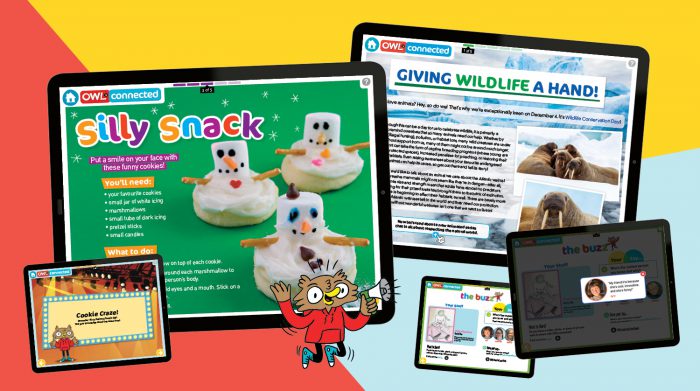 A huge part of protecting animals is about awareness. The more that we know about issues, the more passionate we become about wanting to help. Of course, sometimes the exercise of learning about the state of wildlife can be a little sad. But that is NOT the case with Big Blue!
This brand new show on CBC Kids manages to address pollution and ocean conservation in a way that is silly, zany, and inspiring! The creator of the show is an incredible Ghanaian-Canadian named Gyimah Gariba. We interviewed him about making his first show, how Big Blue relates to his family, and so much more!
This issue also has all kinds of other goodies—from a recipe and a quiz to lots of art and ideas from our terrific readers. Wild stuff, indeed!
If you're already an OWL magazine subscriber, you can click here to sign in to this latest eMag right now.
If not, maybe it's time to take your OWL experience to a whole new level! Get ten print issues a year sent right to your door, plus over 24 issues of our exclusive eMag by subscribing right here.