What would you say are the top two cutest things ever? If you answered Yoshi and dogs, we've got great news: Poochy & Yoshi's Woolly World includes both of those things.
This 3DS remake of the extremely popular Yoshi's Woolly World, which came out for the Wii U in 2015, still asks you to guide the iconic green dinosaur and his doggy friend through a colourful world made entirely out of wool. But this version comes with a few little additions: PUPPIES!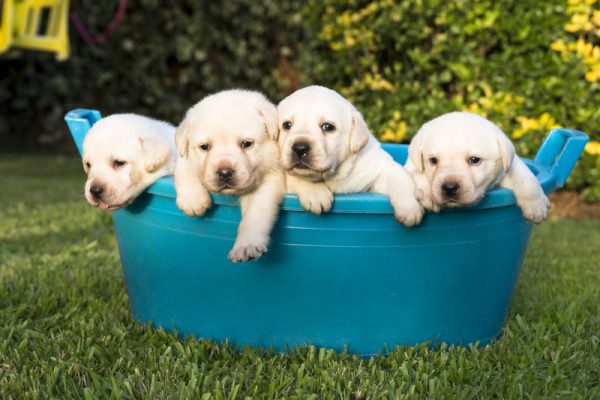 Okay, not these exact puppies. But we promise the pups in the new game are really cute, too! (Dreamstime)
We sent this new game (along with its adorable Poochy amiibo) to OWLconnected reader Nolan, age 9, for review. Find out what Nolan thought in the review below.
In Nolan's own words
"I loved this game! I liked the Craft Yoshis because I could customize them. I also liked the Poochy Dash. Awesome! The Yoshi Theater has really funny videos and one was straight up ridiculous! So funny!
I didn't like the Poochy controls. They seemed simple but they were a little bit tricky.
Other kids would like to play this because the Poochy pups are secret finders, making the game easier than the original. There is great music in the Scrapbook Theater. They can also customize Poochy, which is really cool!
I give this game 10/10."
Available now
If you have a 3DS, you can grab Poochy & Yoshi's Woolly World and start playing today. You can also check out the trailer below.
And if you get a chance to play, make sure you come back to tell us what you think!