Back in 2015, the original Splatoon game hit the Wii U. Its quirky characters and bright, colourful gameplay made it an insta-hit. And for good reason—it's a lot of fun!
But does its new sequel, Splatoon 2, capture that same gaming magic? OWLconnected readers Laurel and Evan, ages 9 and 11, give us their thoughts below.
Laurel's review
I really liked Splatoon 2 because it had most of the old characters in the lobby [the opening main screen]. The new characters are better than the old ones though, except for Pearl and Marina. I like Callie and Marie much better.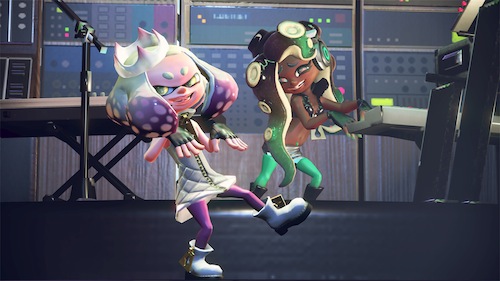 Pearl and Marina, two fresh fishy faces in Splatoon 2. (Courtesy of Nintendo)
I think that the story mode is much more interesting. I don't want to say much about the story mode because some of you haven't played it, but I really liked fighting the bosses. (Even if I died a thousand times!) It was so much fun playing!
For the arena, there are really cool new stages and that's pretty much it.
I like the character customization because there were way more choices and barely anybody looks the same.
The Splatfest is AWESOME! It's really fun playing even though the only thing different from usual were exclusive colours.
The new Splatoon is pretty awesome—I'd rate it 5 stars.
Evan's review
Splatoon 2 is a pretty nice game overall. Here's what I think:
The new weapon classes—Splat Dualies and Brellas—are a nice addition to the game. I especially love the Splat Dualies, which replaced my main weapon in Splatoon, the 52 Gal. The dodge rolling was also good, adding more strategy to the game than just the classic spray and pray (shooting and hoping you don't die). The Brella was a cool weapon, but honestly, they're too hard to handle and I don't really like them.
The new stages are nice, too, but honestly, I don't really care. Then again, it's cool how they have Splatfest-unique stages, adding a new flair to the Splatfest.
It was really fun to see the old characters in the new game, like Crusty Sean, Callie and Marie, Jelfonzo, and Spike, and seeing their new replacements, like Pearl and Marina and Murch. I especially loved how in the story mode, Callie talks about Agent 3, which was you in the old game. Even just me being called Agent 4 was really awesome, because it was taking into consideration the events in the last game.
The story mode wasn't all good, though. The problem was it felt easier than the first game's story mode. Like the final boss—in the first game, it took me several attempts to finally beat the final boss. In Splatoon 2, it only took me one try, only losing one of my three lives.
Character customization made me pretty happy. In the first game, all I got to choose was my eye colour, skin colour, shoes, and hat. In this game, I could choose from a wider selection of clothing and I could customize my hair style and shorts. (The shorts were one of my peeves in the first game, not matching my outfit.)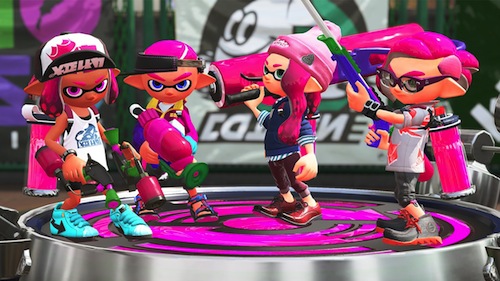 Check out those cool characters! (Courtesy of Nintendo)
I would definitely recommend this to others who like a decent story and an action-packed shooter game. I rate it 4.5 out of 5 stars.
Splatoon 2 available now
Thanks, Laurel and Evan!
Eager to get splatting? Splatoon 2 is available now for the Nintendo Switch.