The Splatoon series has grown from being a wild upstart to one of Nintendo's most popular games. Its world features colourful battles between squid-like Inklings and octopus-like Octolings. These characters do battle not with explosives, but with ink!
The characters try to paint—or splat!—as much of the Splatlands as possible with their own colour. And did we mention that they can also transform between humanoids and animals at will? So cool!
Recently, the third installment, Splatoon 3, was released. We were lucky enough to be able to send an excited OWL reader, Reggie Battle, to an event in Toronto to celebrate the launch. And he also had the chance to explore other cool Nintendo titles, too!
What did he think of getting to do 'Battle' among the Inklings and Octolings? Fire away, Reggie!
Splat!
Reggie's review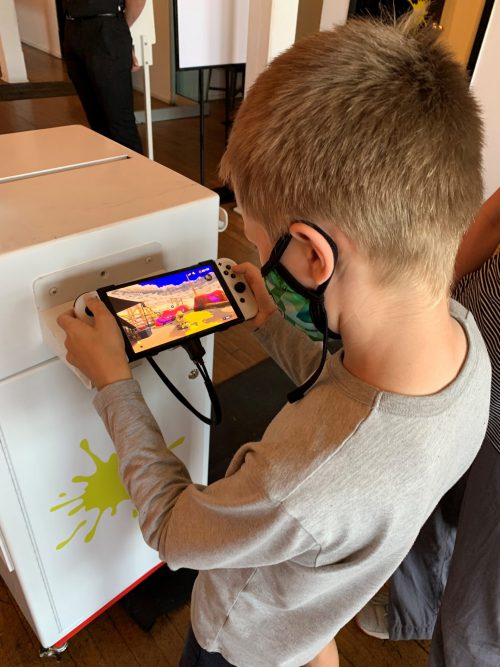 Reggie playing Splatoon 3 in Story Mode. (Courtesy of Angela Keenlyside)
Last week I got to go to a Nintendo event in Toronto featuring the launch of Splatoon 3. I had been waiting a long time for it to come out and was very excited!
They had loads of screens for Splatoon 3, where you could try out story mode or turf wars. I beat World 1 in the game while I was there and faced off against Nintendo staff members in a turf war. They were really good players!
The game has new weapons (like the Zipcaster) and a lot of new features.
The character customization is different from Splatoon 2. They have awesome new hairstyles I really liked. There are tabletop turf wars which is a new mode where you can do a turf war with cards. The story mode in Splatoon 3 is like the two story modes of Splatoon 2 combined which was great. Beating the bosses is challenging!
The game is super fun and the stages are cool. I definitely recommend this game to everybody!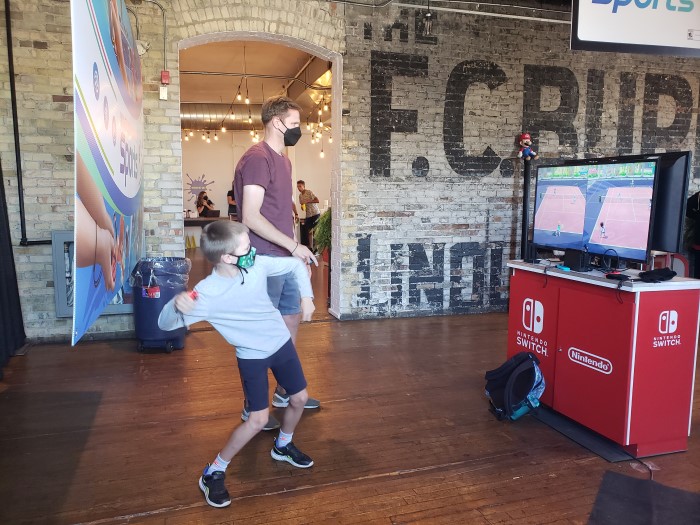 Reggie also got to play some other games, including Nintendo Switch Sports against his dad. (Courtesy of Angela Keenlyside)
At the event, I also got to explore a room with stations for Mario Kart 8 Deluxe, Mario Strikers: Battle League, and Nintendo Switch Sports, where you can use the Joy Cons to play different sports.
The Nintendo Switch Sports games were very good. I played them with my dad. He won a game of tennis, but then I beat him at bowling!
Lastly, they had a station demonstrating Nintendo Switch Online, which lets you play a bunch of classic Nintendo and Sega Genesis games. I tried out The Legend of Zelda: Majora's Mask.
It was fun!
Thanks, Reggie! We're breathless just reading about all of that video game fun. Are you excited about Splatoon 3? Let us know if you've played the new game in the comments, and watch the trailer below!