Music is everywhere.
Maybe you and your friends have favourite songs to dance to together? Or to sing along with?
Because music is so loved, the artists who make it often become a big part of our lives.
Yesterday, the world lost one of those musicians. His name was Gordon Lightfoot.
In Canada, Lightfoot established himself as one of the greatest singer-songwriters the country ever produced. What made him so special?
Putting Canada on the map
Gordon Lightfoot performing in New York City in 1969. (Getty Embed)
Today, Canadian musicians like Justin Bieber, Drake, and The Weeknd are among the biggest pop stars in the world. But in 1960, around when Lightfoot decided to start his career as a songwriter, being a musical success was extremely difficult as a Canadian.
The biggest stars all came from Britain and the United States. And if a Canadian was ever going to be a success, that musician would need to move to a place like California to break into the music scene.
But Lightfoot continued to live in Toronto, Canada, proving that if the songs were good enough, that the success would come.
Throughout the 1960s and 70s, he became an international star. During these years, he released twelve records, writing and recording hundreds of songs. And while many of those songs became hits for him, they became even bigger hits for others who performed them.
One of his most popular songs, "If You Could Read My Mind", has been covered over 100 times!
Putting Canada in a song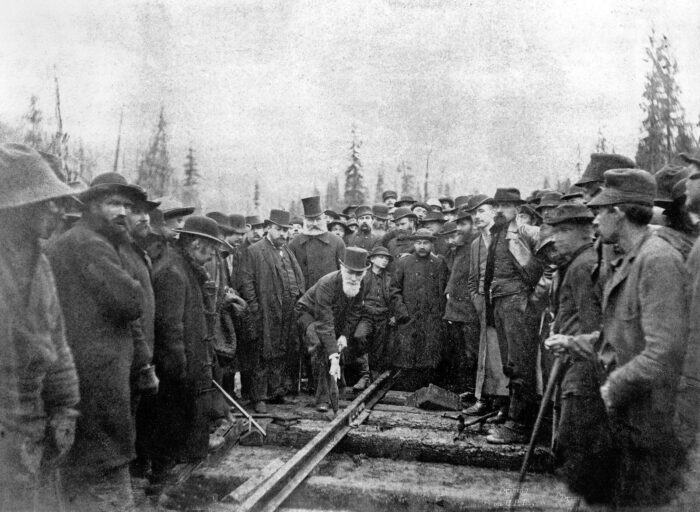 Lightfoot's song "The Canadian Railroad Trilogy" was about how trains connected Canada. (Wikimedia Commons)
If Lightfoot's story ended there—as a Canadian writer and singer of terrific songs loved by both other musicians and fans—he would already be a very important part of the country's culture.
But something that made Lightfoot truly exceptional was his ability to sing about his homeland. The best example of this was a song called "The Canadian Railroad Trilogy", which was released in 1967 in time for the country's 100th anniversary.
The song tells the story of the building of the Canadian Pacific railroad, including the sacrifices made by the people who did the back-breaking work of connecting the country in the late 1800s. Or as Lightfoot sang, "For they looked in the future and what did they see?/ They saw an iron road runnin' from the sea to the sea."
It is the type of song that Canadians were used to hearing about American or British history, but this time, it was about their own past. Lightfoot's example inspired generations of Canadians to tell their own stories, too.
The good ship and true
Picking the greatest Lightfoot song is tough. In fact, Bob Dylan even once wrote "I can't think of any Gordon Lightfoot song I don't like. Every time I heard a song of his, it's like I wish it would last forever." (That must have meant a lot to Lightfoot, because Dylan was his hero when he first started his career!)
But "The Wreck Of The Edmund Fitzgerald" is definitely a contender. This six-and-a-half-minute song tells the true story of the SS Edmund Fitzgerald, an American laker (goods transport ship) that sank in Lake Superior during a storm in November 10, 1975.
When it was released 1976, it became a surprise hit. The song is something that is still sung and even studied, for how well it captures the tragedy.
A great tradition
When Toronto's Massey Hall reopened following renovations in November 2021, the first show was played by Lightfoot. (Getty Embed)
Lightfoot loved performing. Though he released less and less records after the 1980s, he was almost always playing shows for his fans.
The biggest of these shows were his performances at the world famous Massey Hall in Toronto. He played at least one show there almost every year since the mid-1960s. In the end, he played over 170 Massey Hall concerts, the most by any artist ever.
Whether he was singing about Canada or in it, Gordon Lightfoot gave his fans a lot of joy. And a lot to remember him by.