This past Thursday was Guinness World Records Day. How much fun was it? Glad you asked! Watch this...
That all looks like a super fun time. (Seriously, how did that guy manage to dunk that cookie in the teacup from so high up?!) It's a shame that it's already over, right? Except that the wacky and daring records of the world of Guinness isn't something that only lasts a day. Thanks to the brand new Guinness World Records 2017 book, you can enjoy its craziness all year round!
But wait, we know what you're thinking. Is this book really as much fun as that video looked? Well, fortunately for you, we're waaaayyy ahead of you. We already had Madelyn read the book for us to see if it lives up to the hype. So...
Hey there, Madelyn! Tell us about the book!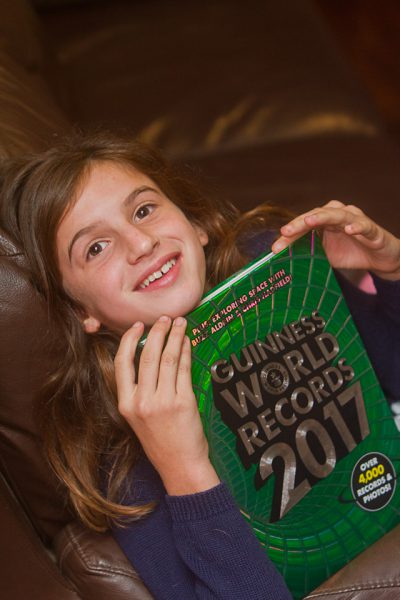 I liked all the weird and interesting facts and that it's possible for anyone can to get in it. In the human section, it was kind of gross with all the body parts (especially the eyeball) and stitches. If you like interesting facts, weirdness and breaking records, this is the book for you. I think YOU should read it. On a scale of 1 to 10, I'd give it an 8.
It's time to win some books!
THIS CONTEST IS NOW CLOSED.
Sound good to you? For your chance to win 1 of 3 copies of the Guinness World Records 2017 book, you just tell us:
What world record would you most like to set?
Answer in the comments below. Good luck!
Contest is open to residents of Canada only. Contest closes on Sunday, December 4th at 11:59PM EST. Winners will be randomly chosen. Prize courtesy of Guinness World Records North America, Inc. Full contest rules and regulations can be seen here.