After a lot of digging, we here at OWLconnected can't discover who made this day official or even when it was first celebrated (the best guess is in the early 1980s). But regardless, it's here: August 16th is Roller Coaster Day. A time for us to give thanks for this bountiful invention and reflect on the times that we've thought, "I totally don't know why I let you talk me into riding this stupid riiiiiiiiiiide!"
Seriously though (at least as serious as we can be about this topic), roller coasters are the ultimate amusement park ride and we are living in a crazy golden age of them. Coasters are steeper, faster, taller, and in stranger places than ever before. So we thought it would be fun to take a look at the most insane rides out there. Have you ridden any of these?
Tallest coaster: Kingda Ka
Six Flags Great Adventure, New Jersey, United States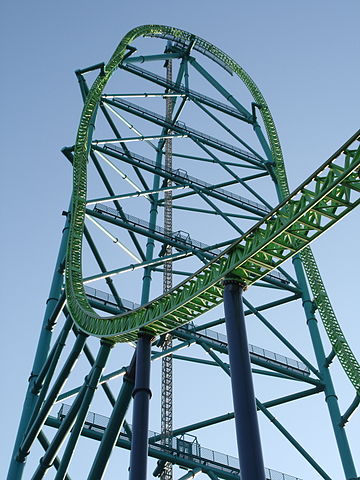 (Wikimedia Commons)
Opened in 2005, Kingda Ka is a strata coaster, meaning that it has a drop that is higher than 120 m (400 ft). In the case of this coaster, the drop is an insane 139 m (456 ft). Whoa. This incredible height also helps to make it the second fastest coaster in the world, reaching speeds of 206 km/h (128 mph) in only 3.5 seconds.
Fastest coaster: Formula Rossa
Ferrari World, Abu Dhabi, United Arab Emirates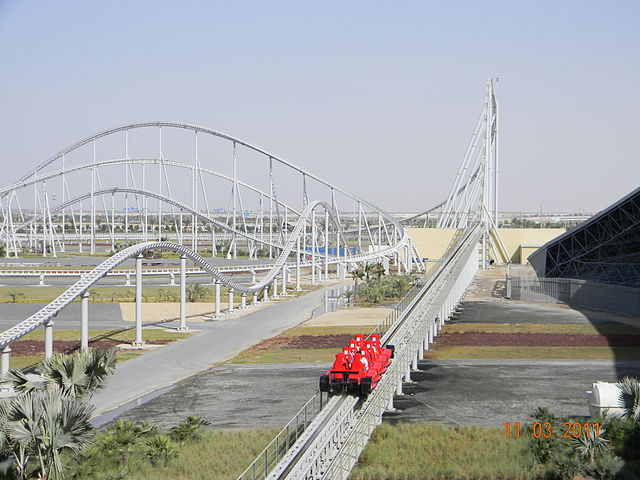 (Wikimedia Commons)
Ferrari World is exactly what it sounds like: an amusement park based on the world famous sports car company. So it makes sense then that they would have the world's fastest roller coaster! The Formula Rossa travels an amazing 239 km/h (149 mph). Given that Formula One race cars are known to regularly break 300 km/h (185 mph), it's not quite like the real thing. But still, that's plenty fast!
Most inversions: The Smiler
Alton Towers, Staffordshire, United Kingdom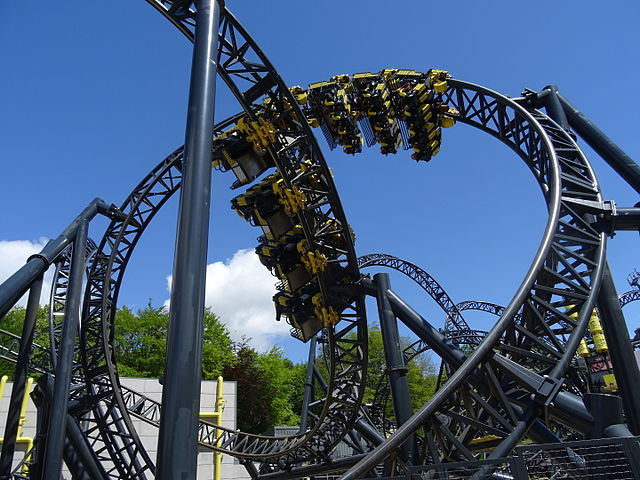 (Wikimedia Commons)
In roller coaster speak, an "inversion" is any time the rider is upside down. Plenty of roller coasters are good for 1 or 2 loops or twists that throw your feet in the air. The Smiler has fourteen, including dive loop, corkscrews, and many other ways to get topsy-turvy. That's one way to make sure that your pockets are empty!
Steepest coaster: Takabisha
Fuji-Q Highland, Fujiyoshida, Japan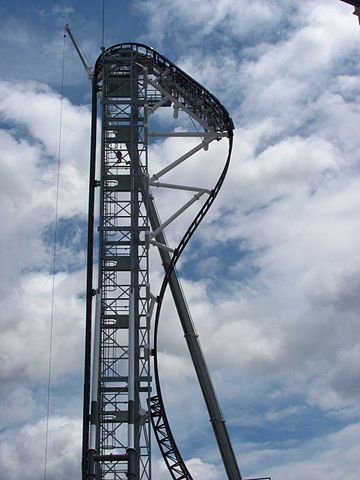 (Wikimedia Commons)
There are some steep drops out there in roller coaster world, including ones that are 90° straight down. But the Takabisha is a next level 121° drop. In other words, its drop actually curls back in underneath itself!
Largest dive coaster: Valvarn
Cedar Point, Sandusky, Ohio, United States
A dive coaster is any coaster with a 90° drop. And Valvarn, which just opened this year, is the lord of them all. The tallest, fastest, longest dive coaster in the world. Wanna take a ride on it? Of course you do! Check out the video below and have a happy roller coaster day.
(P.S. If you're feeling dizzy, press pause and lay down!)