The Muppets are a classic. Even though the original Muppet Show is almost 50 years old, characters like Kermit the Frog, Miss Piggy, Fozzie Bear, and Gonzo are still well known to people young and old.
There's something about Jim Henson's Muppet characters that makes them eternally loveable and inspiring. Just ask DerRic Starlight.
Growing up on the Tsuut'ina First Nation Reserve near Calgary, Alberta, he was fascinated by Jim Henson's weird and wonderful creations. He collected toys, learned to imitate voices, and aspired to one day grow up to be in entertainment himself. And that's exactly what he did!
This Blackfoot puppeteer has trained at Jim Henson Studios in California, as well as worked on the relaunch of the 80's Muppets spin-off, Fraggle Rock (Fraggle Rock: Back to the Rock on Apple TV+).
But above all, he travels around doing his own performances, using his own puppets. Meet the Nuppets!
Part Native, part puppet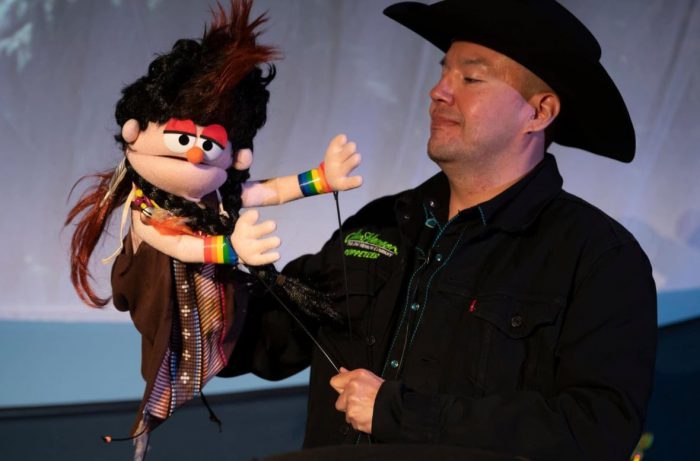 DerRic Starlight performs with a Nuppet named Naw-Naw. (DerRic Starlight)
According to Starlight, the Nuppets are a nod to his Indigenous heritage.
"Jim Henson had called his (puppets) The Muppets because they're half marionette and half puppet," he told CBC last fall. "So my characters are Native and puppets, so they're called the Nuppets."
And these are more than just any Indigenous characters. Many of them are based on friends and relatives of Starlight—important people in his life that he has lovingly crafted into puppets. These include Granny Nuppet and Eagletail, a puppet based on Hal Eagletail, who is an educator from the same reserve as Starlight.
Many of the costumes for his puppets are made by Starlight's mother, Carol Mason, who just happens to be a fashion designer.
Talented family!
With his marvelous Nuppets in tow—and his ability to do hundreds of different voices—he performs for audiences of all ages, aiming to bring positive messages and laughs. His world of characters is one that would have even impressed Jim Henson himself!
Watch Starlight talk about his childhood, making the Nuppets, and meet Creemit the Frog in this video below from The Edmonton Journal.