Do you have a member of your family who is a little ... odd? Perhaps that person feels a bit like they come from another world? It's almost as though they are an ... alien.
Well, in the new CBC comedy series Overlord and the Underwoods, there's no 'almost' about it. The Underwoods' cousin IS an alien. And a wanted alien at that.
Overlord is the "second most-wanted criminal in the universe" (a fact he seems rather proud of) and so he desperately takes refuge in the quiet home of his Earth relatives. But though they're doing him a big favour, he can't shake his even bigger ego and his love of evil. Can the Underwoods figure out their bizarro cousin enough to stop him from blowing everything up? Can they even find a way to get along?
What's up, Weaver?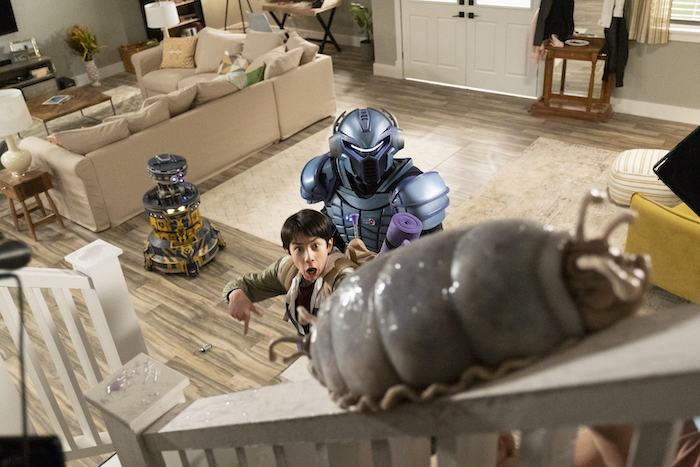 Weaver has his hands full with Overlord! (Courtesy of marblemedia/credit Stephen Scott, Darren Goldstein)
The key to getting Overlord used to his new life on Earth is Weaver Underwood. He is a smart, somewhat awkward, middle school student who is already trying to navigate bullies and homework and his family—now he has to contend with his space villain relative. But despite the oddness, he and Overlord become close buds. Maybe Earth isn't so bad after all!
Weaver is played by 13-year-old actor Ari Resnick. We spoke with Ari about his first thoughts on being part of such a zany show, how he balanced shooting a 20-episode comedy while going to school, and what he loves to do when he's not acting.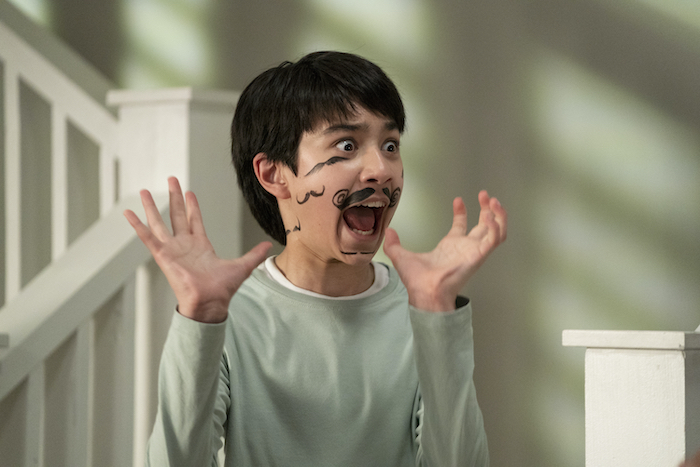 Ari is totally relaxed about playing Weaver. Mostly! (Courtesy of marblemedia/credit Stephen Scott, Darren Goldstein)
OWLconnected: When you first heard about the concept behind Overlord—a cousin from space?—what was your first reaction?
Ari Resnick: My first reaction was "Wow, an alien?!" So many thoughts were going through my head, like who would play [Overlord], what would they be like face-to-face, and most importantly: the costume and what it would look like. Were we talking a Tony Stark-Iron Man look or more of an E.T. alien? Right away I wanted to be part of this amazing production!
OC: At just 13, you've already acted in a number of things. Would you say that Overlord is your biggest role yet?
AR: Yes! Although I've acted on a number of different programs, playing Weaver on Overlord and the Underwoods would definitely be the biggest role of my career so far! I'm super excited about seeing it play on the big screen!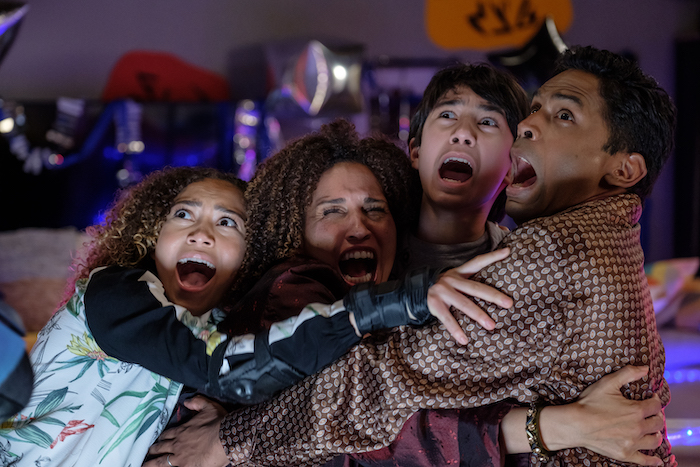 Shooting twenty episodes was pretty demanding for Ari and his cast mates, but they made it through! (Courtesy of marblemedia/credit Stephen Scott, Darren Goldstein)
OC: What have you learned so far in your career that is helping you film a 20-episode comedy series?
AR: Hard work, memorizing a lot of lines, commitment, and never giving up are definitely key things. It was a lot of filming—almost four months to be exact! This has been quite an extraordinary learning experience, and it has reinforced that you have to always give one hundred percent of your efforts in order to achieve your goals. It really made me understand more of what I am capable of doing, and I will definitely take all these valuable lessons that I have learned as I move forward in my career.
OC: How long does it take to shoot an episode? What is your schedule like when you're filming?
AR: Each episode is different. Some definitely take longer than others, depending on so many different things. For example, some episodes required lots of wardrobe changes, or set or location changes, and the weather did not always cooperate. Different episodes took various amounts of time to film.
My schedule was very intense! Not only was I on set almost every day, but there were early mornings and late evenings. It was very busy for sure!
OC: You spend a lot of time acting alongside Troy Feldman, who plays Overlord and is always wearing a mask. Do you find it challenging to act with someone whose face you can't see?
AR: Luckily, before filming began, I was able to meet Troy and the other cast members in person. What was great about meeting Troy for the first time was that I could already tell that I would enjoy working with him. And I wasn't wrong! Throughout filming, he did wear his mask, but when we were off set or on breaks, Troy was able to take off his mask and we got to know more about each other—we even created our own secret handshake! Even when he wore his mask when filming, I knew the friendly face under that mask!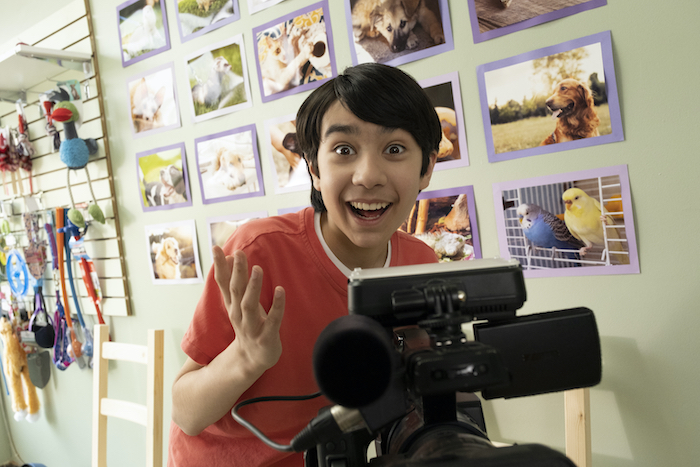 Ari enjoys being on both sides of the camera. (Courtesy of marblemedia/credit Stephen Scott, Darren Goldstein)
OC: We hear that you love photography, too. Do you have a favourite camera or subject to photograph? How did you get into it?
AR: I do love photography! I mainly take pictures of landscapes, buildings, sometimes people, nature, and anything else that might catch my eye. Typically I use my Canon camera, but recently, I've been having a lot of fun using my Instax camera, which prints the pictures immediately. My interest in photography started at a very young age. I saw some of my relatives taking pictures, and over time I became very curious.
OC: How hard is it to work on TV while going to school?
AR: To be honest, it was very challenging. Up until the summer break, not only did I have to memorize lines, but I also had to complete school projects and assignments between filming. It was very tiring at times, but I still worked hard in order to juggle school and filming simultaneously.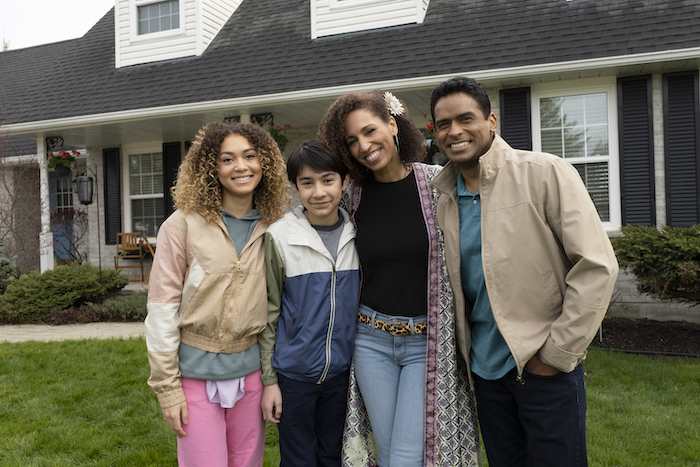 Ari says that the Underwoods almost became like a real family. (Courtesy of marblemedia/credit Stephen Scott, Darren Goldstein)
OC: What is your favourite part about working on Overlord? We bet that pretending to avoid lasers and throw magic prison cubes would be lots of fun!
AR: Working with such an amazing cast and such a great crew! We got to know each other really well, and over time it did start to feel like we were becoming a real family. In fact, I started missing being on set when filming was over. On top of that, I really enjoyed all of Overlord's gadgets, the visual effects, and the different wardrobe changes and costumes I got to wear. That was pretty cool!
OC: And since this is a show about a space alien who is a cousin, if you could have family in one part of the universe, where would they be from?
AR: I would want them to be from Mars, because if I wanted to get rid of them, it wouldn't be that long of a journey to send them back. And hey, maybe if something happens to Earth one day, I could go live with them!
Watch the trailer for Overlord and the Underwoods below! It's one out-of-this-world show!
Episodes of Overlord and the Underwoods are streaming now on CBC Gem