Johnnie Christmas has always had a love of illustrating. He is the writer of the Image Comics sci-fi series Tartarus and Crema, as well as Firebug, which earned him a Joe Schuster Outstanding Cartoonist nomination.
Now Johnnie is back with a splashing new book called Swim Team.
This graphic novel follows a young Black girl named Bree who moves from her hometown of Brooklyn to Florida. She struggles to fit in at her new school until she (very reluctantly) joins the school's swim club—it's the only elective that fits her schedule. She is encouraged and mentored along the way by Ms. Etta, a local champion swimmer, and learns important lessons about bravery, determination, sisterhood, and community.
Talking with Johnnie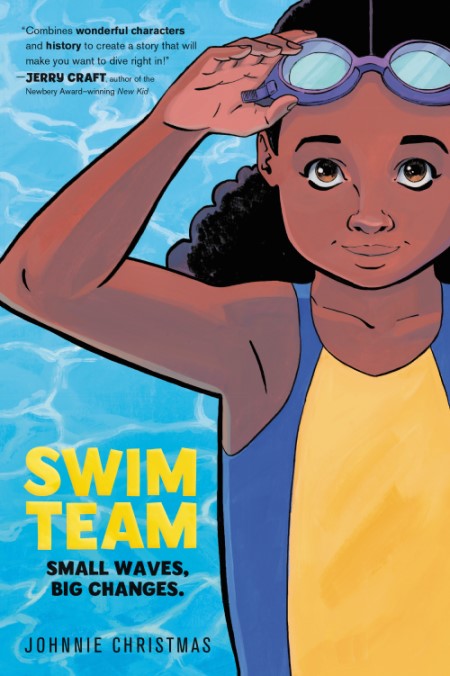 (Harper Collins)
We spoke with Johnnie about what inspired his book, what he loves most about illustrating and writing, and his upcoming projects!
OWLconnected: Why did you write Swim Team?
Johnnie Christmas: When I was a kid I fell in a pool and almost drowned. From that point on, I had a fear of the water. I wanted to examine that fear in Swim Team through Bree's journey—her going from not knowing how to swim to eventually joining the school swim team. I wanted to write this story for kids who feel like I did when I was their age.
OC: What inspires you to write your stories?
JC: Curiosity. I'm curious about friends or strangers or people I see in the news. When I'm in line at the grocery store or walking down the street, my mind wanders and wonders about the people and things I'm curious about. Questions begin to form: "What if this…?" or "What if that…?" Those questions are little stories starting to sprout. Those stories grow until the question finds a good answer and the answer is where the story ends.
OC: What's the best part about writing and/or illustrating graphic novels?
JC: I like diving into worlds and topics I'm interested in. Creating a graphic novel is a great way to examine those topics. I also enjoy the actual process, spending time that way is enjoyable.
OC: What do you hope kids will take away from your stories?
JC: I hope they learn that with safe instruction, they too can learn to swim and enjoy all the fun that goes along with it.
OC: Can you tell us some more about your upcoming projects?
JC: I'm working on a graphic novel about a boy who loves video games. More info on that to come!
Swim Team is out now in libraries and bookstores! If you read it, tell us what you think at owlconnected@owlkids.com!