Jon Klassen, whose illustrations have appeared in over 30 children's books, is one-of-a-kind.
The Canadian's artwork is simple and can even appear dull or dark in colour. His characters rarely smile or show any big emotions. And yet ...
His artwork is also playful, fun, and full of eye-catching details. You just want to keep looking at them and try to find clues to figure out what his characters are thinking and what is happening on the page.
In his most famous books—the Hat Trilogy of I Want My Hat Back, This Is Not My Hat, and We Found A Hat—Klassen is also the author. Have you read them?
These books are amazing. They make us curious and make us laugh. We are especially big fans of the bear in I Want My Hat Back!
Back with a new book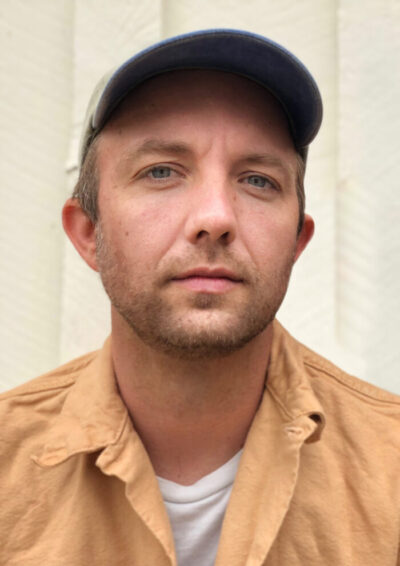 Author-illustrator Jon Klassen was born in Winnipeg, then he moved to Niagara Falls, where he grew up. (Carson Ellis)
Now Jon is back with a brand new book called The Skull. It is quite different from the Hat series. It is longer, almost like a picture book novel. And its story, which is based on an old Tyrolean folktale he stumbled across in a library, is quite strange. (Tyrol is a state in western Austria.)
After running away to escape an unnamed danger, a young kid named Otilla comes across an enormous house in the middle of a forest. And in it lives a skull. A friendly skull! But the skull is afraid of something that visits every night. Can Otilla protect the skull?
We spoke to Jon about how he became one of the world's most popular children's book author-illustrators, and how he figured out his unique style.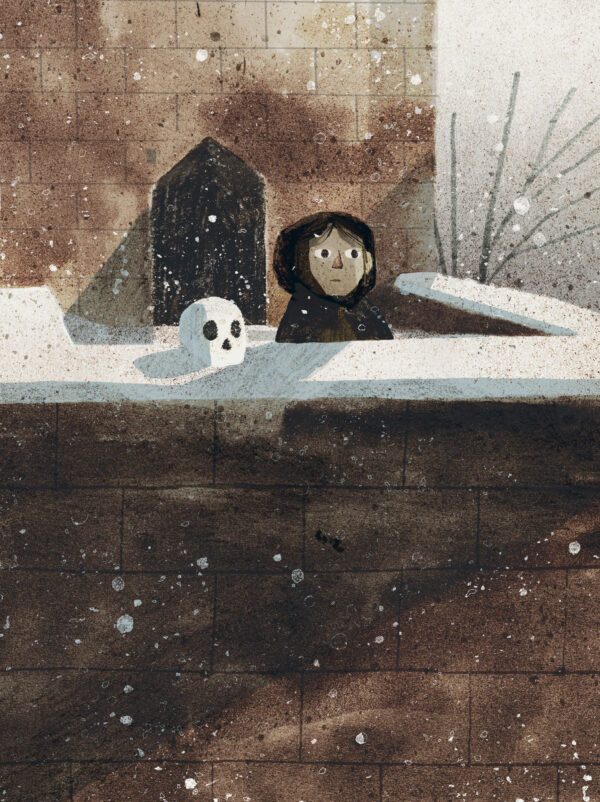 The skull and Otilla enjoy the view. (Candlewick Press)
OWLconnected: Hi Jon! We're so thrilled to talk with you. As a Canadian, you might even know us here at OWL?
Jon Klassen: Oh absolutely! I'm star struck to do this!
OC: We're equally thrilled! Let's start at the beginning. Did you draw a lot as a kid? And did you think of it as something you could do as a job?
JK: Even when I was very little, I wanted a job. At first, I didn't know what I was going to do. But then I had good teachers who told me that they thought I could draw well. And around the same time I was seeing animated movies. And [behind the scenes] with those, you would see people at desks drawing. They would show you these people making movies and drawing all day at work.
And I thought, It's a job! Drawing can be a job! When can I have a job doing this? This will be my job.
OC: So you started in animation (Klassen worked on the films Kung-Fu Panda and Coraline as an animator). How did you get into books?
JK: Animation was always going to be the job. And I worked at animation studios for a lot of years. But then one day someone wrote to me and said, Do you want to illustrate a book? And I'd never thought of that. I didn't know that was a job. No one had ever told me that that was also a job. And then I did one, and I loved the job. I loved that they were shorter stories [than in movies] and more mysterious sometimes. So I left my animation job and just did my new book job.
OC: You really have your own book style. It is simple and spare. Did that  happen naturally? 
JK: Movies are so complicated and they take so long to make. And when I got into books, it was like, you could take all of these ideas (you get while making a movie) and shrink them down. You could do a movie in 40 pages instead!
OC: That's a cool way of looking at it!
JK: My first job on movies was as a storyboard artist, which is different than animating. It happens before animation. In storyboards, you are showing still panels. The basics of the story. They show how the animation will flow; what you will show and what you will not show in the film.
And the stuff you will not show was always so interesting to me.
OC: Like the stuff that happens in the story but not on screen?
JK: Yes. I loved thinking about that. But when you're working on movies, they have huge budgets and big studios, the what-you-will-not-show is not their interest. Big studios have all the time and money in the world. They say, We can show everything!
OC: Right. Gotcha!
JK: But in picture books, I don't have all the time and money in the world. I have a few amount of pages and a small little book.
And so books work best when you don't show very much. It was so exciting to find a format that did that, it works best when you don't show almost anything.
OC: And that is where all of the mystery in I Want My Hat Back comes from?
JK: Yeah. Even my mom said that the first drawing she remembers me doing was in the first grade.
They asked us to draw a dinosaur, and I didn't know how to draw a dinosaur. And so I drew a tail on the edge of the page and I told my teacher that he was walking away. (laughs)
OC: That's very smart and funny.
JK: And that's still my jam! That's still my thing, I don't want to draw it. Or, I don't think I can draw it.
So what can I do instead, and still get a drawing on the page? My first grade drawing is basically a picture book idea. The Dinosaur Walked Away. And then I don't have to draw a dinosaur!
I still am always excited about what I can leave out of a story. That's where I start!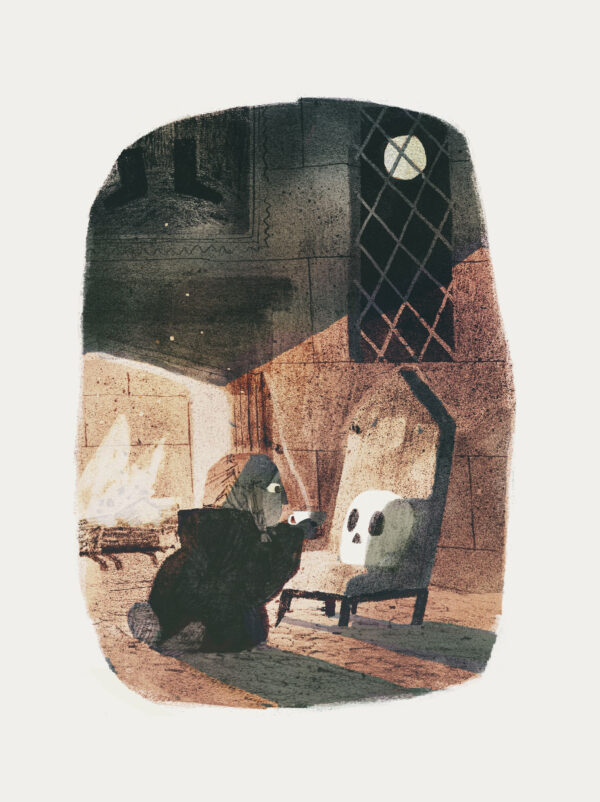 Klassen first read the original folktale The Skull when he was at a library in Alaska doing a book tour. Years later, he tried to write his own version of it from memory, which became his new book. (Candlewick Press)
OC: So, as a picture book author-illustrator who loves to leave things out, are you surprised by how well your books have done?
JK: Oh, yeah! I remember writing the first one. I liked reading it to people before I even illustrated it and that's always a good sign. But you never know if it's going to be liked.
I've always written for myself as a second grader. But just because I can talk to myself as a second grader doesn't mean that I know how to talk to all the other kids. So it's very surprising and encouraging to go into a gymnasium and to be like, "Wow, all of you get myself as a second grader!"
I'm constantly shocked that people love it. All the time.
Thanks for the chat, Jon! We love what you do and we think that The Skull is super cool. Find it in libraries and bookstores on July 11.