Diary of a Wimpy Kid is way more than just a book.
With the newest volume, Deep End, having come out this past October, author Jeff Kinney has now written sixteen books in his popular series. How many of you started loving reading thanks to his books?
Of course, the world of Diary is about more than just books. There have also been four films, bringing the world of Greg Heffley, his older brother Rodrick, and best friend Rowley to the big screen. Those films were all live action (human actors), which is maybe a bit surprising for something that is a cartoon in book form. But now that is all changing.
Today is the release of the brand new Diary of a Wimpy Kid, an animated film that retells the story of the very first book in the series. It shows us the book like we've never seen before—still zany and silly and full of the ... CHEESE TOUCH!! — but done in a way that makes Jeff Kinney's characters feel more real than ever.
Zoo-wee mama!
Interview: Jeff Kinney, author of Diary of a Wimpy Kid!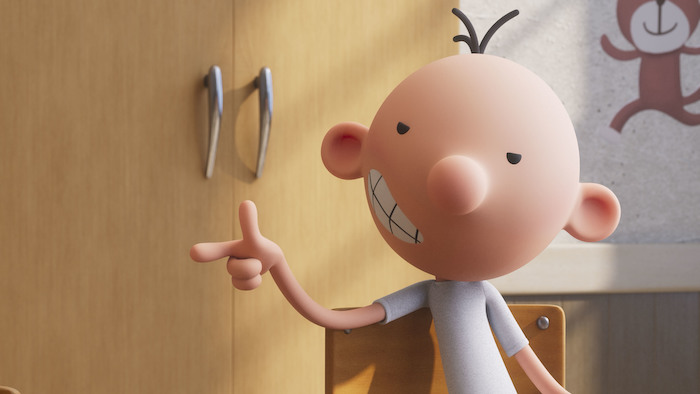 Trying to make a character as simple as Greg work in 3D took a long time, but Jeff Kinney was so happy with the result! (Disney Enterprises Inc. All Rights Reserved)
To welcome this new film, which is streaming now on Disney+, we spoke to two people that had a big hand in its creation. First up is author and creator Jeff Kinney. Was this version of Diary the one that Jeff always dreamed of happening?
We ask that question and more!
OWLconnected: Let's talk about this animated version of Diary of a Wimpy Kid! Is it what you always imagined the book would be like on screen?
Jeff Kinney: I feel great about it! I never really aspired to tell Greg's story in this CGI (computer-generated imagery) animated sort of way. I never really considered that it was possible! And of course my characters are so simple that they don't really suggest a 3D version of themselves. But when I first saw the renderings (early images) of what Greg's world might look like in three dimensions and full colour, I got really excited. And that was about eight years ago! So all these years later to have this moment of it coming out on Disney+ is very, very exciting for me.
OC: Eight years! That is a long wait! You mentioned how your book is 2D and very simple. How long did it take to really get the CGI look nailed down so that it didn't look strange?
JK: It did take a while to find that style. The first objective was to make it not seem weird. We wanted to make Greg [on screen] look like Greg on the page [in the book]. That wasn't always easy because he's an odd looking character as it is! And so is his best friend, Rowley.
But the big leap of faith was seeing the characters in motion. And I remember when I saw the proof of concept [a later animation stage], my eyes just went pop, because I didn't see that coming! We had been working with this kind of rough 3D animatic, and it just looks sort of like bad, early 90s animations. I didn't fully understand what good lighting and texturing and all that could do to your production. It just blew me away.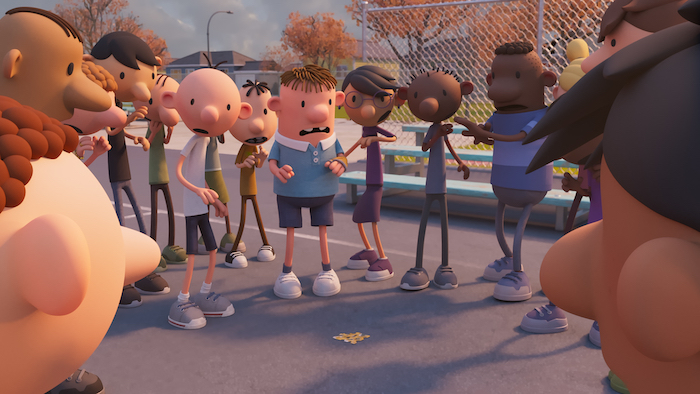 Don't touch the cheese! (Disney Enterprises Inc. All Rights Reserved)
OC: You went back to the first book for this film, which is your second time doing it (there was a live action film in 2010). Is bringing a book to the screen harder than it looks?
JK: Yeah, it took a while. You know, I needed all that education from those live action movies to be able to tell a story like this. I didn't know the first thing about storytelling and certainly not about screenwriting before I started doing the live action films! So that was a journey.
And when Disney came to me and said they wanted to do this [current movie] and tell the first story from the beginning, I was finally ready. I wouldn't have been ready even a few years ago. And so that's been a real trip. Screenwriting is really fun. It's really different than writing a novel—I can write scenes and pages really fast, like almost at the speed of thought. And you really understand your characters writing like that.
OC: Speaking of writing, you've just released your 16th book. How do you keep all of these projects straight? You've done a new book a year for over 15 years, plus movies!
JK: Well, luckily I have ADHD [attention deficit hyperactivity disorder]. I have trouble paying attention to one thing at one time! Right at this moment, you know, we're working hard on the second [animated] movie, and also working to promote the first movie, and then working on a future project as well, all at the same time! And eventually I'll thread my own book writing into that. I've been busier than ever in COVID, too. I've written four books and two-and-a-half screenplays. So it's really a privileged position to be in, to have all these projects going at the same time.
OC: How close is what you're doing now to what middle school-aged Jeff Kinney thought he would be doing with his life?
JK: That's a really good question. What did I want to be? I wanted to be a graphic designer, so that's kind of close. I wanted to be a computer programmer, a game maker. And I've gotten to do all those things!
I didn't ever think I'd be writing for the screen. So I'm happy to be in this position now, because you can reach just so many millions of people by doing this kind of a project. So I'm going to say again, I feel really privileged to be in this position and I certainly didn't plan it!
Interview: Brady Noon, actor who voices Greg Heffley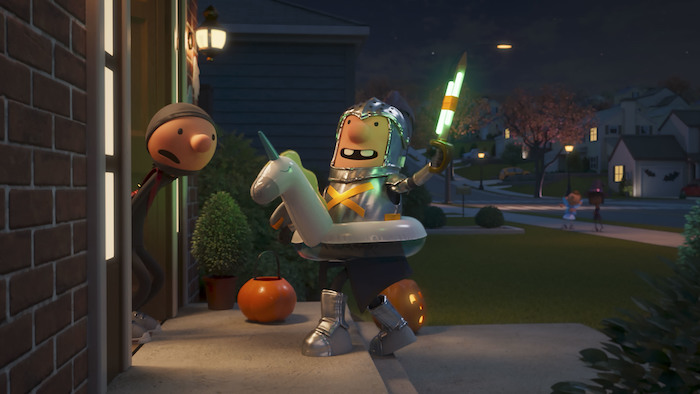 Greg and Rowley get ready for Halloween in slightly different ways. (Disney Enterprises Inc. All Rights Reserved)
Now let's meet the new voice of Greg Heffley, 15-year-old actor Brady Noon. Just how pumped was this fan to bring the animated version of Greg to life? Pretty excited, we'd say!
OC: Congrats on the movie, Brady. When did you first hear that you had a chance at this role?
Brady Noon: I would say really early 2020. I was a humongous fan, so I was stoked on the fact that another movie was coming out and, I had an opportunity to audition for it. I was like, "Wow, this is awesome. This is huge." So I instantly did my homework. I watched all the movies again. I read the book again! I ended up going through a bunch of auditioning processes and, I ended up landing it. I'm super excited for everyone to see it.
OC: You mentioned how you were a fan of the book. Was there pressure taking on a role like this?
BN: They were big shoes to fill, with such a huge fan base. As a fan myself, I wouldn't want an extremely crazy change in [Greg's] voice. I did my best to put my own spin on it—I tried to add a little bit of spice into Greg with the certain little ad-libs [off-the-cuff moments] that I added. Jeff Kinney was great to work with and gave me a lot of notes on what he wanted and what he liked that I did. It was a smooth process and I'm happy.
OC: What is it like doing the voice in animation? Is it that different to other acting?
BN: The trick is when I'm in the booth [recording his voice], you pretend like you're live acting. So if I have to run, I'll run in place. If I have to do an emotional scene, I'll really get into the character—I get really emotional and sometimes even tear up if I have to. It's just like pretending there's a camera in front of you and you are live acting. You get the realness and the sincerity that you would get live acting, even though you're hiding behind a microphone, not the camera.
OC: Have you watched the whole film yet?
BN: Oh, I watched it last week. I watched it twice! It was really good.
OC: What is that like, seeing your voice attached to a cartoon?
BN: To see it all in color in its entirety was surreal almost like a dream come true! Because like I said before, I was such a fan of the franchise itself. So to see myself as Greg is just unreal. It's a childhood dream come true!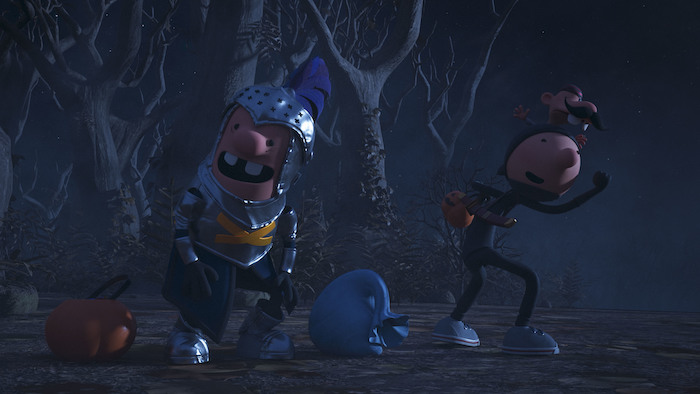 Don't go down Snake Road! (Disney Enterprises Inc. All Rights Reserved)
OC: You're also busy working on the Mighty Ducks series, and there are more films in this series, too. How do you find that balance between these projects and school and just being a kid?
BN: I don't know how I do it, honestly. Believe it or not, I have a lot of downtime. But when I'm away working, it's definitely work mode. I kind of cut myself off from social media and the outside world. I just put my head down and work. It does get to be a lot, but I love what I do and I wouldn't want it any other way.
OC: What is your favorite thing to do anyway from acting?
BN: I'm a big volleyball player! I play on a club team that goes to nationals every year. It's a big passion of mine that I hopefully can take it to the college level. It's really nice, especially in the summer when I'm playing beach volleyball with all my friends. You have music playing and you're by the water. It's really relaxing and peaceful.
OC: Thanks Jeff and Brady!