Superhero comics have a long history. And many of their biggest names—Spider-Man, Wonder Woman, Captain America, Iron Man—go back to the 1960s, 50s, even 30s.
But even though it can seem like many of the heroes and villains that we see on screen have been with us forever, new comics are being made all the time. Like Ms. Marvel!
With her first solo comic in 2014, this Muslim American teenage character spoke to an entirely new audience. She was a young girl who grew up in Jersey City and was a huge fan of superheroes, especially Captain Marvel. Then one day, she discovers that she has superpowers of her own ...
And the adventure begins!
A role she was born to play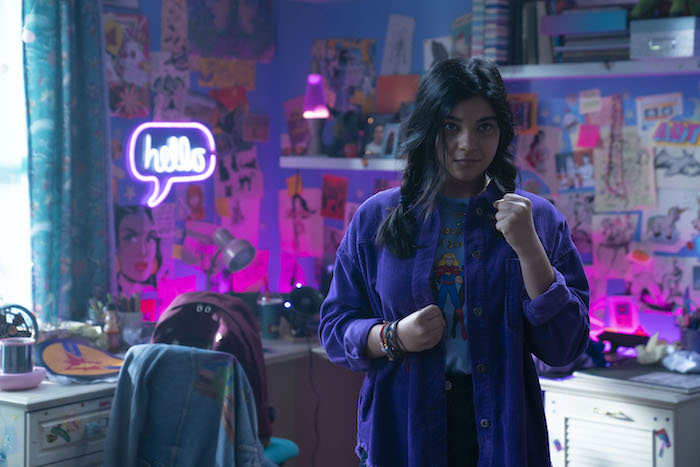 Just like the character she plays, Iman Vellani grew up a huge superhero fan. (©Marvel Studios 2022. All Rights Reserved.)
The comic has been a huge hit. And starting today, this awesome story is finally hitting the screen in the Marvel limited series, Ms. Marvel. And in a twist worthy of the best comic books, she is being played by an actress whose real life matches hers almost perfectly!
Meet Iman Vellani. This Pakistani-Canadian teen is a massive superhero fan, especially of the MCU (Marvel Cinematic Universe). She also loves film.
She was selected for the TIFF Next Wave Committee at the 2019 Toronto International Film Festival. She has directed three short films in the last two years (way to stay busy during the pandemic, Iman!). And now, just like Khan herself, this Avengers superfan has 'powers' of her own. Starring in the newest Marvel series!
We spoke with this rising star about gelling with her onscreen family, following in the footsteps of her heroes, and playing the role of her life!
OWLconnected: You were once asked who would play you in a film, and you said "Iron Man" …
Iman Vellani: (laughs)
OC: But now you're literally in that Marvel Universe and could be someone else's answer to that same question! How much has changed since you were younger and how do you feel about that?
IV: I was a confused high school kid. My family is very academically inclined—my mom's a nurse, my dad's an accountant, my brother's an engineer. So I was like, "Am I supposed to be the lawyer?" And I didn't really have passion for a desk job. I just knew that I wanted to constantly be moving.
How rare is it that you get to work in something that you're so passionate about? For me, Marvel was my entire life. MCU, comics ... it was the only thing that I ever talked about. I would write my English essays on it, I was very active on all the MCU subreddits … it took up so much of my life and so the fact that this even happened is crazy and I'm still trying to wrap my tiny little brain around all of this, but, yeah, we're here!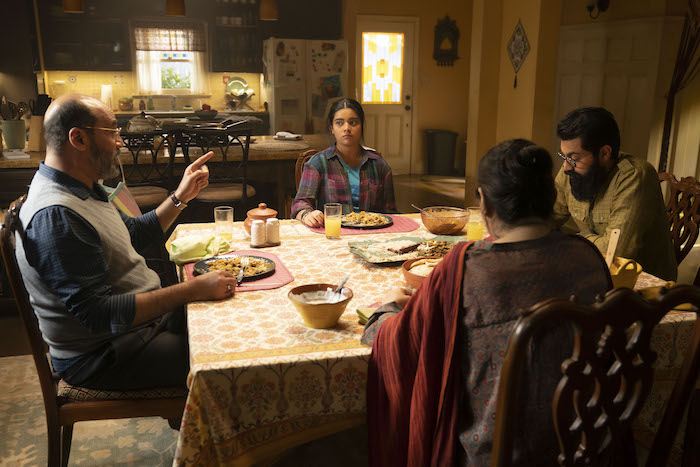 Meet Kamala's family! Mohan Kapur as her father, Yusuf; Iman as Kamala; Saagar Shaikh as her older brother, Aamir; and Nimra Bucha as her mother, Najma. Iman says that her own family is very similar to her character's. (©Marvel Studios 2022. All Rights Reserved.)
OC: Yes! And when you take a look at your life and the life of the character you play, Kamala Khan, there's a lot of similarities. Both HUGE superhero fans! But did anything surprise you about playing her in Ms. Marvel?
IV: Honestly, a lot of it was quite easy for me. I had a very similar family dynamic to Kamala, so that was easy to slip into and [my onscreen family] got along so well the first time we met. Saagar, who plays my older brother [Aamir Khan] is literally like an older brother figure in my real life! All of the relationships that you see on screen are like that in real life. We built such an incredible camaraderie on set, and all of the young people in the cast basically lived together in Atlanta [where it was shot], so we were constantly hanging out.
I just had such an incredible support system around me and they really encouraged me to bring myself into the character and just share my stories with them. They would also implement those into the scripts! Kamala felt very much like me and I felt very comfortable. I mean, reading the [Ms. Marvel] comics, I was always like, "This is me." This comic was written for me and only me! (laughs)
OC: As a fan, you know all about the responsibility that comes with being a part of the MCU. How have you psyched yourself up for all of that? Like, "Alright, Iman, you've GOT this!"
IV: I think I sold my soul to Marvel long before I even got cast! (both laugh) But I'm so happy. It's beyond a dream come true. My family is so far removed from the film industry in general that even just thinking about something like this was, like, you shouldn't! Because it was never going to happen!
But I was just nervous because [the filmmakers] were, like, "We cast Iman Vellani! We want you to just play yourself." And I was like, "I'm seventeen. I don't know what [be myself] means!" How does anyone have their life figured out that young? But here they are telling me to be myself. So it was a lot of soul searching, if you will, and a lot of figuring out what part of me resonates most with Kamala, and how many true life stories I could bring into this character and make it as easy as I could to slip into her shoes.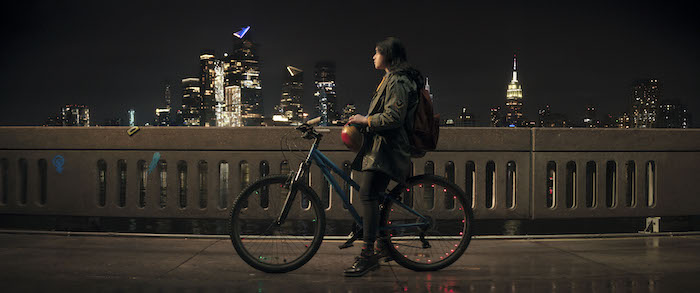 Kamala dreams of bigger things ... and they happen! (©Marvel Studios 2022. All Rights Reserved.)
OC: Well, maybe when they were saying "Bring who you are to this character," that confusion you were feeling is a part of that, too, right?
IV: Yeah! Completely. Kamala is also a sixteen year-old being told that she needs to snap out of fantasy land, and figure out what she's going to do with her life. Because that's how the real world works, apparently! But look where being passionate got me and look where it got Kamala. I hope kids can look at this and continue to explore their passions and be interested in things! The world can wait.
OC: It's true! Dreams and passions are important. Thanks so much, Iman!
IV: Thank you!
You can watch the trailer for Ms. Marvel below.
Ms. Marvel premieres June 8 exclusively on Disney+.