We interviewed Muppets. WOW.
Today, Wednesday, May 10, is the premiere of The Muppets Mayhem on Disney+. This new ten-episode series tracks the original Muppet Show house band, Dr. Teeth and the Electric Mayhem, as they try to finally, finally, finally record their first album.
Despite rocking stages in the most awesome way possible for the past four decades, they've never actually gone into a studio to record their songs. Oops! Now a young record label employee named Nora (played by Toronto, Canada's own Lilly Singh!) has discovered that the Mayhem are still under contract to deliver an album. And she is determined to make it happen!
What follows is a super silly, catchy, hilarious, and inspiring series. It is full of cameos from pop stars and movie stars. So. Much. Fun.
And also, did we mention that we interviewed the Muppets!?
Let's jam!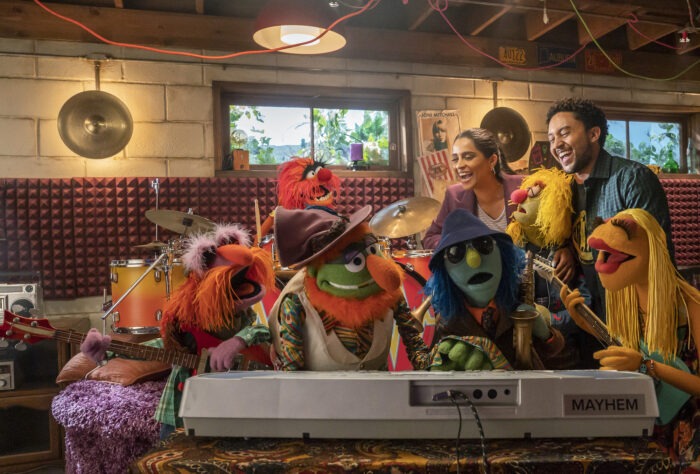 Lilly Singh plays Nora and Tahj Mowry plays Moog in The Muppets Mayhem. (Disney/Mitch Haaseth)
Getting to speak with Dr. Teeth, Janice, Floyd Pepper, Zoot, Lips, and Animal was surreal and maybe just a little bit silly! (Or a LOT bit silly!)
So are you all ready to jam with the Electric Mayhem? 1, 2, 3, hit it!
Q: In the show, you talk about how you're not big on following plans. How hard was it to shoot this TV show? Did you get in trouble on set?
Floyd: Let me tell you, it was not easy! I maybe can't speak for the others, but the only thing we showed up on time for, myself, was lunch!
Everyone: [laughs]
Janice: Yeah, we all had our own trailers and I kind of turned mine into my own personal zen den! Where I could meditate and do yoga, brew my own kombucha, you know!
Dr. Teeth: Yeah, you might say that we infected (human co-stars) Lilly, Tahj, and Saara with a heavy dose of our lackadaisical lifestyle. [more laughs]
Q: Floyd, what do you think of today's pop stars, like Billie Eilish, Bad Bunny, and Miley Cyrus?
Floyd: Oh yeah, I dig all them cats!
Dr. Teeth: What about Billie Bunny?
Floyd: Billie Bunny? [everyone laughs]
Animal: Bunny? Bunny? Animal like bunnies!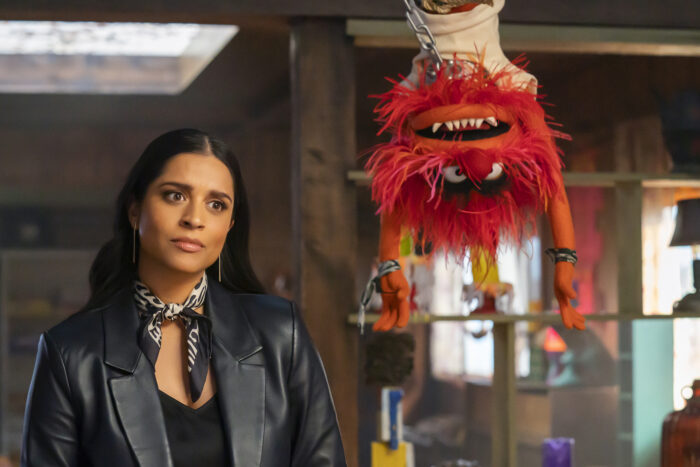 Animal loves chaos. And Nora. And bunnies. (Disney/Mitch Haaseth)
Q: What do you do to be happy everyday in complete chaos?
Dr Teeth: That is indeed a challenging question for us to ponder.
Janice: Well, I try to keep myself centered spiritually and make sure that my aura stays pink or green ...
Floyd: Yeah that's right, but you know, I just try to remind myself that we am, is, are, and BE the Electric Mayhem! So, of course, everyday is going to be a little chaotic an—
Animal: [running around] CHAOTIC! CHAOTIC! CHAOTIC! CHAOS!!
Floyd: Animal! Hey, hey, bunnies! Bunnies!
Animal: [stops. calms down.] Bunnies?
Dr. Teeth: Bunnies. Good boy.
Animal: Bunnies?
Floyd: Yeah, just calm down.
Dr. Teeth: Just a minute and we'll go see the bunnies.
Animal: Bunnies.
Q: What advice would you have for young people who want to start a band?
Floyd: Don't do it!
Dr. Teeth: Get instruments!
Floyd: Get outside and play, go and enjoy the nature and stuff.
Dr. Teeth: Yeah, but if you're going to do it, get instruments.
Floyd: Well, yeah. And if they're electric, make sure you plug them in. [everyone agrees] We had that problem for years.
Dr. Teeth: Yeah, especially Animal's drums.
Q: You've been on tour for four decades straight! How long can you keep it going?
Dr. Teeth: Well, speaking for all of us ...
Animal: Oh! Oh! Me too!
Dr. Teeth: Yes, 'all of us' includes you, too. We intend to continue to rock as long as our bodies and souls allow.
Janice: Yeah, for sure.
Floyd: Hmmm, yeah, but personally just speaking for myself, I was thinking that I might retire after today.
Dr. Teeth: Wha, what do you mean speaking for yourself?
Floyd: I was just speaking for myself.
Dr. Teeth: Nah, but I was speaking for 'all of us'.
Lips: Nah, nah, nah, bro.
Floyd: Okay, yeah, well, scratch the retirement!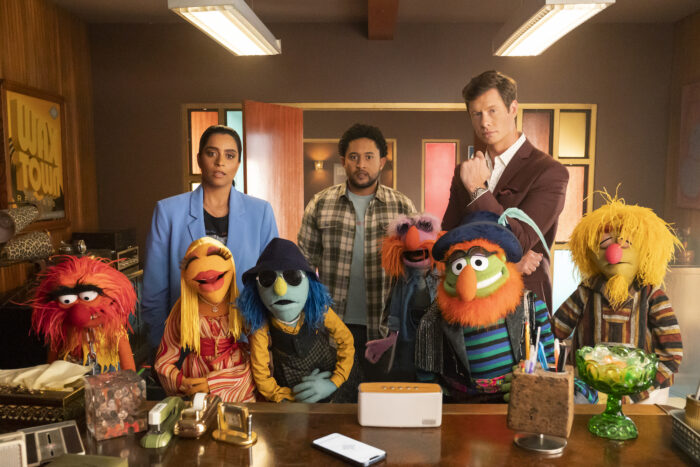 The Electric Mayhem really want to get their new album finished. Probably. We think? Who knows? (Disney/Mitch Haaseth)
Q: What is different about this series compared with other Muppet shows?
Lips: Ah, well, you know, the beta damma shamma, eh dah adda vohdeevohs, es nahda ehda vammada foh. Buh, a didwoh?
Floyd: Yeah?
Lips: Zammadamma lam.
Everyone: Yeah!
Dr. Teeth: Zammadamma lam!
Floyd: Yeah that's true! And also, on top of that, there ain't no pigs and frogs in it!
Janice: Oh really! It's just all about us!
Dr. Teeth: We take you neck deep into our wild world and allow you the incredible opportunity to spend some quality time with each of us.
Animal: No mayham!
Everyone: What?
Animal: No may-HAM.
Floyd: Oh right! Miss Piggy, she ain't in it!
Dr. Teeth: Good one, Animal.
Floyd: Yeah, we promise The Muppets Mayhem is going to be unlike anything you've ever seen. For real!
Animal: I seen it.
Floyd: Well, we know you've seen it.
And now you can see it, too! The Muppets Mayhem is streaming now on Disney+. Watch the trailer below.