Winnipeg's James Culleton is a well-respected Canadian folk musician. He's released nine records and played all sorts of shows and festivals. He's also an accomplished painter, artist, and designer, which makes him just as good with colours and images as he is with words and melody.
His latest project is putting all of these talents together!
Called Unusual Friendships, it is a children's album based on the book of the same name. That book talks about the experience of the Métis (people of both Indigenous and European heritage) through two animal characters: a black cat and a white rat. To turn it into an album, James spent months studying the book, writing 14 new songs. He also designed and illustrated the album's artwork and worked on augmented reality videos to accompany his music. Busy!
Talking about Unusual Friendships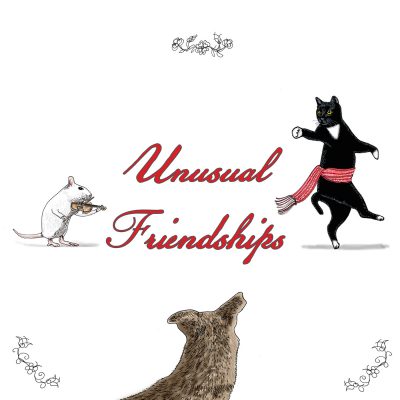 The cover of Unusual Friendships.
We spoke to James about how he made his beautiful new record, as well as all of the help that he received from his family along the way.
OWLconnected: The story that inspired this album, Unusual Friendships: A Little Black Cat and a Little White Rat was written by your aunt, Beatrice Mosionier. 
James Culleton: I've always been a big fan of Auntie Bea's work. I had always known about her novels, but I found out she had a couple kids books. When I had kids of my own, I took a closer look and really enjoyed how each of them had great stories to tell—stories which had bigger meanings. I liked that a lot.
OC: When did you get the idea to turn this book into an album?
JC: I think we started the idea of this project in 2017. My aunt and I had been meeting regularly and talking about projects we both had been working on. It had always been a dream of mine to do something with her and after lots of talks we agreed there should be music and art involved.
OC: What is the biggest challenge in turning a story into a collection of songs? 
JC: Reading the book over and over, I could eventually hear the music in it. In the sounds of the words I could hear melodies and rhythms. I tried to capture everything that was in the book, but it was a challenge. I had to leave some parts out but I kept reminding myself that this is part one of this project. I feel that there will be more to it, maybe some narration, some animations. And there's something [good] to be said about the 'leaving out' of things—your brain usually makes up the difference, fills in the blanks.
OC: Did Beatrice help you?
JC: Yes, we brainstormed a lot early on. There were many things she wanted in the album, which I was able to do. Throughout the project we were open to each other's comments and ideas. She and I had a lot of fun with this.
OC: Your 13-year-old daughter Mae also added to your artwork for the album's booklet. What a family affair!
JC: It was pretty funny. I was working on an animation of Little White Paws the cat walking and I couldn't get it to look right. Mae walked into my studio, looked at what I was doing and said, "Dad, do you want me to do that?" Next thing you know, she was part of the project! She's been drawing since she was little and has become a talented animator!
OC: Let's talk about the augmented reality. How did you come up with this idea? How does it work?
JC: I discovered Artivive [the AR company] in Montreal a few years ago. I've used this technology before with my art at the Festival du Voyageur where I brought my drawings in the show to life. You basically choose an image you want to link to an animation and then build a video that works with it. Then, if people get the Artivive app on their phone, they hold it over the image and the linked animation will play. It's super easy to use and the possibilities are endless.
OC: Was it a challenge to create these videos?
JC: I've been making videos for my music for quite some time and studied animation in university, and technology is getting so easy to use, then I got best digital piano under 1000. The biggest challenge was creating each character in the story, drawing them, giving them a personality, and then repeating and animating the characters. I have a new appreciation for illustrating characters. And thank goodness I have my daughter Mae to help me animate them!
OC: And it sounds like new videos are going to be coming out for a while?
JC: Yes! That's the interesting part. If you have the album and the booklet I intend to link more videos to the images within. It'll keep expanding.
OC: What was your favourite song growing up?
JC: When I was a kid I was listening to a lot of Elvis. He had a song called "Confidence" that stuck in my head. And I feel like I'm still 'growing up' because I've gone back now and Anne Murray's album Hippo in the Bathtub is one I cannot get enough of. And then of course anything by Al Simmons [who also plays on the album]. His live performance is my inspiration!
Unusual Friendships is available for streaming on Apple Music, Spotify, and Amazon, as well as for purchase on Bandcamp. Watch James reveal the videos that accompany his record below!